Minimize the Headache of Contingent and Mobile Worker Scheduling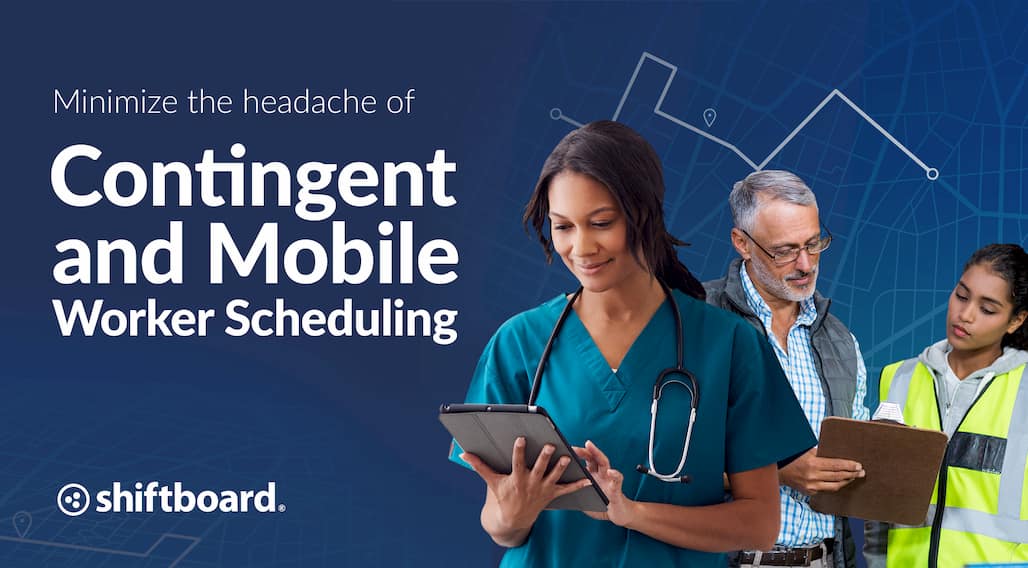 Organizations are relying more and more on contingent or mobile workers to meet their staffing needs. From healthcare to manufacturing, companies are putting strategic plans in place to ensure operations run smoothly in the wake of dynamic business goals. However, scheduling these workers is often chaotic and inefficient – at a time when you need results fast. Workforce scheduling technology simplifies the process by providing real-time visibility into worker profiles, credentials, availability, and compliance rules so you can fill open shifts quickly and communicate the details to float staff instantly.
With this in mind, we want to share why workforce scheduling technology should be an essential component of your tech stack in 2020 – and beyond.
Defining the Dynamic Workforce
The dynamic, or "mobile workforce" is a broad term and defines not only those that telecommute, but also those who travel to different job sites, locations, and spend time doing fieldwork. The term could also expand to include your part-time or float pool of workers. These workers are found in a wide range of industries, including healthcare, manufacturing, and parking facility management, among others, and have been on the rise in recent years. It is estimated the mobile workforce will reach 1.87 billion workers globally by 2022.
While the growth of this category of workers is explosive, the challenges facing businesses employing mobile workers have also expanded. There is limited face-to-face time with these employees, so training, retention, productivity, and turnover are all concerns. However, the most significant business challenge, by far, is scheduling.
Scheduling for Dynamic Workers
Outdated scheduling tools require Rubik's cube-like skills to piece together a mobile workforce schedule. Decoding a mass of spreadsheet data, voicemails, text messages, and other information sources to get the job done drains administrative resources and leads to inefficiencies that could put your company miles behind the competition. The good news is that streamlining this process has never been simpler than it is today.
New technologies are now available to contribute to the success of managing a remote workforce. Among the most beneficial of these is software configured to consider scheduling rules specific to a mobile or contingent workforce environment. One of the core functions of mobile workforce management software is to help operations leaders plan strategically for last-minute call-offs and day-of changes. By utilizing essential business rules, schedule constraints, and employee certifications, you can build the optimal schedule – without the headache.
Automating scheduling and communication with these workers through technology establishes a central information link between managers and staff. Leveraging workforce scheduling software can have a transformative effect on how you manage your part-time and temporary workers.
Work Smarter, Not Harder
When it comes to choosing a mobile management workforce solution, your software of choice needs to be flexible enough to eliminate your scheduling challenges today, while also allowing for future growth. Whether you are a nursing director scheduling your float pool, a plant manager leveraging a seasonal workforce, or you have the enormous task of scheduling a multitude of workers across various locations, mobile worker scheduling is a complex process. Employee scheduling technology allows you to connect, in real-time, all the data and people touched by mobile or contingent work to create better business outcomes. By utilizing software, companies like yours have seen increased operational efficiency, worker productivity, and satisfaction, as well as higher satisfaction rates from clients.
Built to manage the complexity of mobile workforce management, Shiftboard solves the unique business challenges that come with effectively utilizing mobile staff. This highly configurable technology acts as the source of truth for data concerning the certifications, skills, availability, and other relevant constraints that would have an impact on when, where, and with whom they work.
Managing a schedule through the use of spreadsheets, emails, calendars, and other tools is likely to be riddled with mistakes. Intelligent scheduling, especially when concerning a mobile workforce, reduces the potential for human error and improves efficiencies. It also adds business value by helping you attain goals like labor cost reduction, increased productivity, and a reduction in unplanned overtime.
Furthermore, a recent study published in Forbes showed that Millennials could account for up to 75% of the workforce by 2025. This fact is notable, considering this is the generation most accustomed to working with modern tools and technology in both their personal and work lives. By investing in technology now to empower your mobile workforce to have a bit more control over their schedule, you are also preparing for future workers who will expect this technology to be available to them.
Is it time to control the chaos of managing last-minute call-offs, leveraging float pool staff, and scheduling your mobile workforce? If you're nodding in agreement, it's time to let Shiftboard shoulder the complexity of scheduling your mobile workforce. Learn more about how we can help here.