SHIFTBOARD PARTNER PROGRAM OVERVIEW
See how Shiftboard can benefit you and your customers.
Solutions for large enterprises, to small businesses, and everything in between. No matter what industry your clients are in, Shiftboard can help them schedule better, communicate clearer, improve productivity, enhance accountability, and expand operations.
Fast.
Upgrade Your Cloud Integration Services Offering
For many businesses, online scheduling capabilities and workforce communication tools are becoming expected necessities, rather than expendable options. If you specialize in providing cloud integration services, but lack a flexible, cloud-based workforce management solution to offer your clients, you're in luck. Shiftboard's Partnership Program is currently accepting new members.
We have established a highly-scalable, cloud-based staff scheduling and workforce management platform to support the service-level and technical needs of all types of partners, including developers. Our test tools, documentation, and Shiftboard Web Services API make integration seamless. For sales engineers, we also have the enterprise experience necessary to assist with your most important customer requirements.
Our cloud-based employee scheduling software gives you 24/7 access to your schedules and streamlines employee communications, so you can proactively manage your schedule, labor costs, and more. We're mobile, so your entire operation is at your fingertips anywhere, on any device, any time.
Want to boost your bottom line while providing better solutions for your clients? Let's chat.
Shiftboard partners with several types of organizations:
Software Integration Partners
Shiftboard's API is based on web standards, so it's simple for software innovators like you to directly tap into real-time Shiftboard transactions and data. Now adding new workflows, content feeds, or scheduling functionality to your product is easier than ever.
Hardware & Device Integration Partners
There's no better way to differentiate your product within the hardware and device marketplace than with proven, scalable, and secure cloud-based solutions. Find out how you can diversify and extend your offerings to include real-time workforce management, time and attendance, rich personnel data-dependent functionality, and more.
Expand your Software-as-a-Service (SaaS) integration, training, and support practice to include subscription-based workforce management, labor forecasting, and real-time self-service scheduling applications from the cloud.
Give your clients, friends, and colleagues the gift of superior workforce management, scheduling, and communication with Shiftboard. Whether they manage 25 people or 100,000, they will thank you for it. We even provide set-up and lifetime support. You will also earn a portion of the revenue generated from active customers. (Minimum requirements apply.)
Our experts will guide you through the details of the Shiftboard Partner Program.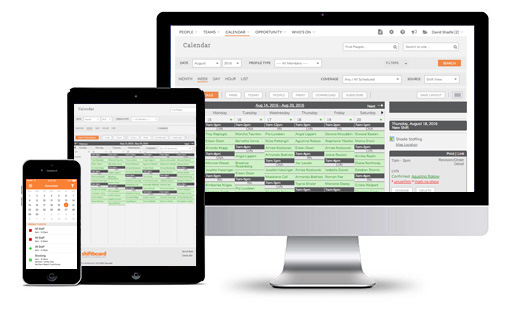 GET YOUR FREE PARTNERSHIP CONSULTATION