Shiftboard & PlanetTogether
Synchronized Production and Labor Scheduling
for Manufacturers
Harmonize Your Production and Labor Scheduling
Together, Shiftboard and PlanetTogether unlock cross-team collaboration, ensuring that your production plan transitions seamlessly to an optimized labor schedule – no matter how or when operating plans change.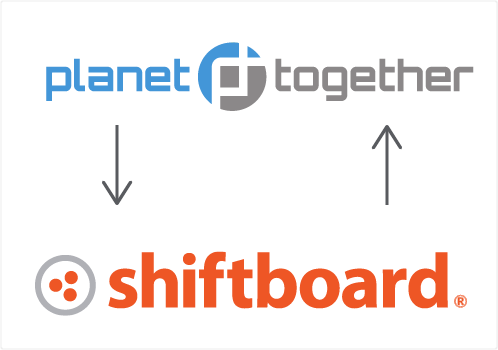 The Power of Real-Time Production and Labor Scheduling
Shiftboard and PlanetTogether's integration captures the real-time data flow of production materials, machine capacity and sequence dependencies, and maps it to labor shift coverage requirements. These integration points enable real-time production and labor optimization, resulting in increased delivery accuracy and higher employee engagement.
Optimize Shift Coverage at All Times
Access continuous labor analysis and recommendations based on your organization's business logic and worked hours data.
Receive proactive alerts on potential labor rule violations.
Leverage PlanetTogether to map production lines and machines to filled shifts and available workers.
Turbo-Charge Scheduling Efficiencies
Tailor workflows and labor scheduling rules to meet the unique needs of your business.
Leverage robust exception management tools and audit reports.
Send up-to-date schedule information directly to PlanetTogether to ensure production plans are continuously optimized.
Boost On-Time Delivery by up to 98%
Verify that production needs match staffing requirements with remarkable functionality and speed.
Unlock a centralized dashboard for cross-team collaboration and visibility. Never again wonder when an order will ship.
Labor Synchronized Production Scheduling
Learn how the Shiftboard-PlanetTogether partnership offers seamless connectivity between production planning and labor scheduling, so you can reach your operating goals faster and outpace the competition.
Want to learn more about Shiftboard?
Decrease Worker

Turnover by 16%
Make Scheduling

30% More Efficient
Increase Shift Coverage

Rates by 88%
Trusted by the World's Most Recognized Brands