Product Overview
Employee Scheduling Software
Attract and retain workers by creating schedules everyone embraces
Create more coverage possibilities with limited labor resources
Maximize scheduling efficiency with tailor-fit automation
Happier Employees. Optimized Workforce Capacity. Increased Efficiency.
Optimize your employee schedule with intelligent scheduling capabilities that maximize workforce capacity, increase scheduling efficiency, and boost employee engagement and retention.
Scalable platform leverages multi-tenant cloud technology with secure web and mobile app access.
---
Integrates with third-party systems via flat-file, open API, and pre-built integration packages.
Tailor-Fit Schedule Automation
Maximize scheduling efficiency with highly configurable automation that mirrors each plant and unit's operation.
Support industry-specific scenarios such as production line changes, job rotations, emergency response team assignments, and turnarounds.
Automate scheduling steps matching internal procedures and union agreements.
Generate schedules with your operation areas, crew, and shift pattern structures.
Auto-block violations against employment laws, union contracts, fatigue rules, and internal policies.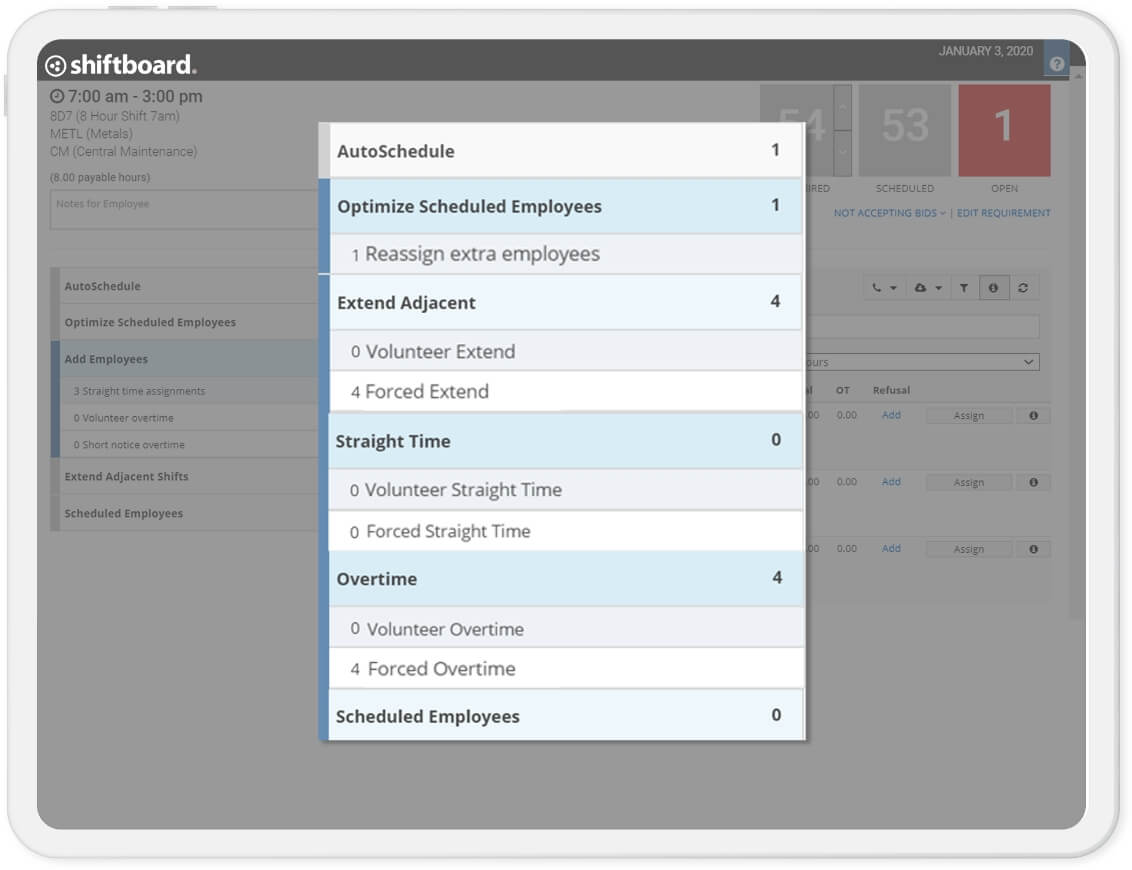 Proactive Worker Engagement
Improve worker satisfaction and retention with flexible, fair, and transparent schedules.
Track and accommodate employee schedule preferences.
Allow eligible workers to volunteer, pick up, trade, or decline new shifts on demand.
Distribute overtime fairly based on overtime balance, seniority, job classification, shift refusal history, etc.
Offer workers secure web and mobile access to check schedules, pick up shifts, request leave, and more.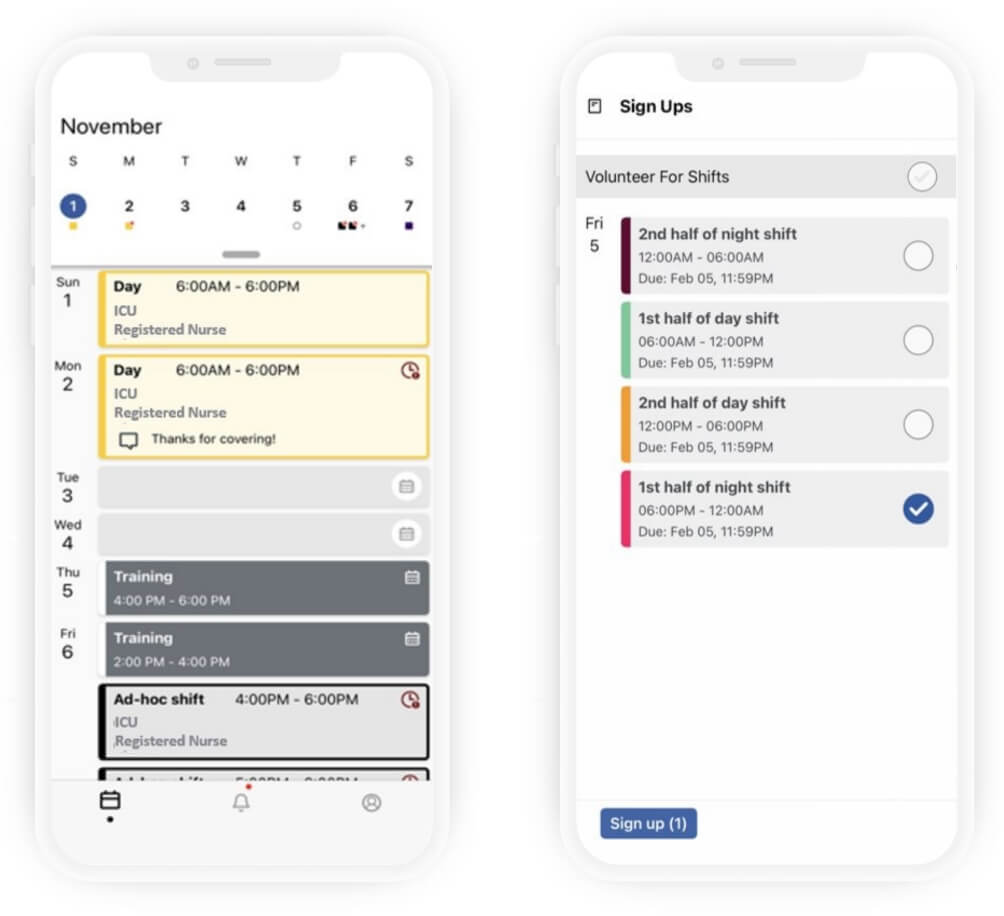 Agile Change Management
Fill last-minute coverage gaps quickly with qualified, available, and willing workers using a plethora of day-of management tools.
Spot coverage gaps with a single view of staffing levels across all operating areas.
Backfill openings swiftly with an on-demand list of available and qualified workers.
Assign contingent labor to supplement staffing via volunteer signup, bidding, immediate shift pickup, and more.
Notify workers about schedule changes and promote new shifts with automated calls, emails, SMS, and mobile notifications.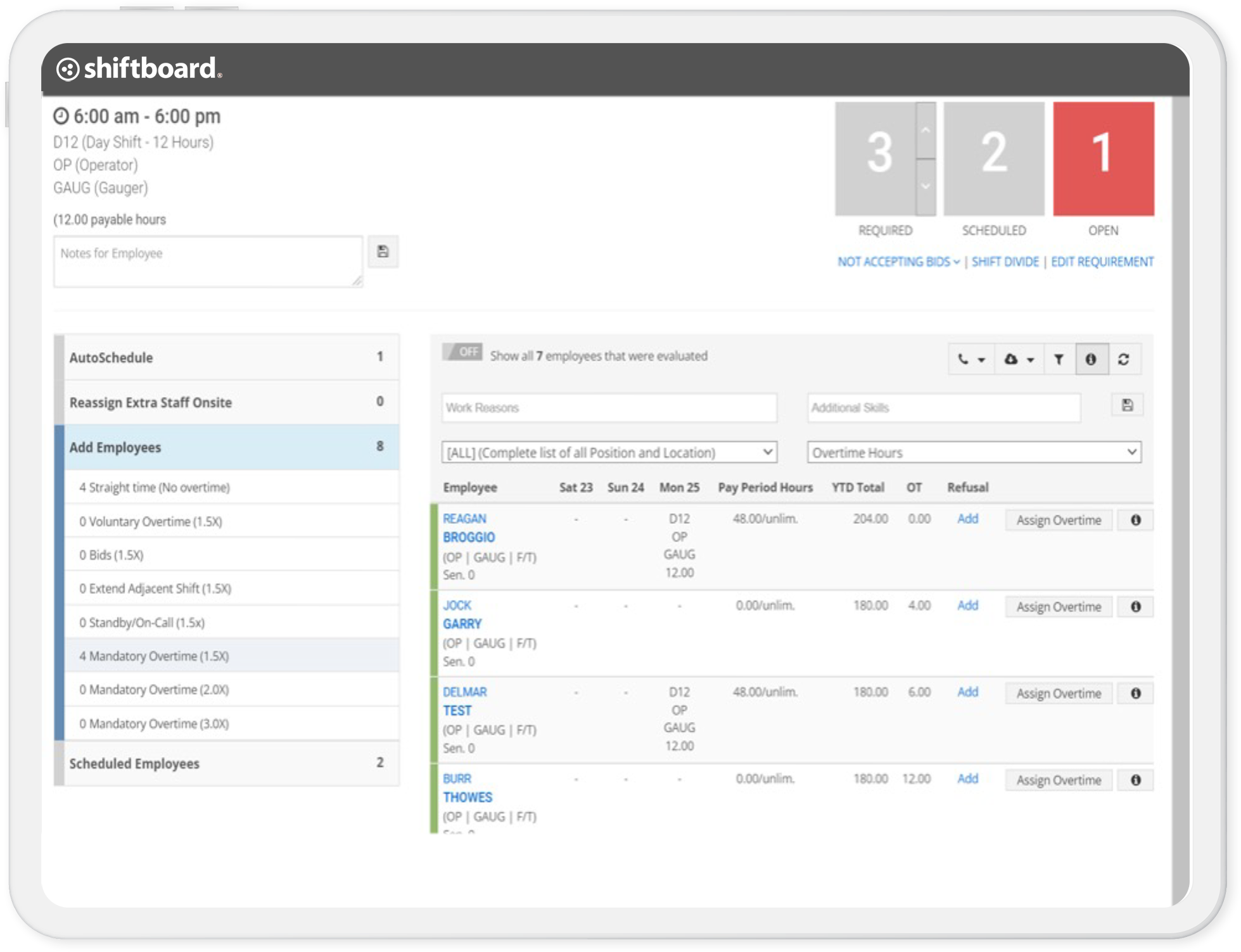 Continuous Coverage Optimization
Create more coverage possibilities with intelligent scheduling suggestions powered by a robust, always-on optimization engine.
Shuffle scheduled workers before resorting to overtime and agency staffing.
Split shifts into segments to accommodate flex pools with varying availability.
Reassign underutilized workers to understaffed areas automatically.
Prioritize assigning workers with the lowest overtime cost implications.
Rotate job assignments to maintain workers' skills proficiency across multiple posts.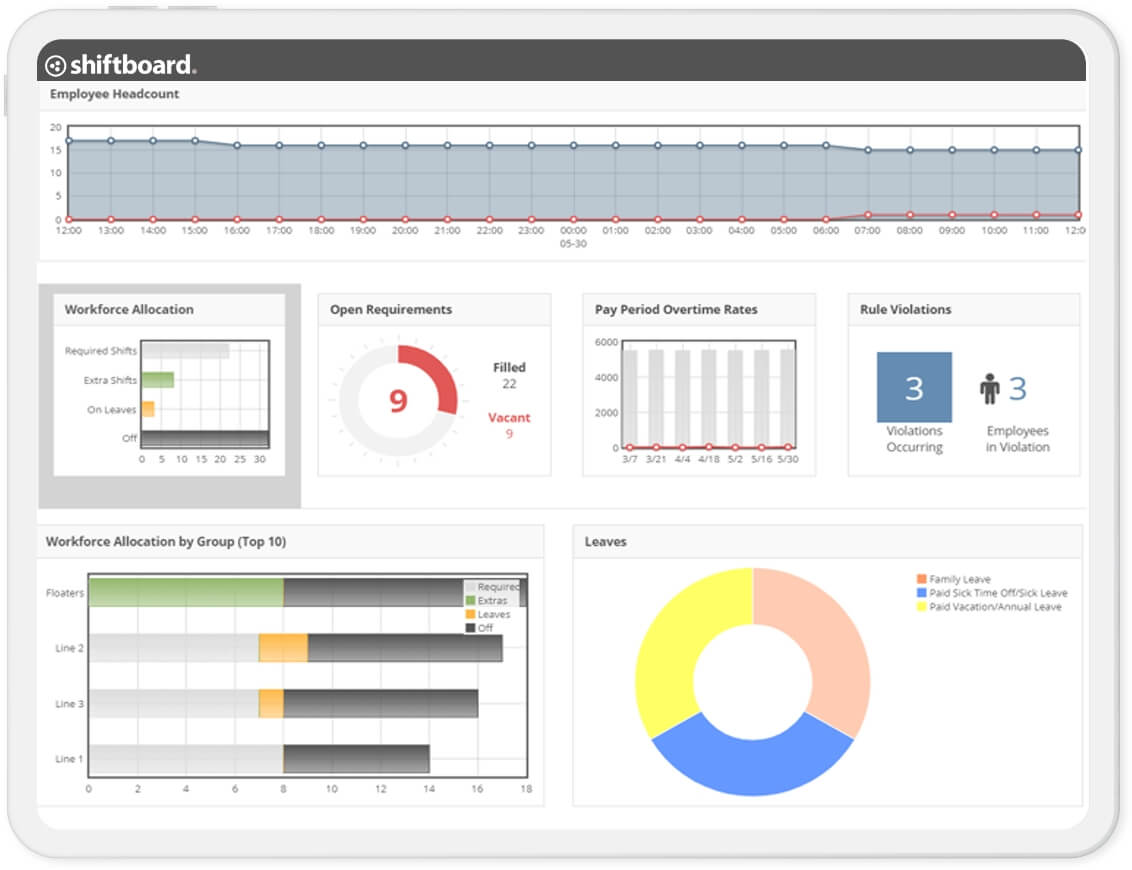 Effective Labor Demand Planning
Plan and scale staffing demand to meet production and service targets with confidence.
Convert production and service targets into jobs, shifts, and skill-mix requirements.
Ensure an adequate pool of workers for backup contingency with on-call scheduling, volunteer signup, and more.
Add, extend, split, or remove shifts on demand as staffing demands fluctuate.
Forecast long-term labor demands with advanced predictive capabilities.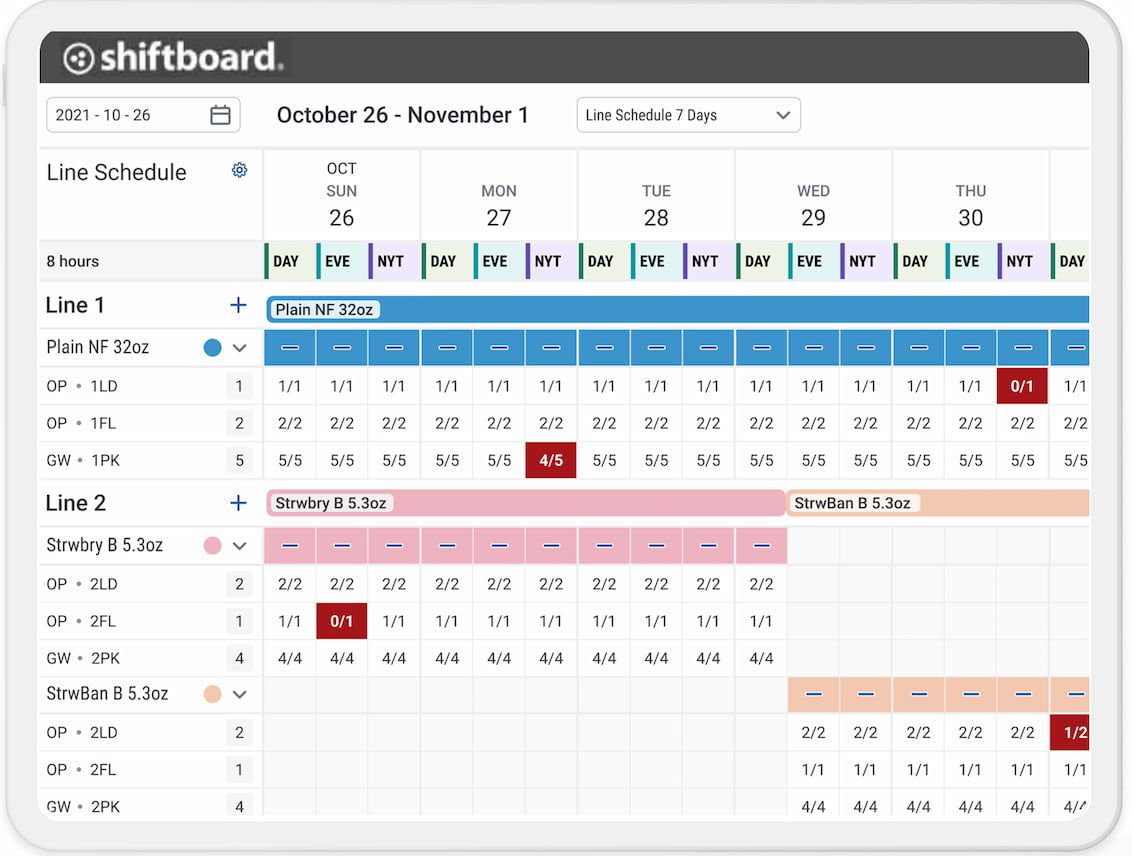 Integrated Leave Management
Streamline leave approval processes and backfill vacancies swiftly with built-in absence management tools.
Allow workers to submit leave requests and view their leave balance in real-time.
Enforce leave approval criteria such as leave allowances, staffing levels, and more.
Support company-specific policies surrounding paid and unpaid leaves, protected leave days, and more.
Update schedules instantly and backfill openings upon approval of leave requests.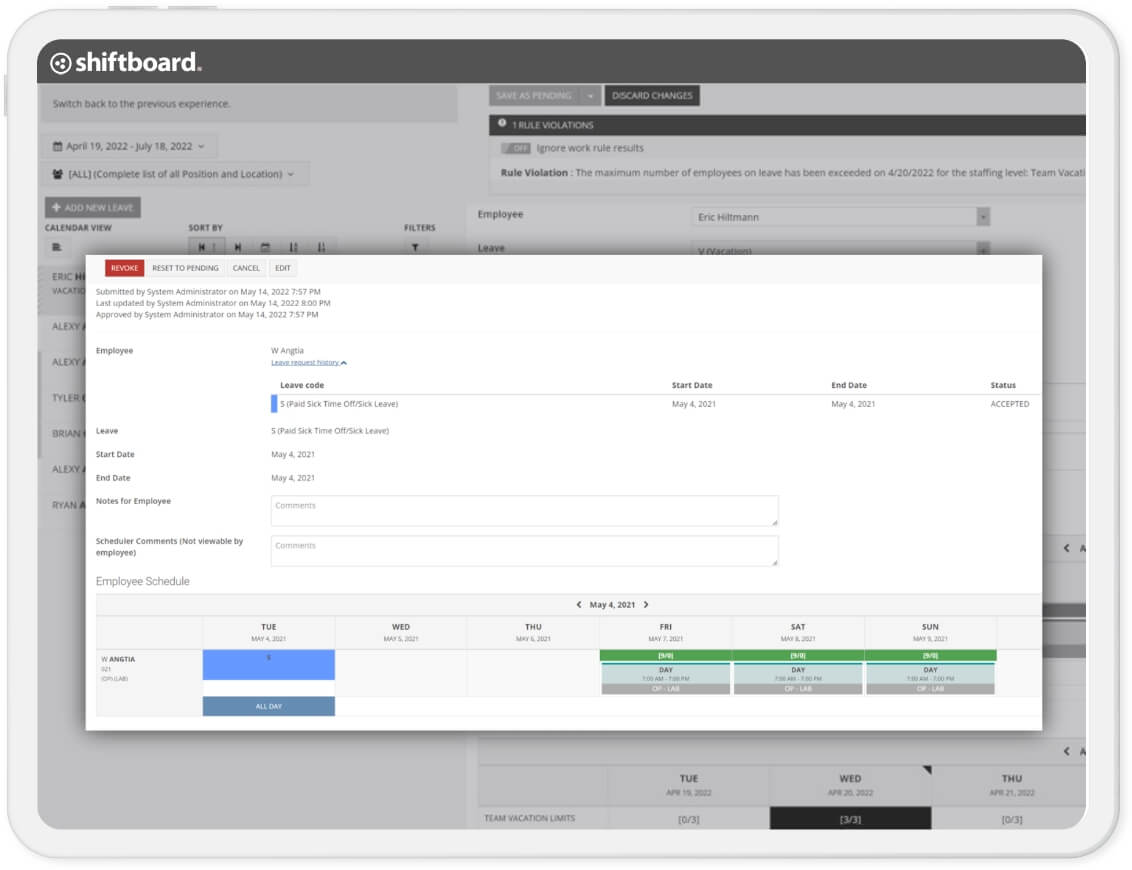 Seamless Timesheet Management
Capture work hours and pay codes accurately to reduce payroll errors.
Allow workers to submit timesheets online.
Auto-validate timesheet entries for errors and deviations.
Automate timesheet approval and amendment workflows.
Map and populate the correct pay codes for payroll export.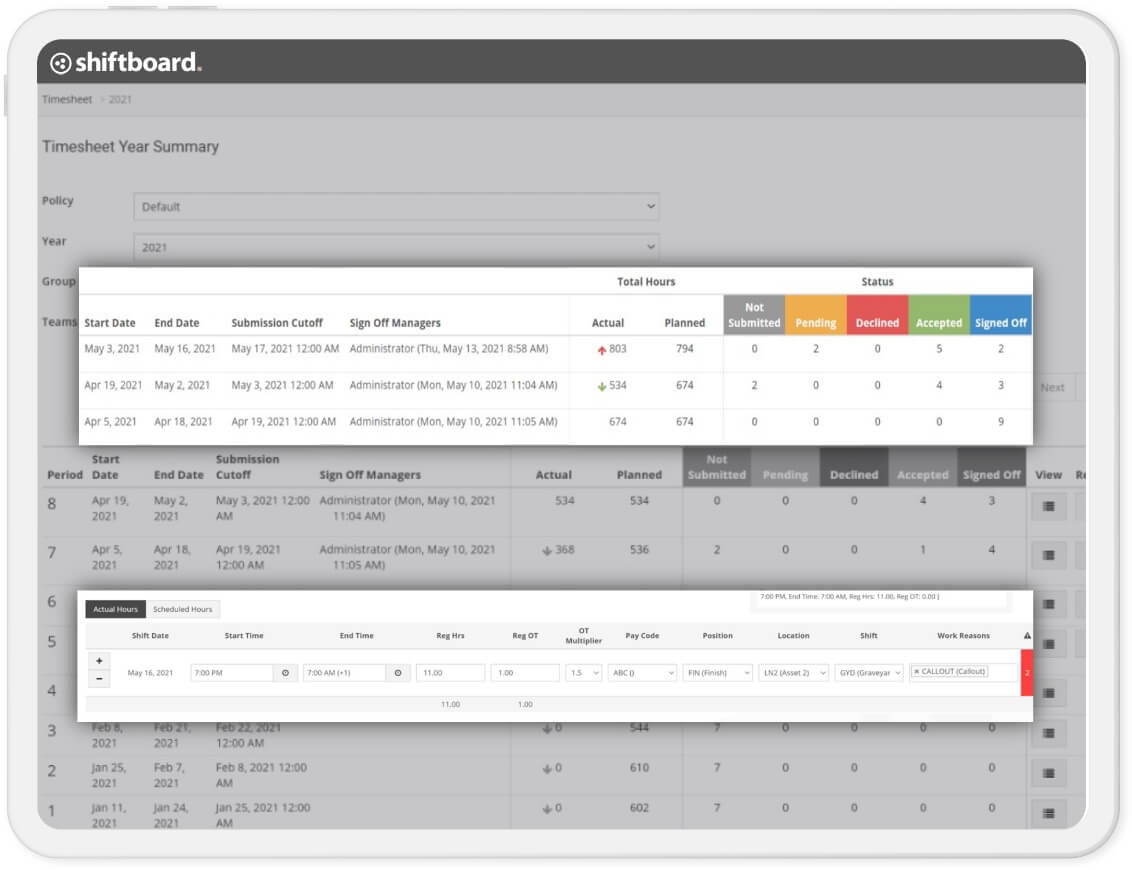 5 Reasons Why Customers Choose Shiftboard
1.
Shiftboard's software offers unparalleled configurability, so every solution is customized according to site-specific scheduling processes and rules.
2.
Shiftboard's always-on optimization engine uncovers easily overlooked coverage possibilities so that operations can seamlessly adapt their schedules and flex resources in response to unexpected changes.
3.
Shiftboard offers versatile worker engagement tools so that operations can aptly support workers' schedule preferences, resulting in higher worker satisfaction and retention.
4.
Shiftboard stands behind its comprehensive rule engines and robust schedule auditing capabilities, with the only compliance guarantee available today.
5.
Shiftboard offers workforce visibility and communication tools to actively accommodate worker needs and shift references, leading to reduced work-life conflicts and higher job satisfaction.
Employee Scheduling Software ROI Calculator
Discover the ROI of employee scheduling automation.
Proven Customer Impact of Shiftboard
86%
Higher Worker
Satisfaction
16%
Decrease in
Turnover
88%
Higher Shift
Coverage
30%
Faster Schedule
Creation
21%
Lower Labor
Costs
Want to learn more about employee scheduling software?