Shiftboard & CIRCADIAN®
Your Comprehensive Fatigue Management Toolset
Unlock Real-Time Workforce Fatigue Data
Together, Shiftboard and CIRCADIAN® provide visibility into real-time worker fatigue levels, ensuring optimized employee performance and reducing the inherent risks and costs of extended-hour operations.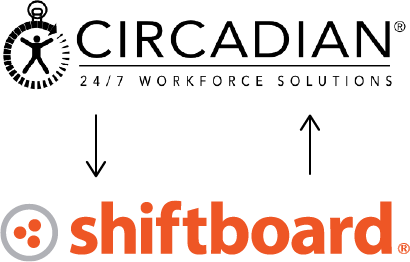 Getting Proactive About Fatigue
CIRCADIAN's CAS is a risk management analysis dashboard for 27/4 workforces that provides science-backed insights on worker fatigue levels via the CIRCADIAN Alertness Simulator (CAS). Entering a work schedule containing a minimum of 7-days of work history gives the CAS dashboard data to evaluate fatigue risk with scores from 0-100. As the fatigue risk score increases, so does the relative probability of having an incident, error, or accident.
Through Shiftboard's partnership, CAS can directly assess the live Shiftboard-generated schedule to provide up-to-date fatigue levels to supervisors. When unforeseen schedule changes occur, such as callouts, supervisors need to make informed decisions when it comes to overtime and backfilling. These fatigue scores enables organizations to make proactive schedule changes to protect employee wellbeing and reduce fatigue-related costs.
The Key to Workplace Safety, Employee Well-Being, and Operational Efficiency
Unlocking the full potential of your workforce starts with a strategic blend of intelligent scheduling and proactive fatigue management. This powerful combination not only ensures the safety and well-being of your employees but also bolsters operational efficiency, nurturing a workplace that adapts and flourishes in today's ever-changing business landscape.
Benchmark Fatigue
Utilize science-backed insights to analyze worker fatigue levels 24/7.
Proactive identification and management of fatigue risks, safeguard and enhance workers' well-being.
Turbo-Charge Scheduling Efficiencies
Leverage intelligent automation that continuously complies with fatigue rules.
Ensure alignment with organizational labor requirements to maximize workforce capacity.
Direct Access to Current Fatigue Levels
Gain visibility into unforeseen schedule changes that may lead to high fatigue levels.
Immediate insights allow for real-time adjustments to protect employees and reduce fatigue-related incidents.
Inform Labor Planning
Directly assess employee schedule data for up-to-date fatigue levels.
Proactively make changes as needed to prioritize employee well-being and keep labor costs in check.
Proactive Fatigue Management
Learn how the Shiftboard-CIRCADIAN partnership provides our customers with a comprehensive solution that not only optimizes their scheduling processes but also proactively manages fatigue risks.
Want to learn more about employee scheduling software?
Trusted by the World's Most Recognized Brands