Maker Faire Bay Area Inspires The Future – A Behind the Scenes Look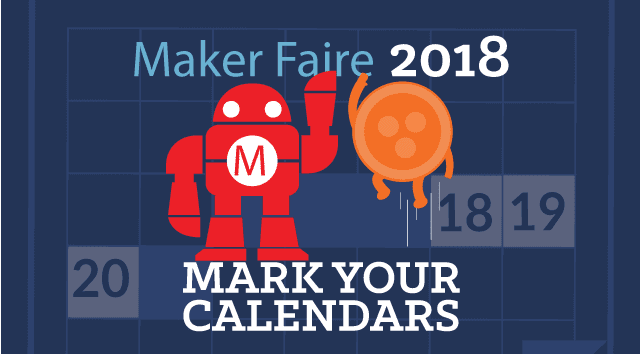 Maker Faire Bay Area offers creators, artists, makers, inventors, and craftsman a unique opportunity to showcase their innovations. Maker Faire celebrates makers and communities across the globe and is inspiring the future of innovation and learning.
Maker Faire celebrates the maker movement with arts and crafts, engineering and science projects, and Do-It-Yourself designs of all kinds. The focus on creativity and resourcefulness combined with a family-friendly environment has since led to explosive growth.
Makers and Do-It-Yourselfers are often inspiring the future of innovation through developing new ideas and technology in their shops, garages, and kitchen tables with very few options to showcase their creations. Maker Faire has opened up the door to giving makers an avenue to share their projects and ideas people haven't encountered before. As a result, Maker Faire has exploded in popularity, increasing their attendance and size over the past 13 years.
The event's broad appeal has expanded from a one-city event with 22,000 attendees in 2006, to a now worldwide festival with over a million participants and visitors at over 200 festivals each year in 45 countries, with their next event coming up May 17 to 19, 2019 in San Mateo, California.
Maker Faire's Solution to Managing Exploding Growth
Maker Faire's exploding growth meant their daily operations increased significantly and their need to streamline the scheduling process for shift workers at their flagship events in the Bay Area and New York became apparent.
Organizers for the popular festival tried using an out-of-the-box software system, but staffing, budgets, and logistics grew increasingly complex at breakneck speed. Managing event production, costs, and logistics with out-of-the-box event scheduling software proved too limited to keep pace. In order to seamlessly continue the innovative spirit connecting makers and their communities at each event, Maker Faire knew they needed a similarly innovative solution.
Maker Faire chose Shiftboard — a highly adaptable, user-friendly, and fully customizable event staff scheduling software. Due to Maker Faire's size, complexity, and continued growth, organizers made broad use of Shiftboard's comprehensive functionality and communication tools. Maker Faire alleviated insufficient staffing issues, cut event management and scheduling time by 70%, reduced time spent on legal compliance processes by 50%, helped organizers manage exponential growth, and centralized event staff & vendor coordination & communication.
According to Maker Faire Project Manager Kerry Moore, "Shiftboard has fundamentally changed the way we work. Instead of using disconnected spreadsheets, we now have a command center that allows all managers to coordinate from the same place."
To get the full story on how Shiftboard helped Maker Faire solve their scheduling complexities, click here.
The Road to Scheduling Success
When companies coordinate large numbers of hourly workers to open shifts, scheduling can be challenging and laborious. Most organizations use programs such as Excel or Google Sheets to schedule hourly workers, but soon discover their workflows are too complex. Companies then try pre-packaged scheduling systems, only to realize those systems are unable to configure solutions for matching their complex scheduling needs.
Business decisions are jeopardized, event management becomes extremely complicated, and company-wide operations start to disintegrate with ineffective scheduling operations. Shiftboard has turned the process around for the scheduling industry with a proven solution to managing complex scheduling operations for businesses across the world.
Companies are experiencing a dramatic transformation in their business operations. Want to experience your own business transformation similar to Maker Faire's experience? Our scheduling experts are ready to help you solve your complexities and turn scheduling into a competitive differentiator.