7 Reasons Why 2018 is the Year of Workforce Scheduling Automation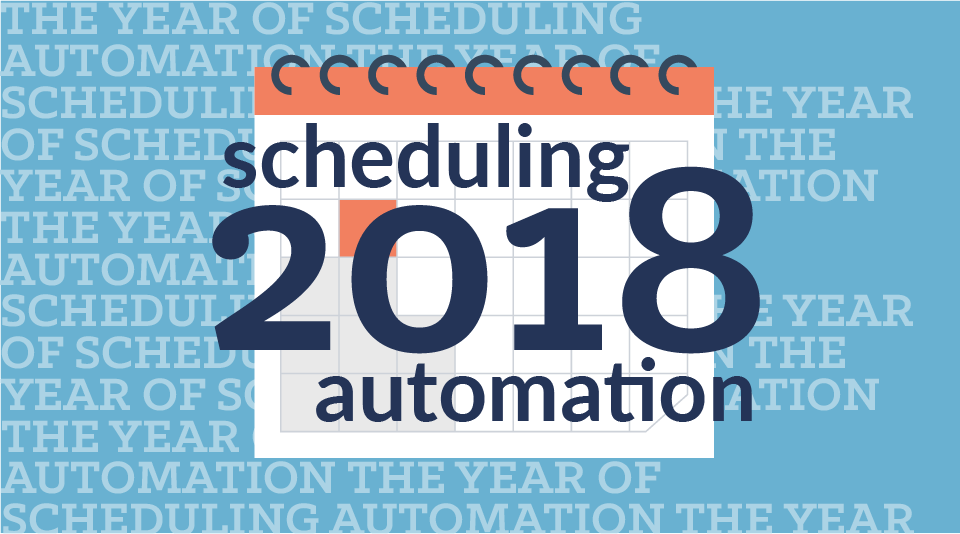 The word is out. Organizations are flocking to software providers to improve and optimize their workforce scheduling practices. The burdens of manually organizing and communicating complex employee schedules with a fluctuating workforce are quickly becoming last year's problem. While we've been optimizing workforce schedules for over a decade, we've seen the industry skyrocket in the past 12-months. Here are the 7 reasons why we believe 2018 is going to be the year of workforce scheduling automation.
1. Workforce scheduling automation saves time
Many organizations store critical workforce information like schedule preferences, trainings, qualifications, and other staff-related details in multiple files across several devices. For schedulers, these practices are time-consuming and lead to confusion, misinformation and employee scheduling errors. By not consolidating workforce data into one location, many organizations are crippling their employee schedulers' abilities to create both timely and accurate workforce schedules.
Workforce scheduling software enables schedulers to build schedules around the constraints of their workforce automatically. By consolidating schedule preferences, qualifications, trainings and tribal knowledge into one solution, schedulers are not only saving time but also improving the accuracy of their schedules. Using tools like auto-assign, Shiftboard users are saving time by allowing the software to schedule the right worker based on availability, overtime rules, and up-to-date qualifications.
By switching to Shiftboard, our customers report reducing the time they spent on scheduling by an average of 53%.
2. Increased competition of hourly workers
We've talked to hundreds of employers focused on scheduling hourly employees. Without exception, the topic of attracting and holding on to good workers is a top concern. With unemployment rates nearing all-time lows, employers are doing everything they can to attract new talent in the worker dominated job market. As competition grows, employers are trying new tactics to attract employees. When online job posting isn't enough, employers are sending recruiters to local football games and concerts. A few large chains are offering to pay employees by the day, rather than the traditional two-week paycheck. Some employers have gone so far as to add ping-pong, air hockey, and pool tables to their offices.
Needing a better strategy, many companies are turning to workforce scheduling software to improve worker satisfaction. By offering transparent work schedules, shift-trading, shift reminders and self-service portals, employers are both recruiting new workers and holding on to top talent by improving how workers interact with the schedule. Creating a culture where employees are free to express scheduling preferences, improves their ability to balance work with life.
On average, Shiftboard customers report a 40% decrease in turnover, saving them thousands every year.
3. Employees want anywhere, anytime access to schedules
In an increasingly mobile environment, employees aren't waiting for employers to update their business practices. Employees are using social media, instant-chat apps, and text messages to manage their schedules. Unfortunately, these unsecured communication channels leave managers without visibility and documentation to shift changes.
Studies show that 13% of hourly workers indicated that they request time off or shift changes via personal email; 15% do so via text message, and 6% do so via a Facebook group. Better employee communication practices can not only streamline workforce scheduling processes, but also improve overall employee engagement:
Fortunately, mobile-friendly scheduling solutions are replacing risky communication practices with secure anywhere, anytime shift planning. Consolidating employee time-off requests, shift trades, and availability into one mobile-friendly workforce scheduling solution keeps both the schedulers and the workers up-to-date of any last-minute changes. In addition to real-time schedule changes, employees can receive shift notifications to reduce the chances of missing a shift.
Leveraging Shiftboard tools like shift trading and auto-backfill, customers can reduce time spent managing changes by an average of 55%.
4. New labor laws are magnifying schedule complexity
In 2017, we saw a rise in new workforce scheduling regulations throughout the United States. Laws enforcing predictive or restrictive scheduling policies have become a reality for places like Seattle, San Francisco, San Jose, New York City and the entire state of Oregon. While predictive scheduling policies are not yet nation-wide, New York, California and many other states are moving to catch up. It's only a matter of time before each state has their own regulation surrounding how employers set up and maintain their work schedules.
Workforce scheduling automation software offers an oasis for organizations feeling pressured to keep up with new labor law regulations. By constructing rules within their automated scheduling solution, employers free themselves from relying on the collective wisdom of their schedulers. Employee Scheduling solutions, like Shiftboard, allow the schedulers to tailor their automation software to keep their business in line with new labor laws and predictive scheduling policies. If you want to learn more about how the recent US labor laws influence workforce scheduling, check out our informative labor laws webinar!
Surveying our customers, we've found that scheduling automation reduces scheduling errors by 51%.
5. Scheduling automation better aligns scheduled staff to actual demand
Manually scheduling staff to meet the appropriate demand can feel more like fortune telling than a science. Without scheduling software, schedulers are continually faced with a costly dilemma. Schedule too many workers and they waste money on excess labor. Schedule too little workers and the quality of service drops, leading to unmet expectation. The closer companies can meet scheduled staff to their actual labor demands, the closer they can get to optimizing their labor costs.
Scheduling automation replaces trial and error scheduling with data-backed forecasting to create shifts that align with historical demand. Forecasting workforce schedules based on historic demand helps companies optimize their schedules by minimizing wasted labor costs while maintaining appropriate levels of service. Using tools like Demand Planner, Shiftboard users can map current schedules to historical demand.
Using tools like Demand Planner, Shiftboard customers have reduced their scheduled worker hours by 7.4%.
6. Workforce scheduling automation improves productivity for workers and schedulers
Schedule creation is only the beginning. Schedulers must communicate, adjust and ensure that their staff adheres to the schedule. Frequently, this means schedulers are busy filling missed shifts, communicating schedule updates, notifying staff of available hours, coordinating shift trades, and much more. This type of manual schedule management trains workers to become dependent on schedulers to communicate changes, make adjustments and maintain schedule preferences. Putting everything on the schedulers' shoulders increases workforce scheduling errors and decreases the effectiveness of the staff.
Modern employee scheduling solutions completely change the game. Scheduling software like Shiftboard creates a mobile-friendly, self-scheduling environment where employees have 24/7 access to schedules and are empowered to trade shifts, configure availability, request PTO and more. Scheduling software improves the productivity of both staff and schedulers on many fronts. Features like shift-trading, automatic schedule notifications, and broadcast communications easily allow both schedulers and workers to stay up-to-date of real-time scheduling changes.
Shiftboard customers report a 6.2% increase in worker productivity. 
7. Scheduling automation reduces scheduled overtime
Effectively managing overtime typically requires a bird's-eye view of the schedule. When scheduling is done manually, across multiple schedulers, overtime is an almost impossible task to truly optimize. Oftentimes, when schedulers lack a complete view of the schedule, they lean on managers to take extra shifts that result in costly manager overtime. Common manual scheduling practices lack the tools and insights needed to offer extra hours to the most appropriate and cost-effective worker available.
Scheduling software provides a centralized, comprehensive view of the schedule across the entire organization. By configuring overtime preferences into their scheduling automation software, schedulers automatically adhere to overtime rules when assigning extra hours. Using overtime reports, like those found in Shiftboard, allow schedulers to understand their overtime costs better. These reports provide actionable insights that allow organizations to optimize labor costs.
Customers using Shiftboard to decrease overtime report an average reduction of 51%.
The growing costs of doing nothing
Implementing a scheduling automation solution is not a question of if you should, but rather a question of why you haven't already? With over a decade of experience, we've helped customers save thousands within the first few months of implementing Shiftboard. Diversified across dozens of industries, we are ready to help you discover why 2018 is the perfect year to better your business through scheduling automation.