What Do Hourly Employees Want in Their Work Schedule?
Shiftboard | September 19, 2019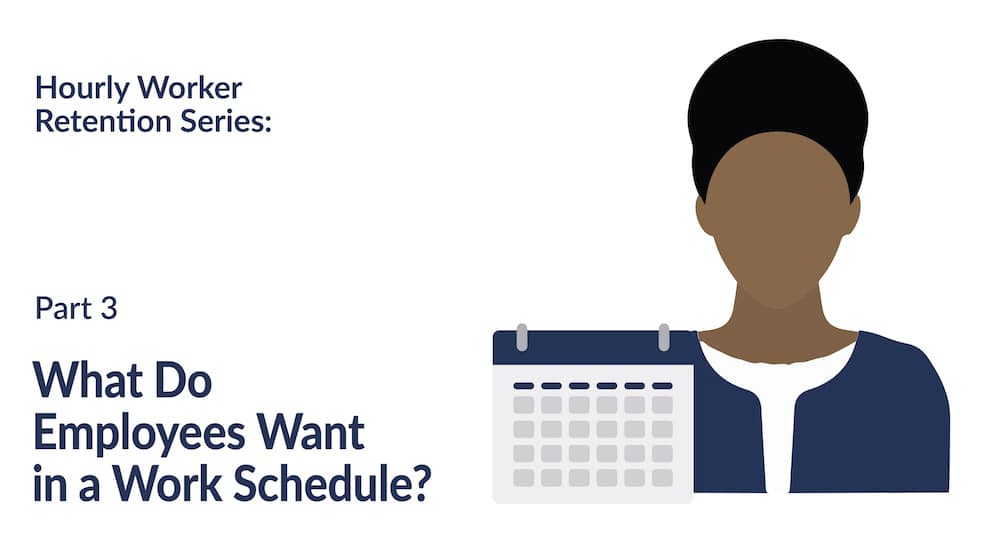 Have you ever sat down to do a complex puzzle with thousands of pieces and spent hours carefully placing every piece in just the right position only to get to the end and realize you are missing a piece?
This scenario is much like the challenges a manager faces when piecing together a schedule for hourly employees. The manager must account for the many rules, regulations, preferences and requests for time off, only to complete the task and have employees begin requesting changes, swapping shifts or calling in. This can often lead to frustration and the feeling that you are missing a piece of your scheduling puzzle. Or, perhaps even a couple of key pieces.
While there is no way to make everybody happy with their shifts all the time, there is a way to make scheduling more worker-centric, and that lies in understanding the aspects of the work schedule employees most value.
Flexibility: The Missing Puzzle Piece
We've discussed how flexible work schedules can improve employee retention, and that flexibility means something different to almost everyone in your organization. While Jane may be simply looking for a day off to care for her sick mother, Tom may be wanting to maximize his hours through overtime shifts — when he chooses — to pay to pay for that boat he's been eyeing.
However, in our 2019 State of the Hourly Worker Report, hourly employees stated they are essentially looking for schedules that allow them to have a life outside of work. In fact, 89 percent of respondents said they would prefer to work longer days and have more time off between shifts. What employees find most valuable, however, is the option of having some say in the schedule creation process. For example, if Sally's daughter has a dentist appointment on Thursday — she can say that and not be scheduled for that day or perhaps work a different shift than usual to accommodate her daughter's appointment.
Flexibility also means having the ability to swap or trade a shift after the schedule is created and something comes up. Fred is scheduled to work on Tuesday but needs to travel out of town for a family funeral, so he trades shifts with Bruce in order to be able to take the trip and keep his hours. And, when it comes to overtime, employees want a say in that too. According to data from our survey, 88 percent of hourly workers want to have the option of overtime for more pay, 78 percent want a set number of hours with no overtime required, and 93 percent said they would be willing to work overtime when needed, but didn't want to be required to do so.
"These workers aren't asking for the option to work from home or for unlimited snacks. What they need is for their employers to realize that they have lives outside of work that they need to plan for and pay for. And if employers do, they will reap the benefits of having a happier, more stable, and more productive workforce." – Slate
Predictability: Don't Leave Your Employees Puzzled
The next big piece to the scheduling puzzle is predictability. Whether your schedules are created by your manager, or through what's known as bottom-up scheduling, employees are more loyal to companies where the schedules are provided with enough advanced notice. And when there are schedule changes, employees want them to be communicated quickly and efficiently. In fact, according to Aptitude Research Partners, organizations with predictable scheduling are 53 percent more likely to experience lower turnover than the industry average.
If you have ever worked a retail job — especially during the holidays — you understand the constant changes to schedules, and the stress they have on your life. It is not uncommon in these environments for schedules to be posted only a day in advance, or to have shifts change frequently, making it almost impossible to reliably plan anything outside of work. Though these scheduling adjustments may be seen as the nature of the business by some, the truth is they are a leading cause of high turnover rates. According to Bersin by Deloitte, employee turnover is 174 percent more likely at companies without real-time scheduling capabilities.
To remedy the predictability problem, in 2016, over a dozen U.S. cities and states considered requiring employers to provide hourly employees several days' notice of schedule changes. Then, new legislation regarding the workforce in 2018 led to many states passing predictive scheduling laws and required employers in certain industries to provide employees with adequate notice of changes or be subject to fines.
Watch the video below to hear workforce management experts Frank Pereira and Steve O'Brian discuss the factors hourly employees value most in a work schedule.
A Little Appreciation Goes a Long Way
Much like you want people to admire your finished puzzle, employees want to be shown some appreciation for the hard work and effort they put into their jobs. The goal of every organization is to foster long-term relationships with employees, not make them feel like they are easily replaceable if they burn out. Recognizing your employees and celebrating their achievements not only boosts retention, but also increases morale — and it's easy to implement. Be sure to stay tuned for next week's post where we discuss employee recognition and other staff retention strategies, and the impact they have on your organization.
To learn more about what employers can do to improve employee retention in hourly workforces, read the final article in this series.