How to Reduce Hourly Employee Turnover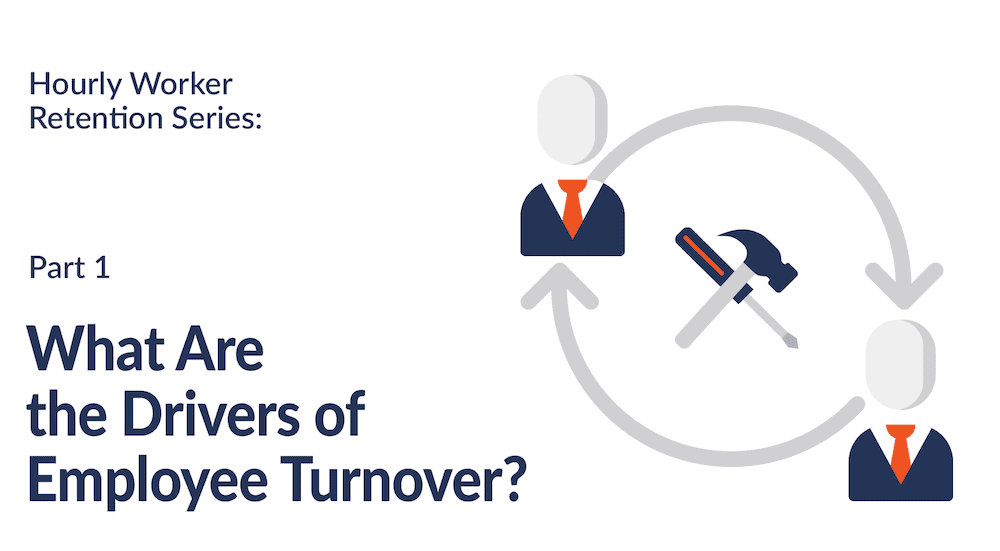 ---
Companies in every industry are struggling to find and retain their hourly workforces. With turnover rates – and the expenses that go with them – on the rise, this epidemic is costly for many employers. It is critically important for organizations to address this issue head-on if they want to drive competitive advantage in today's aggressive business climate.
Shiftboard recently published the 2019 State of the Hourly Worker report in which we surveyed over 2,000 American workers to get a better view of their mindset when it comes to certain aspects of worker motivation and satisfaction. We partnered with Lux Insights to conduct the research and determine answers to the most burning questions that organizations face when dealing with hourly employee job satisfaction and turnover.
In this four-part blog series, we reveal the little-known facts about the factors hourly employees need to feel actively engaged in their work and experience job satisfaction. We'll discuss the direct impact scheduling has on retention and uncover what employees are looking for in a work schedule. We'll also chat through the top strategies employers can implement to improve retention in their hourly workforces.
The Psychology Behind Hourly Employee Turnover
First, let's go back to psychology class and review Maslow's hierarchy of needs. Maslow (1943, 1954) stated that people are motivated to achieve certain needs and that some needs take precedence over others. Our most basic need is for physical survival, and this will be the first thing that motivates our behavior. Once that level is fulfilled the next level up is what motivates us, and so on. His hierarchy includes physiological needs, safety, love and belonging, esteem, and self-actualization.
But, what does this have to do with your workforce?
Everything.
Employee Retention: What Matters Most
Some organizations fail to look beyond pay and benefits when determining the needs of their employees when it comes to job satisfaction. Let's take Maslow's theory and apply it to the workplace.
In our study, we discovered the aspects of work beyond compensation that directly impact hourly employee satisfaction and worker turnover. They include:
Work Schedule
Quality of Life/ Work-Life Balance
Scheduling Flexibility
Scheduling Consistency
Of the hourly workers we surveyed, 85 percent said their work schedule impacts their overall job satisfaction, and 73 percent said it impacts their relationship with their boss. Those are some pretty high numbers. Could shifting the priorities of your company to meet the needs of hourly employees reduce turnover? We think so.
The Cost of Employee Turnover
We talked about the cost of employee turnover during a recent interview with Frank Pereira, managing partner of Coleman Consulting Group. "When you talk about retention costs or the cost of turnover, typically you do a calculation that involves the cost to find somebody and then train that person for a position," stated Frank. "Those numbers, depending upon the job, skill level, and wage rate, can vary anywhere from $5,000 – $25,000 a person. Imagine if you're at $25,000 a person — you lose a hundred people a year — you're talking a $2.5 million hard cost."
Turnover costs include much more than the cost of hiring and training someone new. They play a major role in the morale of other employees and can sometimes detract from the quality of work they perform.
But there's also another significant cost, the hit to the company's culture. When turnover increases, current employees often need to pick up the slack in the form of overtime. This can lead to burnout, which just continues the cycle.
Scheduling: Hourly Employees' Most Basic Need
Many companies fail to view the work schedule as a fundamental need of their hourly employees. Learn more about reducing turnover with scheduling in the video below.


Learn about how flexible work schedules impact hourly employee retention and the strategies savvy companies are implementing to improve job satisfaction and reduce hourly employee turnover in the next post.