Shiftboard Announces Sponsorship of Ian Herbert-Jones and the 2022 Golden Globe Race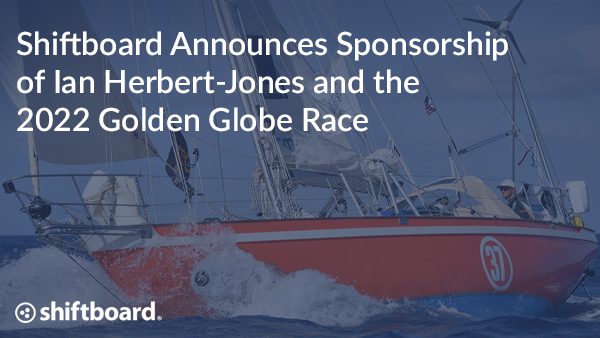 SEATTLE – April 07, 2022 – Shiftboard is proud to announce its sponsorship of Ian Herbert-Jones and the 2022 Golden Globe Race (GGR). A British amateur adventure sailor and former Shiftboard employee, Herbert-Jones will attempt the single-handed, non-stop, 30,000-mile sailing race around the world at the helm of Puffin, the Tradewind 35 Cutter Rig he's skippered since 2018.
"We are delighted to support Ian and his passion for sailing, but we're also honored to support his entry into a race that champions tenacity, integrity, and truth — some of the same values that drive our work as an organization," said Shiftboard CEO, Sterling Wilson. "We're very proud of Ian for taking on this endeavor, and we'll be eagerly marking his progress every mile of this incredible journey."
Considered the longest sporting event in the world, GGR requires comprehensive preparation and backing. "Shiftboard's support has been essential to fulfilling this dream, and it says a lot about the company and its values," acknowledged Herbert-Jones. "I was fortunate to work for an employer who recognized, respected, and supported me as an individual — which includes my aspirations outside of work."
This lengthy race also requires skippers to forgo all modern technologies during the race — that means they must navigate using paper charts and the stars, forecast weather themselves, and use only radio communication. Alone for over 200 days and navigating the most unpredictable oceans on the planet, it becomes evident that this sailing event is more than a race to the finish line – it's an exploration into the depths of human endurance, creativity, and courage.
"From our vantage point as an organization, we see shared characteristics between the skippers of the GGR and the operations leaders we support in mission-critical industries — they must be fearless in the face of uncertainty, despite knowing the severe consequences of their operation failing," said Wilson. "Mission-critical operators must constantly innovate to creatively solve for unexpected events day-in and day-out — much the way these skippers will do to keep their ships afloat and finish the race."
The Golden Globe Race will start from Les Sables-d'Olonne in France on Sunday, September 4, 2022. This date commemorates the 54th anniversary of Bernard Moitessier setting off in the original Sunday Times Golden Globe Race on August 22, 1968.
Learn more about the Golden Globe Race and Shiftboard's sponsorship.