Centerplate provides all food and beverage products, staffing, and services for the Washington DC Convention Center. Operating at a high tempo, the DC Convention Center hosts large business and political conferences, many with international attendees. Centerplate/NBSE, the DC Convention Center unit (CP-DC), staffs these events with a union labor force of 400 servers, bartenders, cooks, and retail employees.
Like many entertainment venues, sports facilities, and convention centers, things change quickly at the DC Convention Center. As events are added, removed, or start times change, CP-DC must respond quickly.
Curtis McDonald, CP-DC's CFO, manages the administrative team that coordinates all staffing and financial planning. For every event, McDonald's team has a broad workforce management charter that includes integrating staffing requests from ten line managers across multiple departments while complying with union seniority rules and managing overall variable labor costs to meet financial metrics.

"Keeping in mind all the seniority requirements in our previous spreadsheet paradigm were very time consuming, to put it mildly."
– Curtis McDonald, Chief Financial Officer
Centerplate: DC Convention Center
Online Staff & Workforce Scheduling Software
Shiftboard was rolled out within weeks at CP-DC. An immediate benefit for the scheduling team was the time saved with Shiftboard auto-schedule functions. A scheduler could load an entire department's shifts for the week or month and invoke the auto-scheduler to fill them.
All shifts were assigned based on seniority without double-booking an employee or scheduling anyone into an overtime scenario. "Keeping in mind all the seniority requirements in our previous spreadsheet paradigm were very time consuming to put it mildly," said McDonald.
Having a system also standardized the communication process between the schedulers and line managers. "We used to receive staffing requests via email, or spreadsheet, or handwritten on a napkin for that matter. We trained all the line managers to use Shiftboard excel template for loading shifts, and then the schedulers could just check the template. It made everyone happier."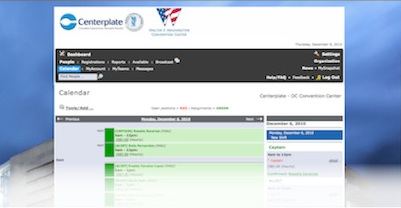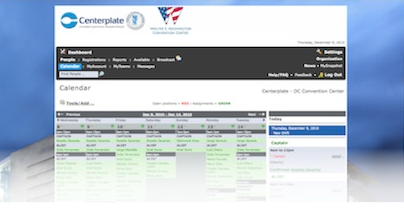 An important output of Shiftboard online staff scheduling software was executive financial reporting, both in terms of shifts and total hours, but especially in terms of labor cost forecasting. Every person scheduled has a certain number of hours and a pay rate, which the system pulls together in real-time.
Once the schedule had been created, another critical requirement was to interface directly their time tracking system, Attendance Enterprise. A custom report was created in the exact format Attendance Enterprise required for uploading information allowing Attendance Enterprise to automatically invoke limitations around early check-in as well as provide adherence reported around scheduled vs. actual times.
Curtis McDonald summarized Shiftboard in terms of targeted financial metrics, "The system is definitely working for us. We are hitting our numbers and have been for the past 2-3 months."
DC Convention Center realized the following benefits using Shiftboard
Managing different departments of the business with one scheduling and labor forecasting system
Managers and employees can have access to view the calendar 24/7
The capability to integrate with programs that are already in place providing a smooth transition into the system
Discover Smarter Scheduling

"Because we can immediately see the impact of the schedule in terms of labor forecasts for tomorrow or next week, we can make adjustments before we incur the cost. It's a nice change to act upon the information instead of reacting to already-incurred payroll costs."
– Curtis McDonald, Chief Financial Officer
Centerplate: DC Convention Center