The Johnson Ferry Diaconate is made up of more than 150 deacons and 4 support staff. Each deacon volunteers for an average of two services each month. Over time, the scheduling challenge of the Diaconate grew increasingly complex due to the number of Sunday services, plus various deacon roles required at each service including greeters, prayer leaders, service coordinators, and additional roles for special services.
Jeremy Watkins was elected to be the Secretary of the Diaconate. "When I began to prepare, I looked at the scheduling spreadsheet," he said. "It had numbers in place of names, specific Excel lookups… you name it."
Plus, schedule changes were being sent via email too quickly to keep the spreadsheet in sync. "I'm pretty good with Excel," he said, "but our group scheduling had become too complex to handle this way."

"Our group scheduling had become too complex to handle with Excel."
Jeremy Watkins, Deacon Secretary
Johnson Ferry Baptist Church
Shiftboard Online Scheduling Application
Mr. Watkins rolled out the new Shiftboard web-based scheduling system to the deacons at his annual retreat. "I just did not know how it would be accepted," he said. "The deacons are pillars of the church. And I was just amazed at how the group universally embraced this system."
During the initial rollout, he used Shiftboard to query and see who had not logged in for 15 or 30 days, enabling him to reach out to a few folks who might be hesitant to get started. After only a few months, Shiftboard had been fully adopted.
The biggest benefits included:
Centralized information and communication. Schedules and related details are all online and accessible 24x7, eliminating the need for a manual spreadsheet system.
Shifted service responsibility from assignment to volunteerism. This benefit was a bit of surprise, as the church wasn't actively seeking it out. "It's a paradigm shift, "Watkins said. "We've gone from a system where we assigned everyone their service times and dates, to one where our deacons sign up when and where they are available. That was something I did not even conceive of before Shiftboard."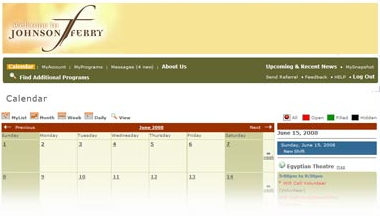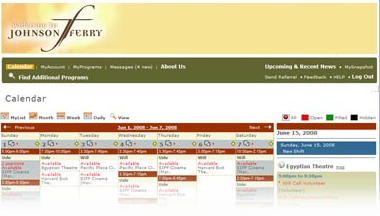 Shiftboard also makes it possible to quickly spot and fill coverage gaps. "If I see on Tuesday that I have a gap next Sunday, it is so quick for me to generate an email to everyone who does not have a shift that day, requesting someone to step in and serve. And that shift just gets filled. The guys take care of it themselves. That is a huge time savings to me as an administrator."
Johnson Ferry Baptist Church has realized the following benefits using Shiftboard shift scheduling:
Reporting features not available with Excel or manual scheduling. For example, the Diaconate uses signup sheets for every service. These reports can be generated for each service each Sunday in a format ready to print.
Quick views into which deacons have served the most or the least over any date range, usually the past month or the coming month. This helps the Diaconate spread service equally, helping some from becoming overloaded.
Discover Smarter Scheduling