Employee Scheduling Software
Turn Scheduling Into a Strategic Advantage
Reduce labor costs, eliminate no-shows, improve team communication, and streamline operations. Move beyond spreadsheets with Shiftboard's employee scheduling software.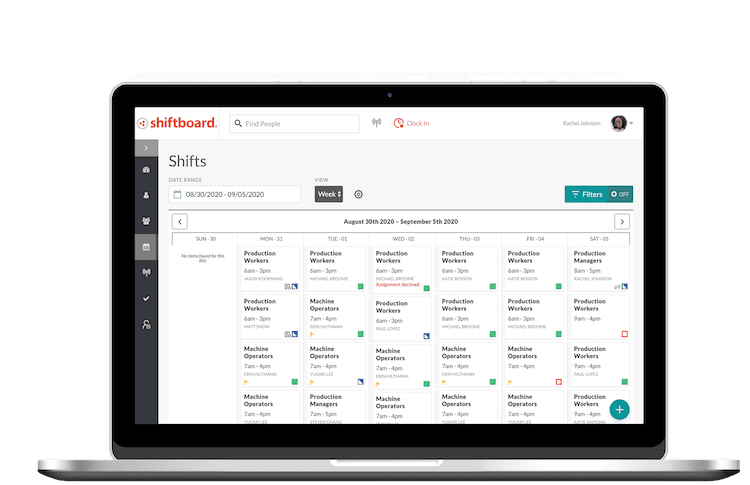 Lower Labor Costs
Eliminate scheduling headaches. Meet your organization's unique scheduling needs and easily handle changes with Shiftboard's employee scheduling tool.
Advanced rules engine – align shifts to fit complex scheduling and overtime rules.
Auto-fill shifts – auto-assign shifts, helping to reduce fatigue and manage overtime.
Automate notifications – communicate schedules and shift changes automatically.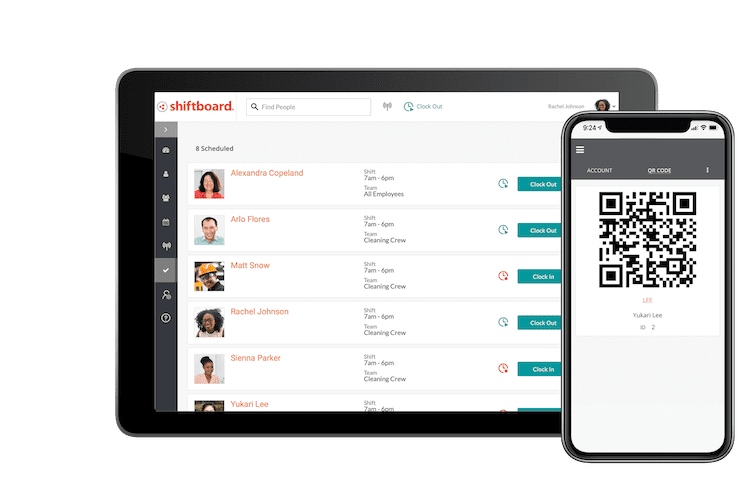 Improve Workforce Efficiency
Use historical information to better predict demand, optimize shift assignment for employee schedules, and track labor costs with automated workforce scheduling.
Reduce overtime – control overtime costs and track labor costs and easily compare them to your budget.
Align schedule to demand – forecast demand to create your schedule.
Optimize schedule – auto-assign people to optimize labor coverage.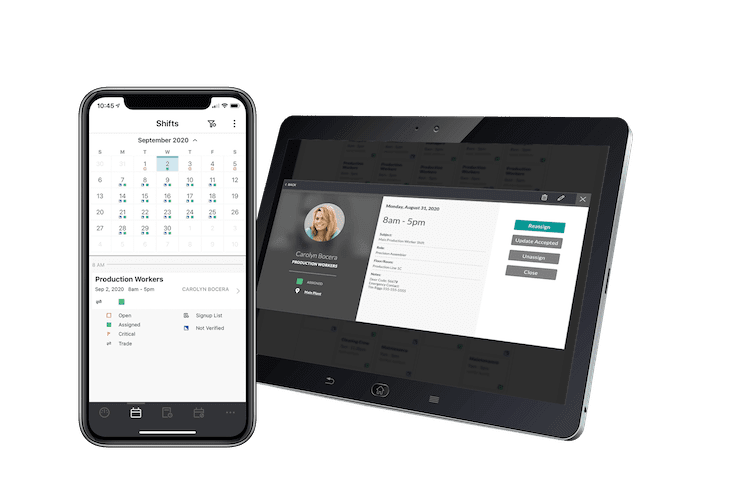 Boost Employee Engagement
Streamline communication processes between managers and employees. Get immediate responses with mobile texting. These features ensure workers are at the right place at the right time.
Pick up or sign up for shifts – assign or post open shifts for pickup.
Instant message – use two-way texting for faster shift pickup.
Group notifications – message everyone in your organization or just a targeted few people.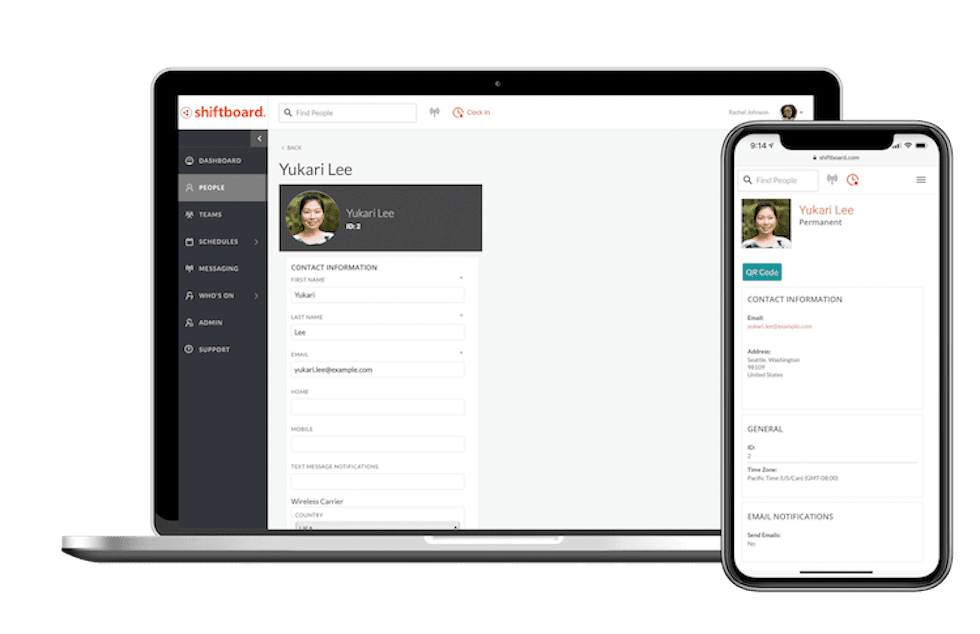 Track Compliance
Maintain labor law compliance and eliminate scheduling errors by tracking labor contracts, employee credentials, seniority rules, mandatory rest periods and more, all within Shiftboard.
Track credentials – store credentials, expiration dates, and documentation.
Compliance alerts – automatically alert workforce of upcoming credential expirations.
Shift blocking – prevent workers with expired credentials from being scheduled.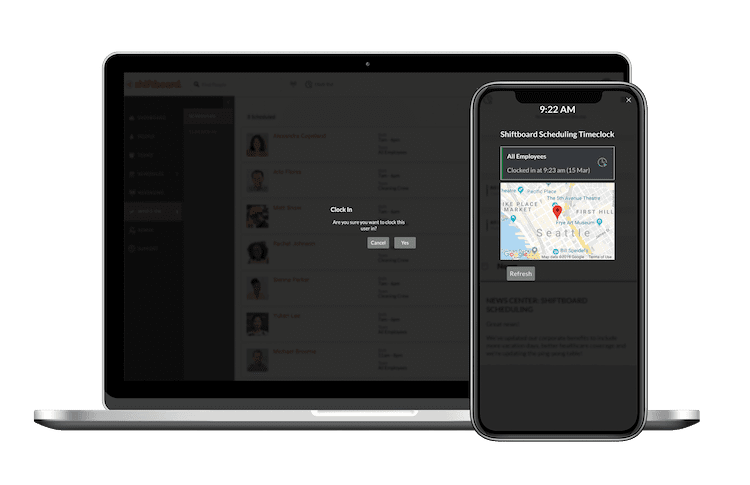 Increase Productivity
Managers can add or approve shift changes on the go. With automated employee scheduling, managers can also enable employees to view their own schedules, manage availability, and seamlessly trade shifts–on any device.
Manage availability – pick up shifts and update availability.
Mobile apps – manage schedules and info on any device.
Trade shifts – provide open trading or require manager approval for trades.
Shiftboard's employee scheduling tools are configurable to the way you work.
Shiftboard Employee Scheduling: Key Features
Worker Profiles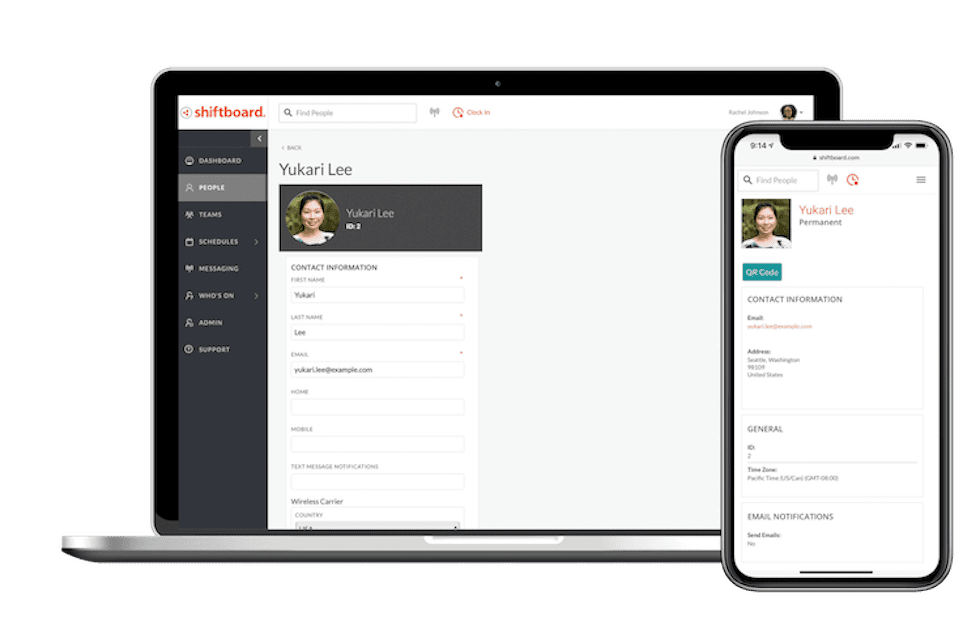 Custom worker profiles provide the flexibility to manage contact info, licenses, expiration dates, trainings, certifications, documents, employment history, education information, and more. You have multiple profile types to align with job responsibilities. Profiles help you track documents, assets, training, and compliance.
Your profile can be divided into one or more tabs like General Information, Emergency Contact, and Education. You determine the tabs and profile information that you need to manage your workforce.
Multi-profile—align profiles to job responsibilities; for example: nurses, administrators, and talent and project managers all need different profiles
Upload—bulk upload profile information from Excel
Registration pages—collect profile information from an online registration page to streamline the information collection process
Edit and privacy control—define who can edit info and secure sensitive data; example: update contact info but not hire date and secure SSNs
Virtual Teams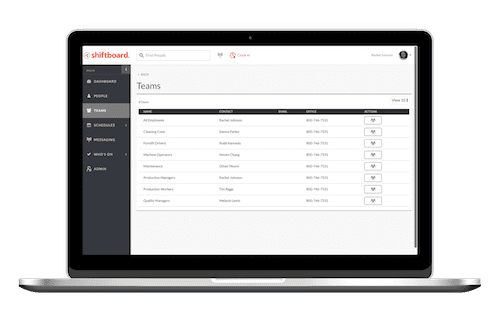 Shiftboard teams make it fast and easy to assign shifts and communicate with workers. Teams are groups of people who are qualified to work certain types of shifts. They can be based on qualifications, roles, locations, or a combination of these or other characteristics. Teams ensure you get the right person, with the right qualifications, scheduled when and where you need them.
You build your schedule and assign shifts based on teams. You can even rename the word "team" to match your organization. Common replacement words for "teams" are clinics, crews, posts, projects, programs, and work groups.
Multi-team—align people to multiple teams like "All Staff," "First Shift Managers," and "First Shift Team"
Auto-assign—add new people automatically to teams like "All Staff"
Bulk assign—assign and upload team assignments with profile info
Team controls—limit people to their assigned teams or allow them to join teams
Automated Schedules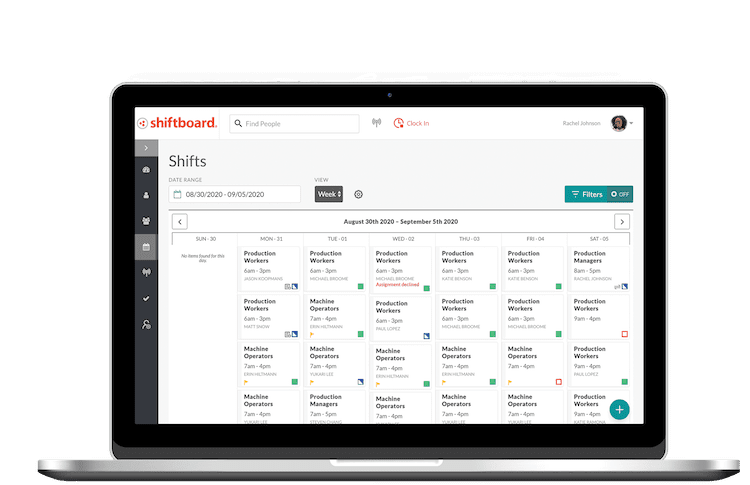 Creating and optimizing schedules isn't just a check-the-box item. Being able to handle complex scheduling rules, control overtime, and optimize shift coverage can dramatically improve your business. Whether scheduling 100 or 100,000 workers, aligning staffing requirements to budget, skills, and demand can eliminate common scheduling errors that impact your bottom-line.
Whether you schedule top-down (managers assign shifts) or bottom-up (employees pick up available shifts), or a combination of both, you can create an automated, optimized schedule.
Smart scheduling—create shifts and assign staff while aligning skills and automatically handling worker availability, complex labor laws, and compliance
Draft schedules—create and save draft schedules until you are ready to publish, then auto-assign workers or publish shifts for pickup
Multi-view—view shifts by calendar or people to see coverage gaps, and view who is staffed where and when; filter views to show details by manager, location, specific shifts, and much more
Import and export—import schedules from Excel, print schedules, and integrate or export data as needed
Communication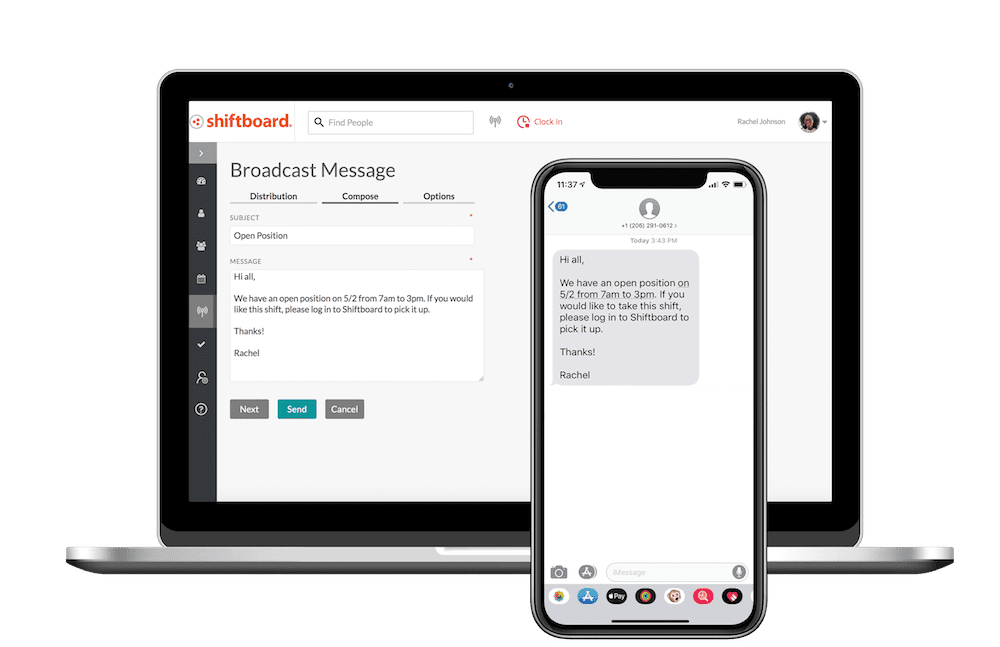 Better communication boosts worker engagement. Notify and remind staff of upcoming shifts. Effectively coordinate last-minute replacements, logistics, or staff updates. Communicate easily with your entire workforce, smaller subgroups, or specific individuals.
Use email, text, or message boards to communicate based on urgency. Staff members can set their communication preferences to email and/or text. Create shifts with attached documents, location maps, directions, and more.
Auto-notify—notify staff automatically of new shift assignments, shifts available for pickup, or shift changes
Auto-remind—remind staff automatically of upcoming shift assignments
Announcements—post information on your electronic bulletin board or email/text important messages
Two-way texting—send texts for urgent shift changes and receive text responses to pick-up shifts.
Demand Planner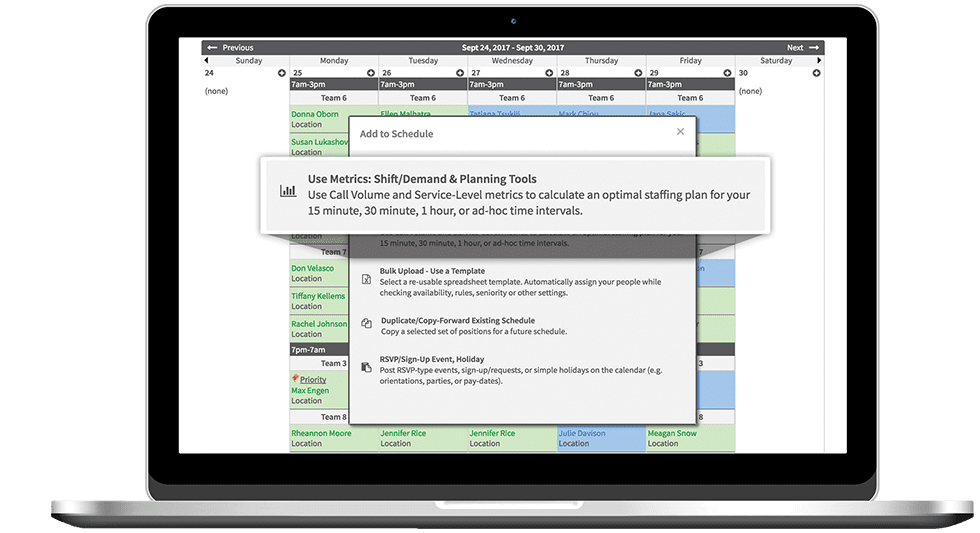 The Demand Planner service helps you use historical data to forecast and create shifts to align with expected demand. This information helps you optimize your schedule and control labor costs by matching schedules to customer and sales demands to prevent overtime and over-staffing. A seemingly small improvement can have a significant impact on your business.
Use your current workload (i.e. volume of calls or tasks performed during a period of time) and the average length of time required to complete your tasks to compute the optimal number of staff needed for various levels of service.
Forecasting—analyze historical patterns and create schedules based on past demand
Auto-create shifts—automatically create shifts on your calendar that optimizes the schedule based on forecasts
Auto-assign shifts—assign the right resource to the right shifts based on availability, pay rate, and other rules
Modeling—review multiple draft schedules to assess which one best matches your needs
Tradeboard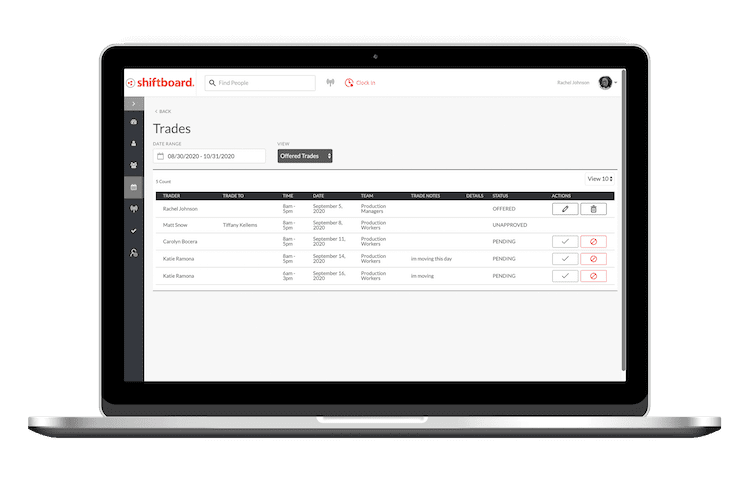 The tradeboard makes it easy for your workers to trade shifts. They can put shifts up for trade or check the tradeboard to pick up additional shifts. Shift trades can also require manager approval. Compliance and overtime rules are automatically applied, so workers can't accidentally double book or put themselves into overtime.
Workers can use their mobile device to manage and view their trades and trade status. Only when a team member picks up a shift and the manager approves the trade is the worker removed from the schedule.
Mobile—view and manage shift trades from any device
Open trades—the trade board can be "open" so that manager approval is not required to trade or pickup shifts
Manager approved—require manager approval for all trades, specific shifts, or only when picking up new shifts from the tradeboard
Shift control—allow only specified teams to trade shifts or only specified shifts to be traded
Role-Based Views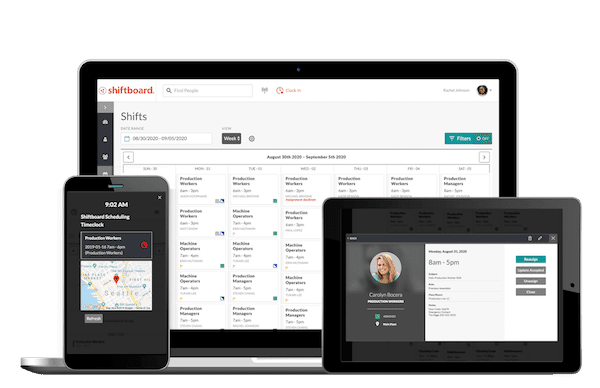 Shiftboard provides a great user experience through our exclusive role-based views so that everyone involved gets value from using Shiftboard.
Role-based views cater Shiftboard to specific needs. For example, dedicated schedulers who are responsible for scheduling hundreds to thousands of workers need all the powerful tools Shiftboard offers. Their view looks completely different from other views because their needs are unique.
Worker View: Provides workers what they seek most–their work schedule, ability to pick up new shifts, trade shifts and such.
Manager View: For frontline managers to manage daily scheduling tasks such as filling shifts, managing call-outs, and approving time cards.
Admin View: For dedicated schedulers and system admins to create master schedules, adding new users, run reports, and much more.
Mobile App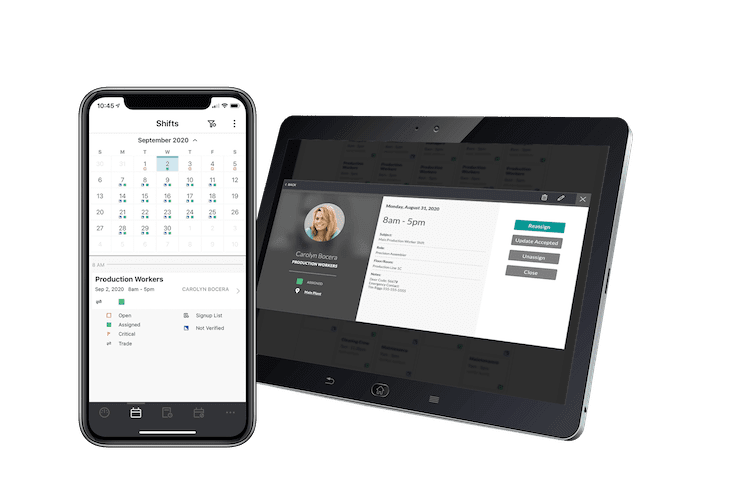 Mobile access means your team can access their schedule, manage their shifts, update their availability, and change their contact information from any device. Browser-based access from any device plus mobile apps for iPhone and Android make it easy to match your worker's preferences.
Both staff and managers benefit from mobile access. Easily see an individual's schedule or the team's schedule. Request or approve time-off. Update or view availability. Trade shifts or approve trades.
Anywhere access—check schedules, adjust availability, manage account details, view team information, and clock-in or out
Calendar—view your schedule, pick up new shifts, and view the status of shifts on the tradeboard
Tradeboard—manage shift trades and pick up extra shifts while keeping OT under control
Password control—change your password from any device
Report & Analytics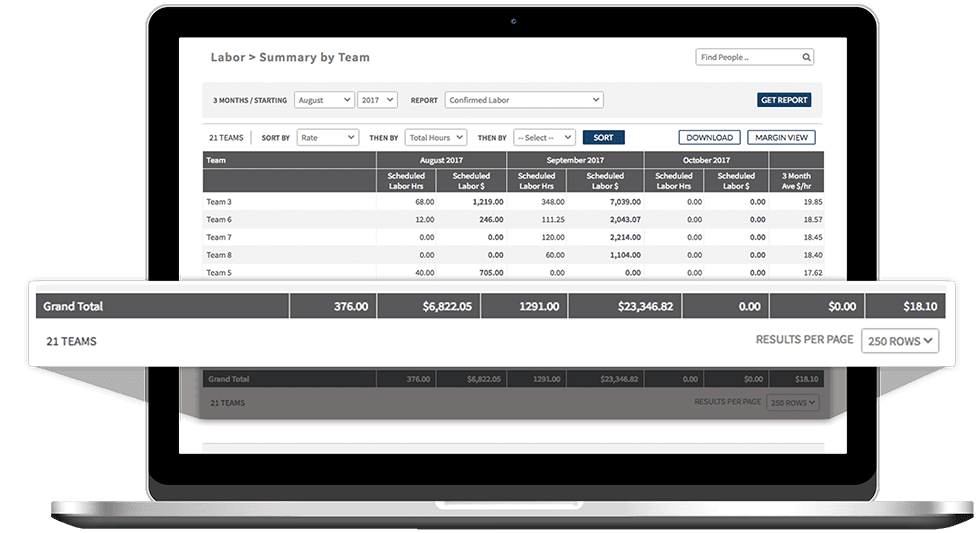 Reporting and analytics provide insights on people, schedules, and labor costs. Executive summaries help keep management informed. You can run reports for your entire team, a single team, or even for specific clients. Client reports are particularly helpful for staffing companies.
Sort and filter reports to view only the information you need. Choose the fields that you want to include and roll-up data for analysis. You can run reports for people, shifts, sign-in sheets, time cards, financial analysis, and more.
People and Calendar reports—analyze schedules, shifts, and people to see available shifts, totals by person, hours scheduled, or hours worked by specified dates, team, or person
Financial reports—analyze labor costs, review forecasting, and roll-up executive summary reports tracking actual costs compared to budget
Time clock—track time clock information or create time cards using scheduled shifts on the staff schedule or time clocks
Export—download data to integrate with other systems
Shiftboard Easily Integrates with your
Payroll and HR systems.
Brands With The Most Demanding Schedule & Workforce Management Needs Trust Us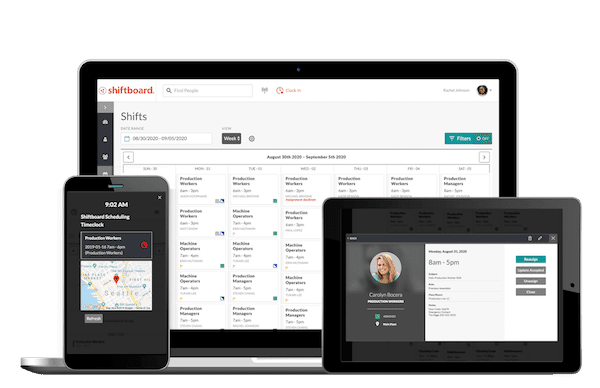 Request Your Shiftboard Demo Today