Top 3 Chemical Industry Challenges: How Employee Scheduling Automation Helps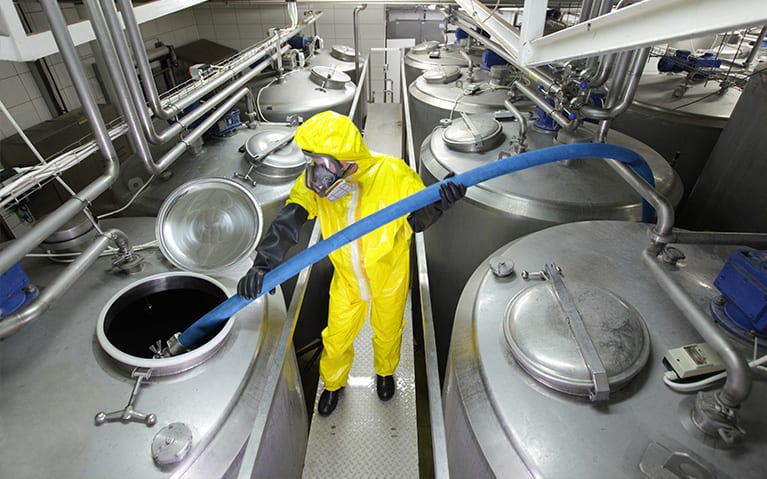 Digitalization is a buzzword that resonates with all industries, but it's an especially hot topic for chemical manufacturers today. So much so that analysts expect to see a surge of digitalization initiatives get underway in the short term. Workforce scheduling is one such initiative that is gaining the attention of executive change agents who recognize the crucial, strategic role employee schedules play in plant productivity, worker safety, and cost-efficiency. The transformative impact automated employee scheduling has on operational excellence cannot be ignored in our new world of work. In this article, we share three challenges that employee scheduling automation uniquely addresses for chemical manufacturers, as well as the proven ROI it produces.
Challenge 1: Ensuring Worker Safety and Productivity
The handling of hazardous liquids requires employees to be on high alert at all times. Many chemical plants follow industry fatigue standards such as API RP 755 or develop their own Hours of Service rules to drive down fatigue-related incidents and maintain worker productivity. While these science-backed requirements provide great guidance, they can be complex and time-consuming to operationalize. Interviews with Shiftboard customers have revealed that companies can spend up to 6 hours a week manually validating and reworking their employee schedules to ensure full compliance. These are valuable hours that operational staff could have spent on coaching employees, managing floor performance, and delivering the company mission. An employee scheduling solution can mitigate worker fatigue and safety risk while freeing up management capacity and ensuring plant productivity. Here's how employee scheduling technology helps protect against fatigue:
Ensures an error-free schedule by checking assignments against all fatigue rules automatically.
Enables proactive fatigue risk mitigation by providing recommendations to rectify rule violations.
Facilitates exception management by tracking rule overrides and justifications.
Assists in identifying scheduling and safety training improvements with purpose-built audit reports.
Challenge 2: Optimizing the Utilization of Limited Labor
Many sectors feel the shortage of labor and finding backfills for unexpected shift openings is a daunting challenge plant managers and supervisors face daily. Unlike industries with the luxury of leveraging temporary and contingent workers, chemical plants require specialized skills that outside labor sources cannot easily fulfill. This fact creates an essential need for plant operators to make rapid decisions that optimize existing in-house resources.
While Excel and human resource information systems (HRIS) can handle the basic tasks of schedule planning and hour tracking, they provide little means to enhance on-the-spot backfilling decisions that satisfy stringent constraints such as skill requirements, employee availability, shift preference, and scheduling rules. This gap often causes operations leaders to scramble at the eleventh hour. Plant startup time, throughput, and production targets all suffer as a result. Employee scheduling technology that is purpose-built for complex industries can help speed up the shift filling process and make sure no untapped resources are overlooked. Shiftboard's customers experienced an 88.5 percent improvement in shift coverage rates through effective employee scheduling solutions. This is an impressive figure to be sure, suggesting the huge potential plant operators have to improve the utilization of their existing workforce. Here's how employee scheduling technology builds workforce flexibility and drives operational efficiency for chemical plant operations:
Speeds up shift backfill by automatically providing schedulers with a list of qualified, available employees for assignment.
Optimizes labor allocation by automatically identifying underutilized workers to be reassigned and shuffled.
Reduces employee churn and shift refusals by meeting employee preferences for additional shifts.
Enables rapid response to daily disruptions by instantly notifying employees of shift openings and schedule changes
Challenge 3: Controlling Labor Cost Proactively
According to the latest U.S. Bureau of Labor Statistics Report, chemical plants are among the top 5 manufacturing segments with the highest percentage increase in unit labor costs. To hedge against cost creeps, many operations leaders are looking for proactive ways to curb unnecessary work hours and overtime costs through better employee scheduling practices.
While time tracking and payroll systems provide historical work stats that can be leveraged for cost prediction and schedule improvements, they serve as a rear-view mirror at best. They do not help chemical manufacturers eliminate wasteful scheduling ahead of time. An employee scheduling solution can help plants exercise better scheduling decisions before unnecessary costs are incurred. Shiftboard customers have seen a 21 percent reduction in average total labor costs and a 23 percent reduction in average overtime costs after implementing an employee scheduling solution. Here's how employee scheduling technology controls labor costs – proactively:
Offers visibility into overstaffed and understaffed areas based on ad-hoc labor demand changes.
Proactively identifies and reassigns employees from an overstaffed area to an understaffed area.
Helps plant managers spot and utilize all straight-time employees for backfills before bringing in overtime staff.
Prioritizes employee options based on overtime multipliers when incurring overtime is inevitable.
How Shiftboard Can Help
Shiftboard provides organizations the agility to respond to changing scheduling needs rapidly. Flexible scheduling strategies, supported with real-time workforce data, ensure the most qualified, eligible, and cost-effective employees are identified and scheduled where and when you need them. Intelligent technology helps to manage dynamic staff scheduling with automated processes that, if done manually, would be impossible to achieve at the scale and pace required.
---
Recommended Additional Resources