Shiftboard Selects Eric Amblard as its Chief Financial Officer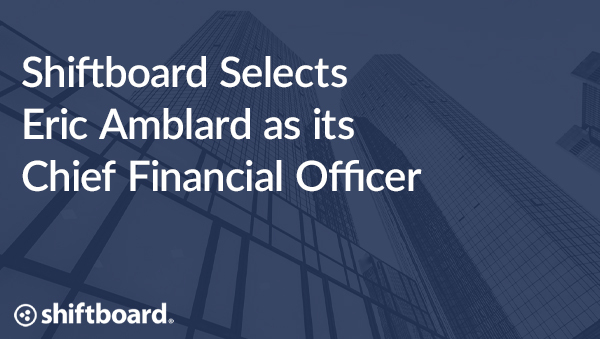 Results-Driven Technology Executive to Drive Company Growth and Profitability
SEATTLE – October 19, 2023 – Shiftboard, a leading provider of enterprise workforce scheduling software for organizations with 24/7 operations, today announced Eric Amblard has joined the company's executive leadership team as chief financial officer (CFO).
"Eric's deep experience at the intersection of finance and technology makes him an ideal candidate to lead Shiftboard's financial strategy as the company continues to grow and evolve," said Sterling Wilson, president and CEO of Shiftboard. "We look forward to harnessing his expertise to sustain the company's financial health, enhance our market-leading position, and continue delivering innovative solutions to our enterprise customers."
Amblard comes to Shiftboard with three decades of finance and operational leadership experience in scaling SaaS companies. Most recently, he served as the CFO of Roostify (acquired by CoreLogic), a fintech market leader. Prior to that, Eric served as the CFO of EverString, a B2B predictive analytics company acquired by ZoomInfo. Before these roles, Amblard held key executive positions at several prestigious organizations, including NetBoost, Intel, Ensim (acquired by Ingram Micro), KXEN, and SAP.
Eric's track record in financial leadership and strategy extends beyond his corporate roles. He has also been an influential strategic advisor and mentor to various venture capital and technology companies, contributing his expertise to their success stories.
"Shiftboard has earned a reputation as a transformational and innovative company—and I couldn't be more excited to be part of shaping its next chapter," said Amblard. "I look forward to working with a talented team to drive financial excellence and advance the company's vision of digitizing employee scheduling for organizations with hourly and shift-based workforces."
About Shiftboard
Shiftboard is a leading provider of employee scheduling software for shift-based operations in mission-critical industries. Backed by Shiftboard's tailor-fit solutions, organizations can build adaptive workforce operations that increase operational agility, optimize labor resources, and accommodate workers' preferences, leading to improved efficiency and higher worker satisfaction and retention rates. To date, Shiftboard has supported over 630 million scheduled shifts for thousands of customers, including many Fortune 500 companies, providing the employment pipeline for $66 billion in wages earned. For more information, please visit Shiftboard.