Shiftboard and CIRCADIAN® Announce Strategic Partnership to Tackle Fatigue in 24/7 Workforces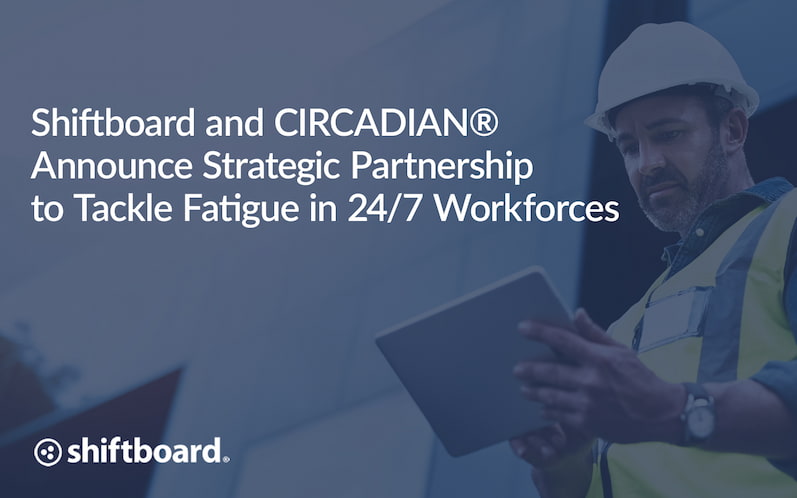 SEATTLE – Aug 17, 2023 – Shiftboard, a global leader in enterprise workforce scheduling, and CIRCADIAN®, the pioneer in the field of shiftwork and fatigue risk management consulting, today announced a strategic partnership to address the pressing issue of fatigue in manufacturing, energy, and other industries with extended-hours operations.
The National Safety Council reports that unmanaged fatigue results in an annual health-related productivity cost of $136 billion. More than 34% of the labor force sleeps 6 hours or less per day, leading to avoidable accidents and unexpected costs for organizations. The new partnership will provide a comprehensive fatigue management toolset, combining Shiftboard's intelligent employee scheduling capabilities with the CIRCADIAN Alertness Simulator (CAS), a risk management analysis dashboard for 24/7 workforces.
"Fatigue is a critical issue in industries with extended-hour operations," said Sachin Agrawal, CTO of Shiftboard. "Our partnership with CIRCADIAN allows us to provide our customers with a comprehensive solution that not only optimizes their employee scheduling processes but also proactively manages fatigue risks. This is a significant step forward in our mission to improve workforce scheduling and employee wellbeing for mission-critical industries."
CIRCADIAN's CAS provides science-backed insights on worker fatigue levels, enabling organizations to make proactive schedule changes to protect employee well-being and reduce fatigue-related costs. When integrated with Shiftboard's employee scheduling software, supervisors gain real-time visibility into the potential risks of unforeseen schedule changes.
"Combining the power of Shiftboard's intelligent employee scheduling with our CAS fatigue risk model creates a powerful tool for organizations to leverage," said Dr. Martin Moore-Ede, CEO of CIRCADIAN. "Together, we can provide the insights and solutions necessary to manage fatigue, improve safety, and enhance productivity in 24/7 workforces."
The partnership represents a significant advancement in fatigue management, providing a comprehensive solution that addresses the employee scheduling challenges and fatigue risks inherent in 24/7 operations.
Interested organizations should contact Shiftboard for more information.
About CIRCADIAN
CIRCADIAN® is the leading research and consulting firm in the field of shiftwork, shift scheduling and fatigue risk management. Working from offices in North America, Europe, Australia, and Asia, CIRCADIAN experts ensure that over half the Fortune 500, and other leading international companies, optimize employee performance and reduce the inherent risks and costs of running an extended-hour operation. CIRCADIAN's core expertise is the staffing, scheduling, training, and risk management of our clients' most vital asset: the 24/7 workforce. To learn more, please visit circadian.com.
About Shiftboard
Shiftboard is a leading provider of employee scheduling software for shift-based operations in mission-critical industries. Backed by Shiftboard's tailor-fit solutions, organizations can build adaptive workforce operations that increase operational agility, optimize labor resources, and accommodate workers' preferences, leading to improved efficiency and higher worker satisfaction and retention rates. To date, Shiftboard has supported over 630 million scheduled shifts for thousands of customers, including many Fortune 500 companies, providing the employment pipeline for $66 billion in wages earned. For more information, please visit shiftboard.com.