How a Boat is Becoming This Shiftboard Alum's Home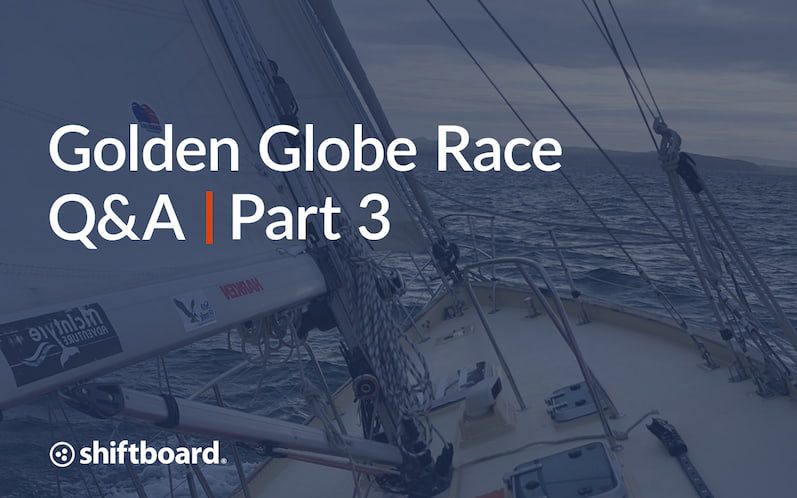 Golden Globe Race Q&A – Part 3
---
Ian Herbert-Jones is the former chief revenue officer here at Shiftboard, and we sponsored Ian's entry into the 2022 Golden Globe Race (GGR) around the world. Ian will embark on the solo, non-stop race around the world on September 4, from Les Sables-d'Olonne, France. Read Part 3 of our five-part blog series recapping our interview with Ian about GGR, his preparations, and his expectations for the race.
Gina: A question I think many people have is about how you're going to live on this boat for so long.
Ian: Puffin, my boat, she's 35 feet long, but my living area is about 15 feet by 10 feet. So, it's a small space to be in, but once you're at sea, it is your world, right? So, that's one element. Then, there are challenges such as food.
Ian: Obviously, I must take everything with me. There's no stopping for provisions on the way. When I start the race, what's on board is what I've got. Food-wise it is a lot of canned food. It's lots and lots of food in pouches. I cook on an alcohol stove, not the kind of alcohol you can drink, unfortunately, but the kind of alcohol you can burn. I have a stove which is very, very simple — nothing to break, no moving parts. That's really, really important. I'll live off mainly canned food, but I'll also take some dehydrated food, like emergency rations. I'm working with another sponsor called Nutrient Survival, who's helping to put about 25% of my food in dehydrated form. That allows me to reduce the weight, and it also reduces cooking time. You've just got to boil some water.
Gina: And how are you taking care of water?
Ian: Water's super interesting, Gina. There are no water makers allowed in the race. I will need to catch rainwater within about 12-14 weeks to get by. So that's a challenge, yeah. After that point, it's like a camping trip, right? Just a camping trip that lasts nine months.
Gina: Are you allowed to bring any entertainment? What do you do when the seas are calm, the sun is shining, and you're just out in the middle of the ocean?
Ian: Sleep! Get some rest…but there are a couple of other things to consider. One, the boat never sleeps. She always needs attention, and she always needs work, so the boat does keep you busy. I'm surprised by how full the days are. It's actually hard to find downtime.
Ian:There are days when the wind blows from the same direction, at the same force, hour after hour — this is called champagne sailing. We're not allowed much tech in the race, so there are no iPads, iPhones, Kindles, or MP3 players. I can take cassettes. I haven't built that into the boat yet, but I'll probably collect a little library of cassette tapes.
Ian: I've told a few people I'm going to learn to read again. Life has become whatever life is, and there's so little time for reading for fun. If you were very competitive in the race, you'd minimize all weight so that you wouldn't take a load of books, but I'm looking forward to having a bit of a library on board and rediscovering reading.
Gina: : What book is high on your packing list?
Ian: I don't have just one to tell you, but there are some classics from the sailing genre which I will reread. A gentleman called Bernhard Moitessier was one of the original sailors doing this type of thing, and his books are amazing. People who like sailing may have come across Patrick O'Brien's Master and Commander. I think there's an opportunity for studying as well. So, I think that will be part of my downtime as well; I'm going to go away and learn to read, learn to sail, and learn to read how to sail.
Gina: You said the boat never sleeps, so it sounds like you won't be sleeping much either. How do you sleep on the boat, and how do you train to sleep in the manner you will be sleeping on the Puffin?
Ian: Yeah, yeah. That does take some training. There are no two ways about it, and I don't believe you can train on land to do that. You have to be, you know, on the boat, in the circumstances. It's so hard to do. You've probably heard me talk about sleeping in 20 or 30-minute cycles. So, when I'm close to shore, where the danger lies, I'll rest for 20 or 30 minutes at a time. And it just comes down to practice. You've got to get into that routine. You've got to force yourself to get up.
Ian: In an ideal situation, the boat is sailing comfortably, the weather is the same, the boat is happy, and what you're doing is getting up for a safety check. I can almost do that unconsciously. I can get out of bed, go up on deck, look around the horizon, check the sails, check the weather, maybe look at the barometer, and then go below back to my bunk. Once you've been away for a while, you do it like clockwork and don't even know you've done it, right? You get into that mode. Then, as you get further away from shore, you start to extend the time allotted for sleep. I go from 20 minutes to 40 minutes and then to an hour. At the moment, I'm still not very comfortable going beyond an hour, but you can sleep for more extended periods.
Gina: So, will you sleep in those increments all day, or is it just sometimes?
Ian: Sometimes. I try to get more sleep in the dark hours because I still think that works better. Your body seems to react well to that. I think you've got to spot the opportunity. This is a skill which I'm not very good at. Some people are great at this, you know, those people who can get on an airplane and go to sleep immediately, right? They would be great at this. So, you spot the downtime, take the 30 minutes, and that's 30 minutes in the sleep bank. Ideally, that bank gets eight hours a day. Some days it gets one hour, another day hopefully more. So, you've got to take those opportunities when you can. I'll sleep during the day, but most of my sleep, I'll still try and achieve during the dark hours.
---