5 Ways Manufacturers Can Improve Workforce Agility to Ensure Production Targets are Met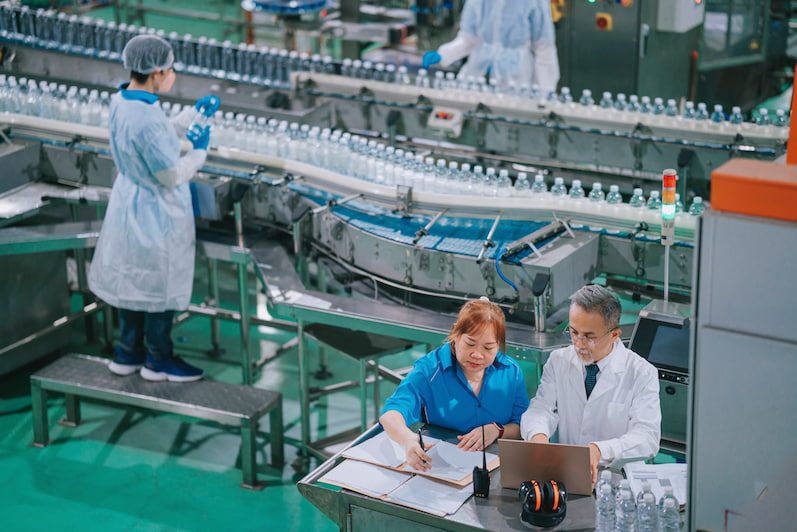 By its nature, workforce scheduling in manufacturing is complex and highly dynamic. It is like a massive jigsaw puzzle that changes daily but must be finished at record speed — requiring those in charge to figure out which pieces go where for exactly the right fit, as quickly as possible.
Even with the best labor forecasting and planning in place, the situation on the factory floor can (and often does) change unexpectedly: employees call out, equipment malfunctions, materials and ingredients shipments get delayed (sometimes all at once!). Faced with these sudden changes, operations managers must respond quickly and strategically so production lines stay running, order commitments are met, and business doesn't suffer.
While last-minute changes can't be entirely avoided, you can manage the massive downstream impact that unpredictable change has on labor scheduling. Here, we share five ways you can tap the full potential of employee scheduling to improve workforce agility and ensure production targets are met.
1. Improve Collaboration Between Production Planners and Employee Schedulers
Consistently hitting production commitments is incredibly challenging. It becomes even more complex if your organization has multiple facilities, production lines, and SKUs. On any given day, numerous factors will arise to unexpectedly impact production output.
This ongoing, highly complex balancing act requires more agility than manual collaboration tools, such as Excel, can offer. While Excel-driven processes have traditionally been the norm in many industries, they are error-prone, inefficient, and difficult for collaborative cross-team use, leading to inaccurate staffing plans, scheduling latency, and many other avoidable issues. Fortunately, configurable employee scheduling software has emerged in recent years to streamline the complex process of matching production needs to staffing requirements with remarkable functionality and speed.
These data-driven technologies can facilitate real-time collaboration and dialogue between production planners and employee schedulers, providing a centralized dashboard for visualizing which lines are running on any given day and pinpointing where coverage gaps occur. Armed with this collaborative, real-time view, managers can quickly assess, reassign, and shuffle workers to rebalance lines as production and labor changes occur.
2. Plan for the Unexpected with Robust Contingency Planning
There's perhaps no bigger cause for headache among operations managers than discovering they're understaffed and at risk of not meeting production commitments. While this scenario was common for manufacturers and other industries during the pandemic, it still persists due to fluctuating demand, ongoing supply chain issues, and a lingering labor shortage.
Part of the problem is that schedulers often don't have enough visibility into daily production plans to identify areas, production lines, or shifts at risk of being understaffed. The challenge is made even more difficult if they don't have backup labor pools or a way to determine temp staffing and flex pool needs in advance.
Contingency planning for dynamic worksites is most effective when managers are equipped with reliable data to inform their plans. Visibility into leave requests, absence trends, and shifts that are historically vulnerable to understaffing helps managers anticipate labor needs early, so they have adequate time to ensure enough workers are on standby or ready to volunteer should the need arise. Cross-training is another proactive measure organizations should leverage to expand the capacity of their existing workforce and bolster backup labor pools.
Fortunately, automated employee scheduling technology provides a powerful crystal ball into the data insights needed for effective contingency planning. Such solutions enable actionable visibility via reports on shifts at risk of understaffing, the status of volunteer sign-up lists, or week-of labor and production needs. Backed by such resources, employee schedulers are far better prepared to address the inevitable changes that will happen before they become problematic.
3. Tap the Full Potential of Workforce Data to Find Coverage Quickly
To remain competitive in today's business climate, manufacturers need ways to improve operational agility and direct labor resources where and when they're needed. Real-time workforce data visibility, which allows operations managers to identify current staffing shortages, open shifts, production ramps, overtime usage, or compliance issues, is crucial to making that happen. Such data insights empower managers to identify and find available, qualified workers instantly, promote and track open shifts, and ensure internal scheduling rules and processes are followed.
With automated technology, employee schedulers can avoid the stressful, hectic scramble to find available, qualified, and willing workers at the last minute. This is achieved thanks to powerful, data-enabled visibility into staffing gaps and potential trouble spots. Armed with such data, managers can proactively identify and develop a backup list or flex pool that's ready to go at all times. No more frenetic, last-minute searches to find the right person when the clock is ticking.
Other proactive strategies enabled by configurable employee scheduling software include auto-checking employee qualifications, availability, and compliance; automation of scheduling workflows; and auto-promoting open shifts via volunteer signups, bids, or shift pickup capability. Such functionality helps ensure shifts are covered quickly and easily and that your production goals are met.
4. Champion Worker-Friendly Scheduling
As the post-pandemic era emerges and the labor shortage persists, manufacturers must accommodate the needs of the labor pool as it exists today. Workers have more power to control their work lives than ever before, helping spur a massive socio-economic shift that's also known as The Great Resignation. Today's employees want roles that provide work-life balance, champion transparency, and offer job satisfaction. They're demanding fairness in the way their jobs and shifts are scheduled — and they don't want to feel like they're constantly being pressured or singled out to do more.
Clearly, employers who have a deep understanding of this new employee-centric outlook — and, more importantly, a demonstrated commitment to supporting it — are the ones who will remain competitive. In any industry, constant and unpredictable schedule changes are stressful and lead to burnout and job dissatisfaction — even more so in manufacturing, where hourly work is the norm.
Worker-friendly scheduling puts employees' needs front and center by allowing them more control over their schedule. While the practice is good in theory, it must have the appropriate resources to be implemented; otherwise, the process can place a significant burden on managers, who spend countless hours looking for qualified, available employees only to be turned down.
Employee scheduling software solves this challenge by tracking workers' shift preferences and specific schedule needs when it matters most — during shift assignments. At the same time, these intelligent technologies ensure equitable overtime distribution to avoid employee burnout and fairness complaints. Additionally, they offer workers self-serve tools to pick up, trade, and decline shifts as allowed by company policies.
The result is a win-win for everyone: By automatically tracking and prioritizing shift assignments based on worker preferences, managers can increase shift fill rates and reduce the time required to manage change. At the same time, employees enjoy more control over their schedules — a proven boost for job satisfaction.
5. Optimize and Streamline Worker Communication
Operational success depends on the smooth, effective exchange of information between managers and workers. Keeping workers informed in real-time about shift changes, schedule updates, and other important info about their jobs promotes cooperation and empowers employees to take necessary actions quickly. In a nutshell: Operational success depends heavily on giving workers the information they need — how and when they need it — so they can do their jobs well.
However, many organizations rely on outdated, patchwork communication systems involving phone trees and emails (perhaps even the occasional carrier pigeon!). Not surprisingly, these unreliable methods don't have good outcomes: They're time-consuming, frustrating, and challenging to keep track of.
There's a better way, of course: technology-based systems that prioritize real-time communication between shift leads and workers, in a way that works best for employees. Such solutions expand communication channels and accommodate employees' preferred modes of communication, notifying them about schedule changes via the web, mobile apps, emails, or text alerts. In addition, communications can be further tailored to target only impacted employees, so they don't get into the habit of ignoring messages or thinking that most communications don't pertain to them.
In addition to facilitating seamless communication with employees in their preferred mode, these scheduling technologies also offer employees 24/7 access to their schedule — further empowering them in their job. These tools enable employees to quickly and easily access and sign up for available shifts via laptops or mobile devices.
The benefits are equally appealing for employee schedulers, too. No more tracking people down via Excel spreadsheets or confusing phone-tree mix-ups, waiting for a response that may never come, while scrambling to cover shifts at the last minute.
The post-pandemic era marks a time of tremendous change for many industries, but especially those like manufacturing, which will continue to face the acute challenges of an ongoing labor shortage and supply chain disruptions for the foreseeable future. Those are vast, complex issues, to be sure. But more and more organizations, especially those with complex operations and large workforces, are letting automated technologies handle the heavy lifting to optimize their employee schedules as production needs change.
An All-Around Win
Intelligent employee scheduling software offers an all-around win: for employee schedulers, who can vastly reduce time spent on schedule management and focus instead on more revenue-earning tasks; for operations managers, who can avoid the stress and worry of missing production goals; and for employees, who have more control and say in their schedules — and, as a result, higher job satisfaction. All of which are crucial components in ensuring well-running, optimally performing businesses — even among the inevitable challenges that modern-day manufacturing brings.
---
Recommended Additional Resources