3 Benefits Employee Scheduling Software Brings to Healthcare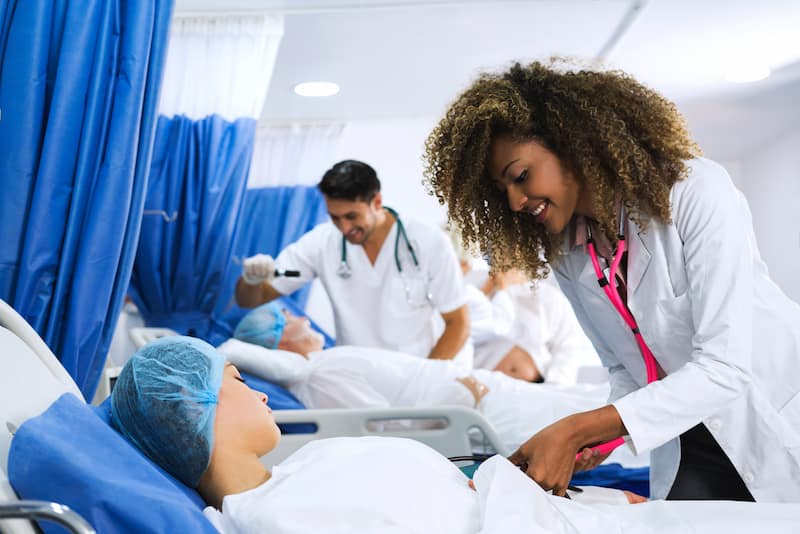 At the heart of the healthcare industry are the countless medical professionals battling the front lines every day to keep our friends and family alive and well. With over half of a hospital's costs going towards their staff, healthcare organizations adopt scheduling and workforce management solutions to improve their labor costs, employee engagement, and overall quality of care.
While efficient healthcare staff scheduling is essential for a successful healthcare organization, an AMN Healthcare survey concluded that more than 50% of administrators still schedule manually or with digital spreadsheets. Additionally, many nurse managers aren't aware of the automated staff scheduling solutions available to manage their schedule complexities.
Creating manual schedules are often time-consuming, inaccurate, and hard to keep updated. Healthcare scheduling is made more complicated by around-the-clock labor demands, unplanned emergencies, staff certification requirements, and managers lacking a holistic view of their staff schedules.
Automated scheduling centralizes all of your workforce and scheduling information into one solution. By automating manual tasks like compliance tracking, overtime monitoring, and callout replacement, these scheduling apps optimize staffing, reduce labor costs, and increase employee engagement.
Optimized Staffing
A persistent challenge for healthcare staffing is scheduling caregivers with the right skill sets to accommodate varying patient needs. Recent legislation in over a third of US states only adds to healthcare scheduling complexities by demanding strict regulations managing nurse-to-patient ratios and qualifications for patient care.
Healthcare organizations that implement automated scheduling can better manage last-minute changes, improve employee communication, and ensure compliance with labor laws and collective bargaining agreements (CBAs). Through better operations, healthcare organizations improve how they interact with their staff, amounting to improved patient outcomes and a healthier bottom line.
Reduced Labor Costs
An automated scheduling solution is an excellent foundation for scheduling managers who want to control labor costs. However, in the healthcare industry, reducing labor costs doesn't automatically translate to reducing staff or decreasing the quality of patient care. Instead, managers must find ways to optimize labor costs by reducing unnecessary overtime, avoiding turnover by ensuring proper rejuvenation time between shifts, and effectively utilizing per diem staff.
With the right employee scheduling solution, organizations can use their historical data to forecast their labor based on actual demand. Scheduling the right amount of staff to the right place at the right time means organizations not only reduce overstaffing expenses but also better plan for unexpected demand spikes.
Increased Employee Engagement
Patient outcomes improve when nurses are happy. It sounds simple, but employee engagement isn't something to be overlooked in the healthcare industry, especially when many studies link unsatisfied nurses to increased infection rates, higher injury fall rates, and more hospital readmissions.
One great way to improve employee engagement in healthcare is to give staff more influence over their work schedules. By engaging your staff in the scheduling process, you relieve your managers of constantly balancing workload with unknown personal schedules. Plus, empowering your staff to express their schedule preferences enables managers to spend less time scheduling and more time focused on the things that matter.
Are You Ready to Automate Your Scheduling?
We understand there's a lot to consider when scheduling within the healthcare industry. An automated scheduling solution, like Shiftboard, eases the complexities inherent in healthcare staffing and provides a concise scheduling picture across the board.
---
Recommended Additional Resources