How Automated Workforce Scheduling Can Help Reduce Hidden Costs
Shiftboard | May 12, 2020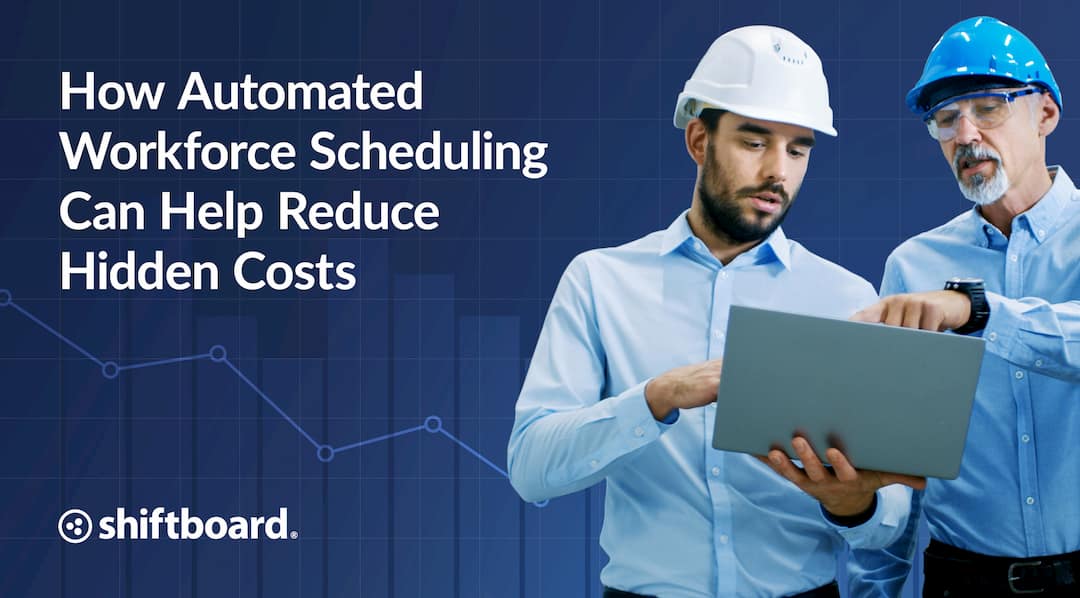 Imagine a day at your facility when an employee calls in sick, and your scheduling manager is not on-site. What do you do?
In might go something like this. The acting supervisor will need to take time away from their regular responsibilities to find someone to cover the open shift. At companies where scheduling is a manual process consisting of multitudes of spreadsheets and phone trees, this activity is no small undertaking. The supervisor might call an employee they know can do the job and have them come in early, they might ask someone else to stay late, or they might split the shift between two people. However they chose to solve the problem; it takes them away from their regular tasks and could be costing your company in the long run.
These costs add up. And is this really the most effective way to handle filling open shifts? Automated workforce scheduling allows you to be more proactive in situations like these, and cover open shifts quickly and effectively while taking into account factors like compliance, overtime, and more.
Does Your Scheduling Process Need an Overhaul?
When you are in an industry with complex scheduling requirements and strict industry regulations, it's hard to find a scheduling solution that optimizes for workers as well as the management team. While all-in-one solutions and general information systems are the go-to for many global companies, businesses often discover a lot of hidden costs down the road.
In recent years, automated workforce scheduling systems have emerged as the winner, establishing themselves as a purpose-built tool that sheds light on hidden costs in ways other scheduling processes can't.
While there are numerous employee scheduling solutions on the market, most of them cannot configure to handle the complex scheduling needs that are common in highly regulated industries such as oil and gas, manufacturing, and health care.
Often, you'll find management resorting back to manual processes that leverage spreadsheets for some aspects of the scheduling process. While spreadsheets can handle the basics of a shift pattern, it's the last-minute call-offs that can throw a wrench in the employee scheduling process, causing frustration for managers and employees alike.
With highly configured workforce scheduling technology, you can move beyond a cobbled-together system. Workforce scheduling solutions set to the way you do business lead to streamlined operations and reduced labor costs and overtime, in addition to improved team communication and significantly fewer no-shows.
Let's Not Forget About Compliance
While ERP or a non-industry specific system might allow users to set up basic scheduling patterns, it won't help companies evaluate workforce scheduling decisions for compliance and fatigue management. This aspect of scheduling is a big concern for most workforce managers in complex industries. From an operations standpoint, basic employee scheduling solutions can work just fine; however, from a risk standpoint, they open the company up to several problems.
For example, when an employee calls out, finding the right replacement may require consideration of the company's overtime policy or union rules. Without visibility into these potential rules violations, the company could be exposed to employee grievances site-wide.
A configured workforce scheduling solution takes into account all the rules and policies applicable to a worksite. Once these rules are in play, a quick tap on the cloud-based dashboard allows schedulers to customize and apply filters for which rule to execute, and can vary these rules from site to site.
This 360-control of employee scheduling instantly ensures fewer compliance errors across the board, especially for last-minute schedule changes. In the chance that a worksite is bordering close to breaking an RP 755 regulation, for example, a real-time report is sent out to alert the necessary staff of the impending violation.
Better Scheduling Practices Means Less Overtime Paid
Intelligent workforce scheduling technology can distribute shifts according to equalization rules like seniority and shift refusals. It checks overtime rates and workforce allocation count, in real-time. With these insights, organizations can be proactive in their decision-making and allocate appropriate staff for a shift, helping avoid overtime costs.
Employee scheduling software is an invaluable tool for complex scheduling environments. An automated scheduling solution replaces your spreadsheet, auto-schedules your entire facility, and can be configured to apply all the relevant organizational rules, regulations, and compliance requirements for your worksites. When it comes to short-notice absences, an automated system provides you with qualified employees that can be assigned without causing grievances or increased risk to your operations.
If this is a scenario that you knowingly face or didn't realize there was a solution for, we're here to help. In need of further insights? Get in touch with us today, and we'll make sure to answer any questions you may have.