API RP 755: Are You Compliant?
Shiftboard | May 12, 2020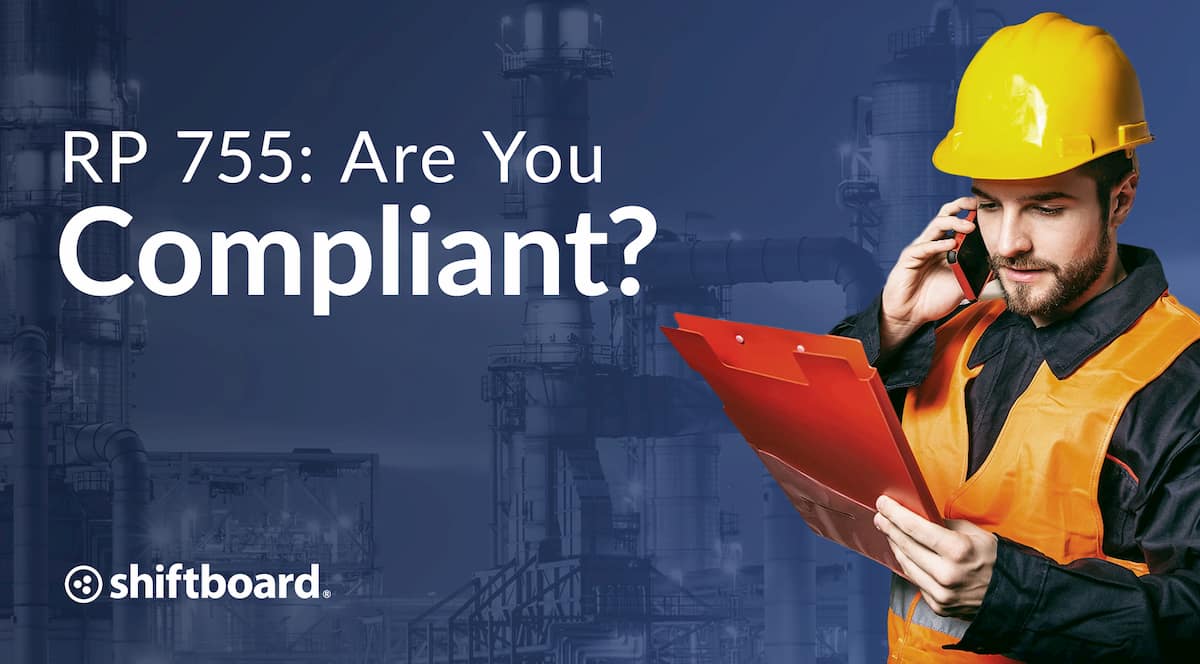 To review, API RP 755 provides the refining and petrochemical industry with specific guidelines to improve worker safety by addressing worker fatigue. First published in 2007, RP 755 was the result of an investigation into a refinery incident. The RP 755 guidelines have been designated as an American National Standard by the American National Standards Institute (ANSI), the authority on U.S. standards.
In May 2019, the American Petroleum Institute (API) released an updated version of these industry guidelines to improve worker safety and address worker fatigue in the oil and gas industry.
Key changes to the original RP 755 guidelines include:
Limits to hours of service: RP 755, 2nd Edition, decreases opportunities for misunderstanding. The updated guidelines apply to all employees involved in process, safety-sensitive, actions. This guidance includes procedures for how to manage worker call outs (covered positions).
New guidance on the work environment: RP 755 updates include new requirements regarding lighting and fatigue assessment based on advances in science since 2007 when the first edition was published.
Individual risk assessment and mitigation: The new standard reflects the growing availability of technology that can detect fatigue, and includes guidance using objective, validated tools for assessing fatigue.
"Shoulds" v. "Shalls": Several sections of RP 755 were changed from "should perform" to "shall perform" to clarify that all components of Fatigue Risk Management Systems (FRMS) are needed, while allowing for flexibility in how they are implemented.
With the release of these updates, petroleum and petrochemical companies must figure out the best way to implement and manage these changes. To assist in this process, we invite you to view the videos below to help you understand, simplify, and automate RP 755 with an FRMS solution and find the path to faster compliance.
Watch video about how Shiftboard's SchedulePro solution can help.
Watch webinar about the RP 755 2nd Edition updates.
Shiftboard's SchedulePro solution offers the first fatigue risk management system (FRMS) to be fully compliant with new changes to RP 755. Visit shiftboard.com to learn more about SchedulePro's RP 755 compliance capability.