Shiftboard Wins Gold at 2021 Brandon Hall Group Excellence in Technology Awards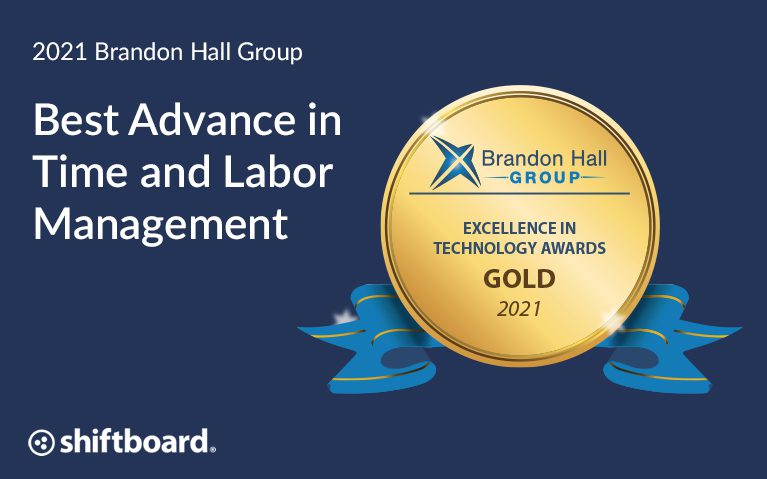 SEATTLE – January 19, 2022 – Shiftboard, a global leader in enterprise workforce scheduling, today announced that it won a coveted gold Brandon Hall Group Excellence in Technology Award for "best advance in time and labor management."
"We're thrilled to be recognized by the Brandon Hall Group for the innovative workforce scheduling solutions we're bringing to shift-based industries because now more than ever, with staffing shortages the norm, scheduling is critical for business to operate efficiently," said Sterling Wilson, CEO of Shiftboard. "Due to constant supply chain issues and labor shortages, businesses are struggling to maintain their operations. Employers need to be more agile in matching production needs to available labor while simultaneously providing their employees more flexibility for a better employment experience. Shiftboard enables greater workforce flexibility, increased operating efficiency, and higher employee job satisfaction."
Shiftboard received its gold award based on breakthrough innovations that uniquely address the complexity of workforce scheduling for always-on organizations. Intelligent algorithms continuously evaluate the schedule and available labor resources to create employee schedules that are optimized for shift coverage, cost, and guaranteed compliance while also ensuring flexible and fair schedules to meet the needs of today's workers.
"Technology has never been more critical for success in human capital management than it is today. We were thrilled to see many new innovations in all areas, but especially related to the future of work," said Brandon Hall Group Chief Operating Officer and awards program head Rachel Cooke. "Thanks to the many innovations from our Excellence in Technology winners, organizations have many compelling options as they make important decisions on how to leverage technology to drive their people strategies."
"HCM solution providers must be experts and visionaries in technology, but they also must have the ability to anticipate the diverse needs of employers as they work to adapt to ongoing change," Brandon Hall Group CEO Mike Cooke said. "This requires a blend of curiosity, empathy and agility that is difficult to achieve. We have seen an extraordinary level of insight and creativity from our Excellence in Technology winners that has been exciting to see."
A panel of veteran, independent senior industry experts, and Brandon Hall Group senior analysts and executives evaluated the entries based upon the following criteria:
Value proposition
Technological innovation
Unique differentiators
Technical functionality
Measurable results
Brandon Hall announced Shiftboard's win on December 9. The winners are listed here.
Learn more about Shiftboard's workforce scheduling platform by visiting shiftboard.com.
About Shiftboard
Shiftboard is a leading provider of employee scheduling software for shift-based operations in mission-critical industries. Backed by Shiftboard's tailor-fit solutions, organizations can build adaptive workforce operations that increase operational agility, optimize labor resources, and accommodate workers' preferences, leading to improved efficiency and higher worker satisfaction and retention rates. To date, Shiftboard has supported over 630 million scheduled shifts for thousands of customers, including many Fortune 500 companies, providing the employment pipeline for $66 billion in wages earned. For more information, please visit Shiftboard.
About Brandon Hall Group
Brandon Hall Group operates the largest and longest running awards program in Human Capital Management. As an independent HCM research and analyst firm they conduct studies in Learning and Development, Talent Management, Leadership Development, Diversity, Equity & Inclusion, Talent Acquisition and HR/Workforce Management. These benchmark studies help organizations by providing strategic insights for executives and practitioners responsible for growth and business results.
Coupling the research studies with the best practice from the awards, Brandon Hall Group has helped more than 10,000 clients globally and more than 28 years of delivering world-class research and advisory. At the core of our offerings is a membership program that combines research, benchmarking and unlimited access to data and analysts. Membership enables executives and practitioners to make the right decisions about people, processes, and systems, coalesced with analyst advisory services which aim to put the research into action in a way that is practical and efficient.
Brandon Hall Group has also launched professional certifications for business and human capital management professionals to upskill themselves and gain credentials for career advancement.