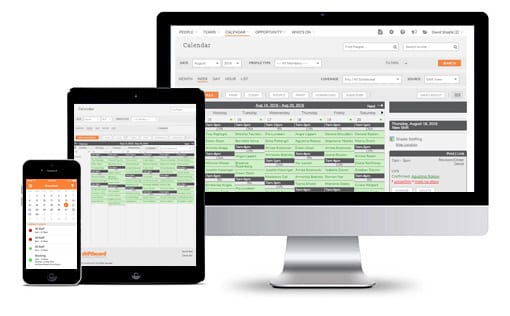 Introduction to Shiftboard
Join us for a 30-minute introduction on how Shiftboard can solve your most challenging scheduling problems. In this session we will provide a demo of the Shiftboard mobile user experience and administrative interface. Bring your questions and we'll answer them live.
Event Date: Thursday, April 5th
Time: 10:00 am PDT | 1:00 pm EDT
Register now to save your seat.
Understand the Impact of Labor Laws on Employee Scheduling
Organizations that manage a shift-based (and hourly) workforce must contend with complex scheduling rules including labor laws and labor agreements. Many of these laws impact overtime pay and employee rights around predictable scheduling. Learn about whats driving these labor law changes and how to manage potential labor costs with scheduling automation.
Managing the Complexity of Event Staff Scheduling
From vendors, security, food services and staffing – coordinating people and schedules is deceivingly complex. Large events are a logistical challenge that requires the participation of hundreds and sometimes thousands of individuals. This webinar will cover best practices for complex event staff scheduling and how technology can help.
Hidden Communication Challenges of Employee Scheduling
Communication with an hourly and shift-based workforce requires more than just keeping workers informed of their schedule and available shifts. Workers want more control over their schedule, and organizations struggle to attract, engage and retain the best workers. High worker engagement is critical to productivity, quality of service, and employee retention.
How To Schedule and Manage Mobile Workers
Scheduling and managing mobile workers is complicated and if you aren't using scheduling automation technology, you are missing out on a huge opportunity to be more efficient and provide better communications for your workers. Learn the common challenges organizations face when managing mobile workers and how to overcome them with better scheduling.
Workforce Shift Scheduling: Turning a Task into a Strategic Advantage
The schedule is at the center of life for many organizations, and particularly those with a large hourly workforce. Making sure people are on time and in the correct location, makes the difference between productivity and standstill. Join Mollie Lombardi, co-founder of Aptitude Research Partners, as she discusses how scheduling is a key strategic element of the employer-employee relationship.
ROI of Scheduling Automation – A Compelling Case for Scheduling Software
If you are not using scheduling automation technology and still scheduling manually, then you are missing a huge opportunity. In a recently completed study, Shiftboard customers have realized some very impressive results in optimizing scheduling to lower labor costs by nearly 50% to positively impact on employee productivity and retention. Join us as we present a business case for scheduling automation and show you how to build one for your organization.