Security Dynamics Corporation (SDC) is an Illinois-licensed private security and detective agency, serving clients throughout the Chicago metro area encompassing 8 counties and 12 million people. Specializing in off-duty police officers, SDC provides security to a public commuter rail line, a large meat packing operation, and many other facilities.
Like many security companies, SDC runs a distributed operation where most officers do not report to the central office. In the past, each account supervisor created his or her own schedule and emailed the spreadsheet to officers.
"Inevitably, the spreadsheet was outdated and only rarely did officers have the updated version," said Michael Recupito, Chief of Operations. "It was a very inefficient system which lacked accountability."
SDC also needed to track, limit, and report on scheduled hours per week, a requirement common for many organizations with part-time workforces. Anyone scheduled more than 40 hours weekly had to be paid overtime, but the old process had no real-time monitoring, reporting, or accountability for this key requirement.

"It was a very inefficient system which lacked accountability."
Michael Recupito, Chief of Operations
Security Dynamics Corp
Shiftboard Event Scheduling Software
The SDC management team chose Shiftboard for real-time online scheduling from any web browser.
When asked to list the top three benefits the of system, Recupito listed four:
Increased efficiency: "That's the key to the whole thing."
Accessible schedule: "Every employee, including supervisors and management, can view the schedule in real-time."
Accountability: "Tracking and reporting on hours by account manager, by client, and by officer, is a clear benefit that provides for the much needed oversight in our decentralized operation."
Manager notes: "Recording instances of employee performance, both positive and negative, is an essential component of an effective employee performance evaluation system. Shiftboard "Manager Notes" feature allows for a central repository of employee performance information."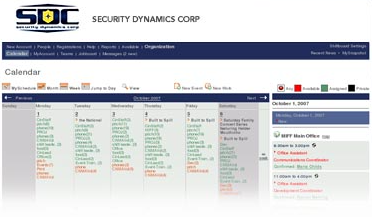 Recupito currently assigns 80% of his shifts, and only allows officers to pick up the remaining 20%. "The full potential of the Shiftboard real-time online scheduling system is realized when filling open shifts," he said. "Formerly done by calling individual officers, filling shifts today with Shiftboard is quick, easy, and nearly effortless. Still, not having to coordinate details of the other 20% is huge time saver."
No officer can confirm a shift that exceeds the 32-hour weekly limit. The Shiftboard security scheduling system includes constraints to avoid overtime and lock in gross margins for the business.
Shiftboard was first rolled out to account managers, then the rest of the security personnel. "We recognize that our employees have varying degrees of computer experience," Recupito said. "Because of the Shiftboard user friendly interface, our employees became acclimated to the new system within a short period. Today, Shiftboard is an everyday component of life at Security Dynamics Corp."
Security Dynamics realized the following benefits using Shiftboard:
Better communication, with all scheduling details online and employee information accessible in one place.
Powerful reporting features to track hours worked, percentage of coverage, and other key metrics.
More visibility, accountability, and financial control, through use of automatic constraints on overtime and detailed reporting not available with spreadsheets and email.
Discover Smarter Scheduling

"The bottom line is we're very happy with Shiftboard. We have significally reduced scheduling time and increased efficiency and accountability."

Michael Recupito, Chief of Operations
Security Dynamics Corp