Kids First Booster Club (KFBC) is a registered public charity in Indianapolis, Indiana. KFBC provides food service workers at Indianapolis Colts football games, Indiana Pacers basketball games, and many concerts. Proceeds from each event help support dance, arts, and sports for children.
Kids First Booster Club, like many organizations, handled their scheduling manually at first via Excel and email. Kathy Graves, president of KFBC, would send an email blast to all of her parent volunteers with a spreadsheet attached, that would have the schedule for each day.
"Our organization grew so quickly, I couldn't keep track of all the emails," Graves said. "I had events going on 5 out of 7 days per week. Trying to manage all those people, cancelations, reassignments—just became too much, to the point where it was overwhelming."
Graves and her team began looking for a system to provide 24x7 online scheduling accessible from any web browser. Her IT person found Shiftboard, but she was also searching the not-for-profit websites.
"Your system was the most comprehensive and cost efficient," she said.

"Trying to manage all those people, cancelations, reassignments — just became too much, to the point where it was overwhelming."
Kathy Graves, President
Kids First Booster Club
Shiftboard Event Management System
Graves listed her top three reasons for using Shiftboard:
Self-scheduling: "With everything online, a person can schedule themselves to work."
Reporting: "I like that I can run reports on who is working in either the past or future based on venue or volunteer."
Print-formatted schedules and signup sheets: "I can print out schedules for folks that don't have access to a computer. I just hand it to them and they know their schedule for the next 3 months. It's so simple."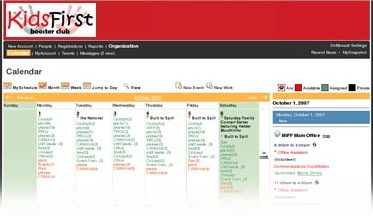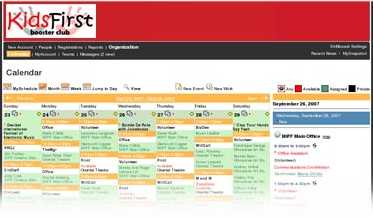 While discussing how the adoption process went with her volunteer team, Graves was highly positive. "Our volunteers absolutely loved it," she said. "They can see the calendar even 2 or 3 months ahead and pick when they want to work. I have been told by many of them that there is no other way to do this."
As KFBC expanded, the value of Shiftboard in terms of online scheduling and communication grew accordingly.
"We now have 80 volunteers," Graves said. "Telling them where they are supposed to go, what to wear for different venues, would be very time consuming if not impossible without Shiftboard."
KFBC realized the following benefits using Shiftboard:
Time savings—Easy-to-use online system replaces manual processes, and includes handy features like bulk shift uploading.
The ability to expand and add more team members, without additional overhead.
A happier team—Volunteers can see the schedule in advance and choose their own shifts.
Discover Smarter Scheduling

"We absolutely love it. Shiftboard makes our lives very easy. You guys are adding new features constantly. You take suggestions and run with them. You have created this great tool but you are always looking to make it better."
Kathy Graves, President
Kids First Booster Club