KEXP is an industry-leading radio broadcasting company with one of the largest listener bases in the country. Headquartered in Seattle, Washington, the company also broadcasts in New York City as WNYE.
Continually pursuing cutting-edge initiatives, KEXP also sends teams out for remote broadcasts in various cities. In 2000, KEXP began broadcasting on the internet when the medium was in its infancy, and today, three of the Top 100 weekly iTunes podcasts are KEXP radio shows.
KEXP has more than 1,800 volunteers in its database, of which 600+ are active in at least one event during the year. Prior to Shiftboard, KEXP used phone calls, email, and a spreadsheet where all shifts had to be manually entered. But as KEXP expanded in broadcasting mediums and local presence, the need for more efficient scheduling became urgent.
KEXP chose Shiftboard for online volunteer scheduling and an integrated worker database. Since then, Shiftboard has become the standard for scheduling and communicating with KEXP's volunteers.

As KEXP expanded in broadcasting mediums and local presence, the need for more efficient scheduling became urgent.
Shiftboard Volunteer Scheduling Application
KEXP uses Shiftboard for three main categories of web-based volunteer scheduling and communication.
Designed and updated for the unique, ever changing KEXP look and feel, the system includes:
General operations: Daily and weekly work at the office and studio
Fundraising drives: Telethons three times a year, to support fundraising operations
Community outreach: Recruiting and coordinating KEXP "posses" in Chicago, New York, Austin, and other locales where KEXP wants a local presence during certain events or year-round
Rachel Ratner, Volunteer Services and Community Outreach Manager at KEXP, oversees efforts in both volunteer services and community outreach areas. In both roles, Shiftboard is central to her teams' efforts.
"We saw big improvements in time savings, since our volunteers can confirm their own shifts online," Ratner said. "Having an online volunteer database is also a big benefit because volunteers can update their own contact information," she said. "And generally we're able to streamline our communications with everyone."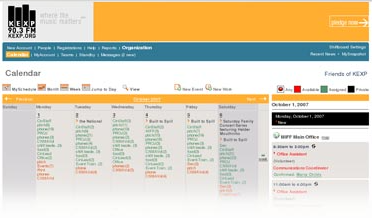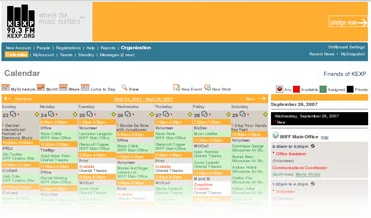 Another big advantage has been the ability to delegate team scheduling to the appropriate managers. "Our Photography team for example, is very busy and that manager runs all of his own scheduling and assignments," Ratner said. "My volunteer coordinator handles event scheduling, especially for our pledge drives. But I'm still able to see all of our schedules across teams in one place."
KEXP also uses Shiftboard to form groups of volunteers, called "posses," in various cities, and to schedule each posse independently without cluttering the calendar of its other core volunteer operations in Seattle.
Plus, KEXP uses "cutting edge" features such as a Shiftboard RSS feed, which is placed on the KEXP public web site to highlight open shifts.
KEXP has realized the following benefits using Shiftboard:
Big administrative time savings in scheduling volunteers
An online database where volunteers can update their own contact information without a data entry step
Easier, more consistent communication via web-based scheduling and group emails to specific teams or the entire organization
Event scheduling software with no training required.
Discover Smarter Scheduling

"We saw big improvements in time savings…. Volunteers confirm their own shifts online, and we're able to streamline communications with everyone."
Rachel Ratner, KEXP Volunteer Services & Community Outreach Manager
KEXP Radio—Community Powered