The Halstead Fire/EMS Department engages 25-30 volunteer personnel, who are responsible for a 90-square-mile area encompassing 5,000 inhabitants around the town of Halstead, Kansas.
Anderson (Andy) Lowe is the Director of EMS and Deputy Chief of Halstead Fire/EMS. According to the department's website, "The mission of Halstead Fire/EMS is to provide our residents the highest level of proactive and reactive fire, rescue, and emergency medical service response. As one team, we will work together to provide the excellence in service that our community expects and deserves."
Kansas state law requires all EMS departments to have at least one person designated on-call 24 hours per day, 7 days per week. Chief Lowe had previously handled that scheduling requirement by printing out an Excel spreadsheet each month with shift blocks.
EMS volunteers would come into the station to sign up on paper. At the beginning of each week, the schedule was transcribed onto a large whiteboard at the station.
"All of my volunteers had to come to station to sign up for shifts," Lowe said, describing the shortcomings of the process that propelled him to find an online scheduling system.
"If changes occurred — which happens often — I had to drive to the station to update the schedule," Lowe said. "People could not work on or access their schedule from home. Even if folks called me to ask their schedule, I had to return to the station to check it unless I remembered to bring a copy home that day."
Lowe chose Shiftboard's online scheduling software to provide web-based access from anywhere for the EMS volunteers at Halstead.

"If changes occurred—which happens often—I had to drive to the station to update the schedule."
Anderson Lowe, Deputy Chief
Halstead Fire/EMS Department
Shiftboard Fire Department Scheduling System
"When we introduced Shiftboard, nearly all of our volunteers were happy with it right away," he said. "There were a few anti-computer people, but overall it has been a big hit."
Ease-of-use was also a big help. "It is a user-friendly screen to make changes, or get things back to the way they were if I make a mistake," Lowe said.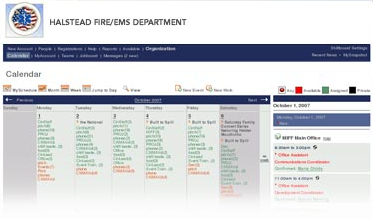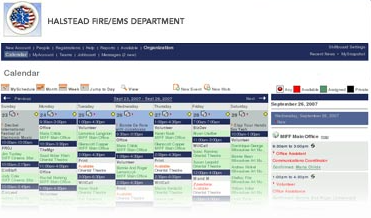 Shiftboard has also been helpful for compliance and reporting requirements. In Kansas, state inspectors can stop in at any time during the year to ensure there is 24x7 EMS coverage. With Shiftboard, Lowe just drops a printout of the Shfitboard schedule into a file each month for the inspector to review.
Shiftboard has made scheduling and communication much easier. "It has been extremely handy for me," Lowe said. "I like that it blocks folks from removing themselves on the calendar inside of 2 weeks. And nobody needs to call for schedule information anymore because the system is accessible from any web browser."
Halstead Fire/EMS realized the following benefits using Shiftboard EMS scheduling:
Easier scheduling and communication—all shifts are visible online, eliminating paperwork and manual processes.
Reporting that saves time and effort around state EMS compliance inspections.
An empowered team—volunteers are able to choose their own shifts within an easy-to-use interface and controlled parameters.
Discover Smarter Scheduling

"I am very happy with Shiftboard and will have no problems recommending it. I have been amazed at how well it works. I am able to do things even on my mobile phone."
Anderson Lowe, Deputy Chief
Halstead Fire/EMS Department