Smarter, Simpler Employee Scheduling Software
EASY TO ACCESS
24/7 schedule access on any device. No install, full-service setup.
EASY TO INTEGRATE
Import schedules, staff profiles, parameters, requirements, and more.
EASY TO USE
Intuitive and user-friendly, with lifetime support. Just in case.
EASY TO CONFIGURE
Set schedules through managers, staff, or something in between.
Powerful, Efficient Scheduling
Getting started with Shiftboard is simple. There's no software to install, and it's easy to import all kinds of data like staff profiles, client lists, schedule parameters, and more. We can integrate effortlessly with your existing technologies and processes, and our setup team gets you started fast.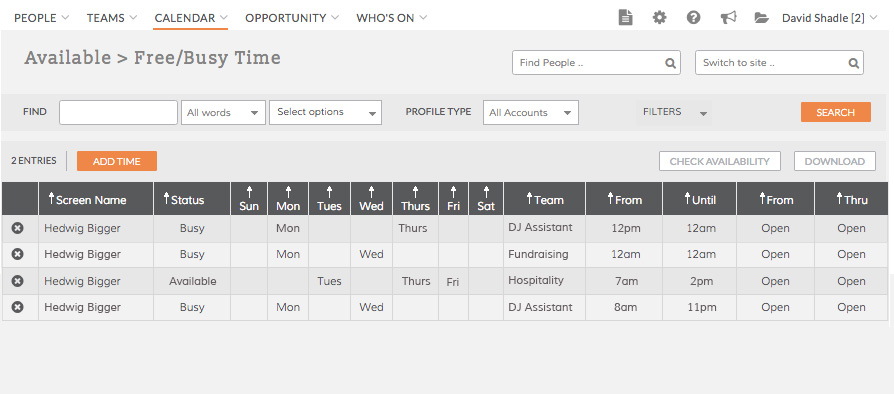 Reducing conflicts and viewing employee availability has never been easier with scheduling and workforce management software from Shiftboard. We provide real-time data and reports on your employees to help you make better scheduling decisions faster—no matter how your organization runs.
Set guidelines for availability, time-off, and shift swaps
Create staffing parameters, auto-scheduling, alerts, and more
Avoid unwanted overtime and overstaffing with labor forecasting
Custom sort and filter all scheduling data for better planning
Custom, Insightful Schedules
Shiftboard makes it easy to draft, view, edit, and manage your schedule so you can see all the information you want, just the way you like. We support the way you set your schedule—whether through rigid "top-down" shift assignments, "bottoms-up" self-scheduling, or something in between.
Customize schedule views for date, time, people, teams, and more
Filter to see who's scheduled as well as their sign-in time and location
Pre-build draft schedules to update and release when you're ready
Tailor visibility, layout, and access by person, team, or position
It's easy to get started. Let us show you how today:
Call 1.800.746.7531
Plans change, people get sick, and crises happen—so be prepared. Draft schedules, find fill-ins, finalize shifts, and publish in real time. You control who can sign up for shift standby, set on-call limits, automate alerts to cover last-minute openings, and confirm subs at a moment's notice via email or text.
Keep your scheduling secure! Tailor permissions by team, group, management level, locations, events, and more to protect sensitive information from unauthorized staff. Let staff focus on their schedules, supervisors monitor their teams, and admins oversee any and all aspects of your workforce.
Stay Connected With Your Staff
24/7 schedule access connects staff and helps your organization run smoothly across multiple locations and time zones. And our mobile app supports communication, location mapping, and more on-the-go with filters to view all parts of your operation. Access whatever you need, wherever you are.
Communicate at a Moment's Notice
Shiftboard connects you to everyone in your organization in real-time via call, email, text, or message board. Share documents, shift details, and last-minute updates to coordinate better. Automate shift reminders, contact no-shows, and let staff contact you to enhance accountability.
Dispersed workforce? No problem. Shiftboard's iOS and Android apps keep your workers on point and engaged with instant schedule access and communication tools. Allow staff to check shift details, clock in or out, pick up or swap shifts, and more.
Shiftboard Easily Integrates with your Payroll and HR Systems


Discover Smarter Scheduling