WORKFORCE ANALYTICS & REPORTING
Comprehensive Visibility Into Your Organization
Better Operations Through Powerful Analytics & Reporting
Get Critical Insights in Real Time
Shiftboard gives you more operational visibility with workforce analytics and reporting, on top of dozens of standard reports, across your entire organization—including labor budgeting and forecasts, client and third-party billings, paid and unpaid time-off, and overtime.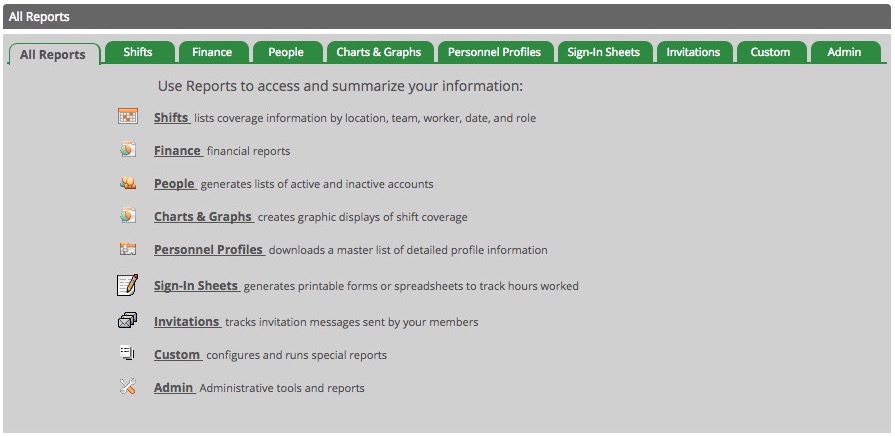 Talent Insights
Filter candidates by hire or on-board status (contacted, in-process, out-of-season, etc.)
Financial Insights
Filter for variables like pay rates, duties, and clients to budget better
Regulatory Insights
Stay compliant with access to all staff info – such as certifications and immunizations
Labor Insights
Manage your bottom line with labor forecasts to help avoid unnecessary overtime
Planning Insights
Use real-time overviews to staff strategically and plan for time off
Staffing Insights
Optimize staffing with filters for skills, demographics, locations, seniority, and more
Accountability Insights
Track late arrivals, no-shows, and other staffing crises to troubleshoot in real-time
Comprehensive Insights
Connect staffing with systems like HR and payroll to streamline operations
Asset Insights
Easily track equipment for better allocation and loss prevention
Performance Insights
Easily rank/filter staff by performance notes and assessments to identify your best teams
Efficiency Insights
Filter time and costs by people, location, teams, and more to spot weak links
Data Insights
Monitor file uploads, profile updates, and more to ensure data integrity
Get the insights you need in the format that works best for you. Shiftboard's workforce analytics adapts to your processes so it's easy to share and analyze all kinds of data across your operation, your way. All reports are simple to export into Excel, Text, CSV, and more.
More Accurate Projections
Know the real price of your workforce. Gain deep visibility into your staffing costs to plan your budget better. Track cost factors like fixed and variable pay rates and gain valuable labor insights in real time.
Import paycodes, create your own, or use individual pay rates
Assign default labor rates by team, skill, or role
Set hourly or flat rates by person or team, skill, position, and more
Labor cost reports for variable, fixed, or default rates
Labor summaries by staff, date, role, area, client, team, or custom
Advanced Labor Forecasting
Reduce guesswork and make more informed projections. Shiftboard gives you the ability to better assess future labor costs—so you can quit estimating and avoid surprises like over or understaffing.
Analyze staffing by future date ranges, clients, or events
Review labor costs by teams, areas, divisions, and more
Utilize revenue forecasts and margin trends to manage expenses
Compare your labor forecasts to results on a rolling basis
Build programs to improve cost controls and management insights
Sync Your Software Systems
No matter how large or small your organization, we integrate with your software systems. Shiftboard Web Services API easily moves data in and out of our cloud-based service to an array of systems—including CRMs, ERPs, and vendor services.
Discover Smarter Scheduling