SchedulePro Software
Workforce Scheduling for
High Compliance Operations
SchedulePro Software Overview
Purpose-built for high compliance organizations, SchedulePro empowers you to optimize every shift with full assurance that internal policies, labor laws, and industry standards are followed. SchedulePro serves high-compliance industries including:
Oil and Gas
Correction
Manufacturing
Petrochemical
Guaranteed Compliance
SchedulePro guarantees compliance. SchedulePro ensures all applicable scheduling rules are enforced and, if overridden, tracked for auditing. Compliance requirements, such as rest between shifts, extended shift hours, and the order in which employees are assigned are crucial for business policies and the legal standing of your organization. They are also critical for worker safety. SchedulePro equips you to adhere to all compliance demands proactively and provides evidence of compliance – guaranteed.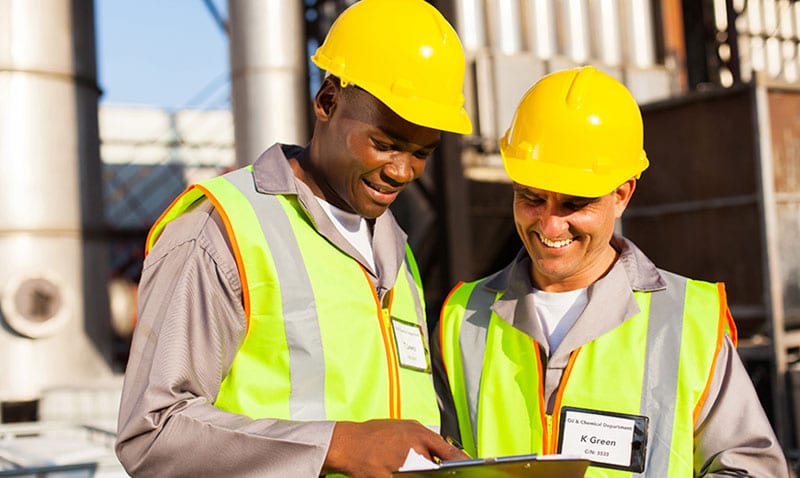 Optimized Coverage with Precision and Speed
SchedulePro maximizes labor utilization by taking on all the decision complexity for you with laser-sharp precision. Configured with deep knowledge of your business and industry, SchedulePro uses robust business logic to analyze all possible scheduling options and automates assignments that yield the best possible outcome. Every shift is optimized for best coverage, job proficiency, and lowest cost.
Overtime Control and Distribution
SchedulePro addresses both the cost and distribution aspects of overtime management with ease. Going beyond overtime detection and reporting, SchedulePro actively matches shifts with the most cost-effective employees and prevents unnecessary overtime. When overtime equalization is crucial for fairness, compliance, and fatigue risk, you can rely on a wide range of rotation methods to distribute overtime assignments accurately and effortlessly.
Testimonials
SchedulePro saved us almost $3M in costs and is a proven solution for API RP 755 compliance. Employee scheduling was a vital concern at an executive level — they went over and above the call of duty to meet our needs.

Larry Heasley,
HR Manager, Shell
SchedulePro is not only easy to set up and manage but also easy for employees to understand and use… The ability to log in to the schedule when mobile has been a big asset. As a patrol sergeant, I can make last-minute changes from… anywhere I have access to the Internet.

Wayne Schreiner,
Patrol Sergeant, Sartell Police
SchedulePro's ability to deliver the right solution, training, and support is highly due to a true understanding of our business processes and organizational goals. It is rare to experience this level of service from software vendors.

Stewart Williamson,
Business Transformation Analyst,
Alberta Justice and Solicitor General
Advanced Full Cycle Compliance
Proactively detect, address, and track compliance risks associated with internal policies, labor laws, industry standards, and collective bargaining agreements.
Generate a compliant schedule with robust business logic that automates rule checks against all requirements simultaneously.
Alert on schedule changes that impact compliance requirements and document reasons for required adjustments.
Audit and review schedule adjustments such as rule deviations, rule override justifications, and work reasons to diagnose recurring patterns.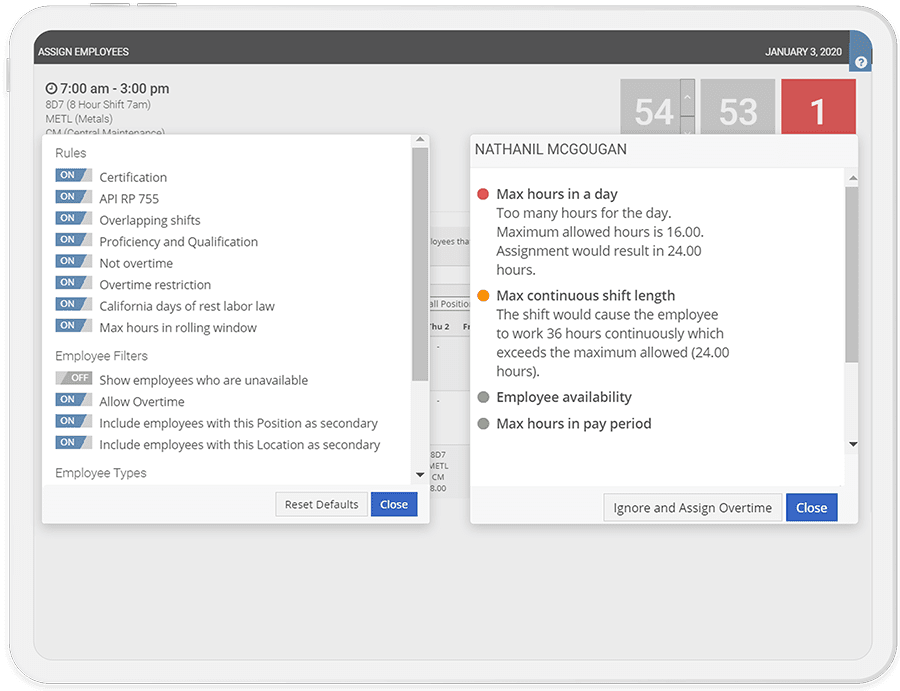 Scheduling Workflows
Follow your unique scheduling and backfill processes so that employee assignments are standardized, fair, and error-free.
Assign employees to shifts in the specific order required by internal policies and collective bargaining agreements.
Enforce shift eligibility so that only employees who meet the required standards, such as qualifications, skills, training, and job proficiency, can be scheduled.
Support industry-specific scenarios such as emergency response team assignment, on-call rotations, line-balancing, and more.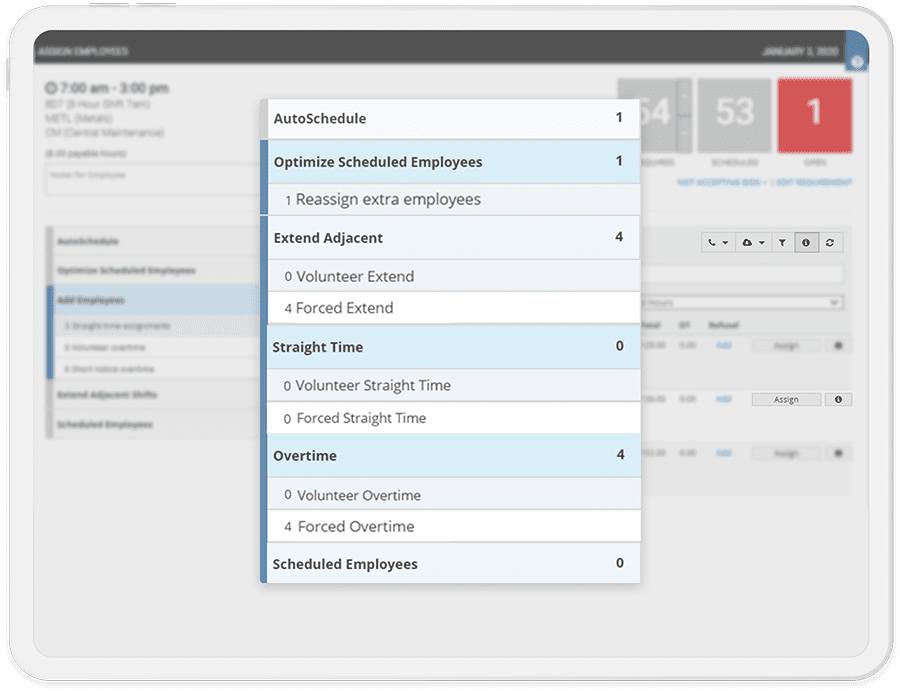 Optimized Schedules
Make the best decision by examining all possible scenarios and cascading effects, and then generate the best possible schedule.
Maximize shift coverage while keeping overtime costs low by shuffling already scheduled employees across different jobs to backfill openings.
Keep employees proficient at all times by rotating their schedules among critical jobs at the desired frequency.
In a single click, fill all openings with a combination that yields the highest coverage and lowest cost without violating compliance or workflow requirements.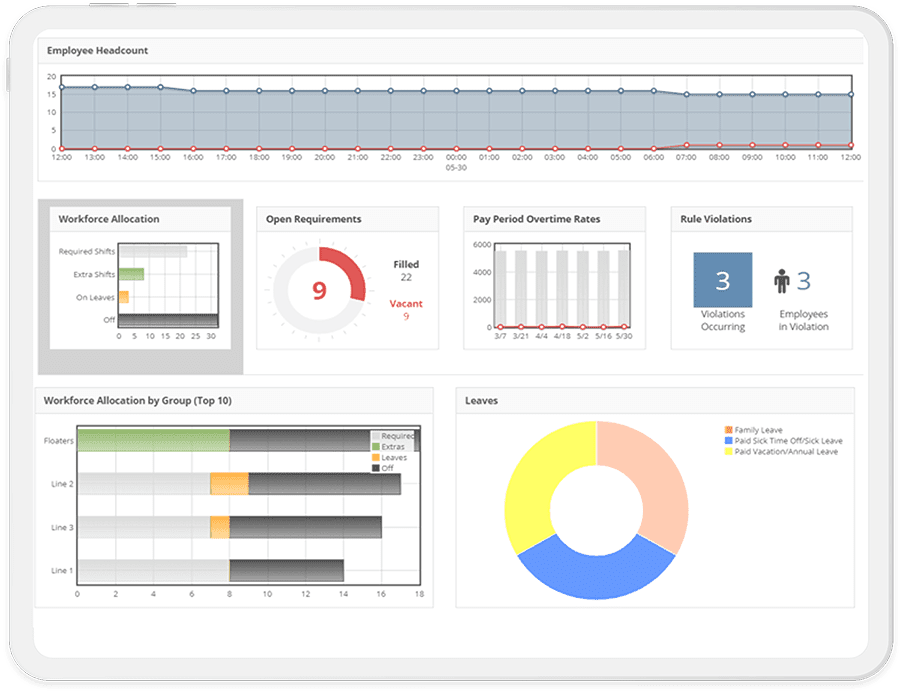 Automated Scheduling and Communication
Turbo-charge your scheduling and communication processes by eliminating manual scheduling inefficiencies.
Generate new schedules in seconds, leveraging shift patterns, and coverage requirements. When filling vacancies, easily identify employees from an automated list pre-validated against eligibility and compliance requirements.
Maximize shift coverage with a wide range of employee self-identified methods such as bids, shift extensions, voluntary overtime and time off, shift trades, and more.
Instantly communicate schedule updates and openings via SMS, mobile apps, emails, and automated calls.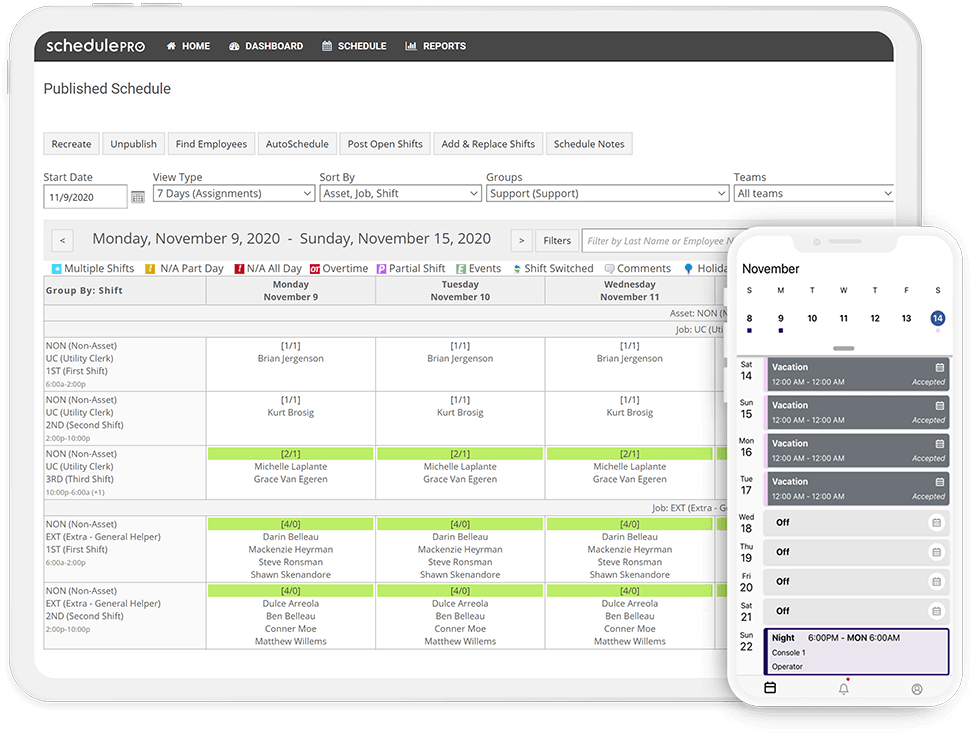 Overtime Management and Equalization
Master the balance of cost reduction and distribution decisions based on your overtime policy. Ensure overtime is allocated in a fair, standardized, and cost-effective manner.
Identify all non-overtime options before initiating overtime. When overtime is required, prioritize employees based on lower-cost implications.
Rotate overtime offers among employees based on various criteria such as overtime balance, seniority, last overtime shift worked, and more.
Access real-time insights to identify overtime reduction, distribution, and process improvement opportunities.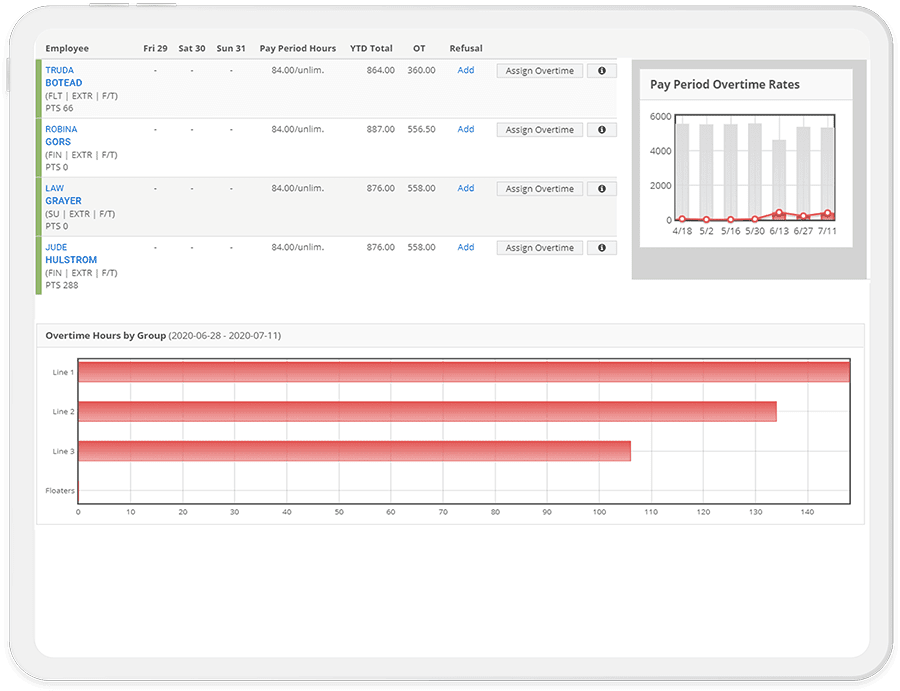 Additional Features
Leave Management
Streamline your leave planning, approval, and vacancy backfill processes with ease.
Timesheets
Ensures work hours and applicable pay codes are captured accurately to reduce errors and confusion during payroll entry.
Labor Forecasting
Accurately plan for staffing needs based on production demand data.
Trusted by the World's Most Recognized Brands
Talk with Us
Fill out the form and we'll be in touch for an initial conversation about your workforce scheduling needs.
Decrease Worker

Turnover by 16%
Make Scheduling

30% More Efficient
Increase Shift Coverage

Rates by 88%