SchedulePro Software
Workforce Scheduling for
Production-Centric Operations
SchedulePro Software Overview
SchedulePro is purpose-built for production-centric organizations in industries such as:
Oil & Gas
Manufacturing
Corrections
Petrochemical
The Best Possible Schedule Every Time
SchedulePro empowers you to accurately plan and scale staffing demand to honor production commitments. With our always-on optimization engine, you can confidently analyze all scheduling options and make the best decisions for your operations and workers. Attain the best possible coverage, cost, and compliance outcomes without guessing — under any circumstance.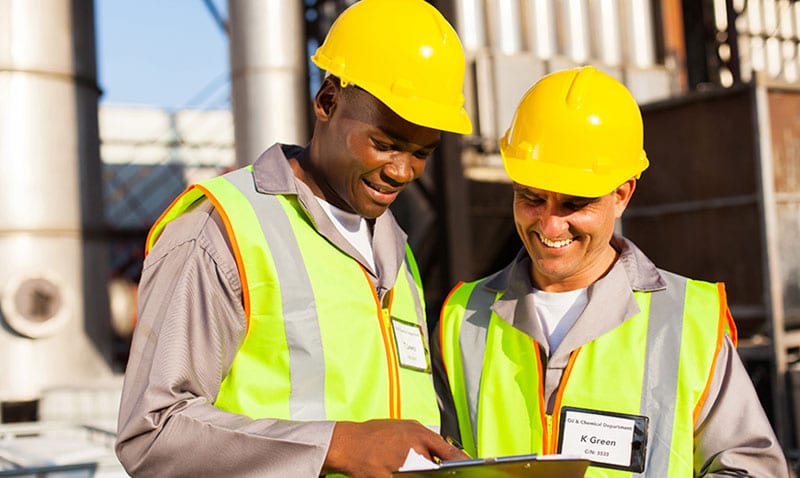 Guaranteed Compliance
Workforce scheduling sits at the crucial intersection between operations and the rules and regulations that govern them. SchedulePro equips you to adhere to all compliance demands proactively and provides evidence of compliance. Create error-free and justified schedules in seconds – guaranteed.
Superior Overtime Management
SchedulePro does more than assign the most cost-effective employees to lower overtime costs. With sophisticated overtime detection and equalization mechanisms, it adheres to your policy to distribute hours among employees for a fair and compliant workplace.
Testimonials
SchedulePro saved us almost $3M in costs and is a proven solution for API RP 755 compliance. Employee scheduling was a vital concern at an executive level — they went over and above the call of duty to meet our needs.

Larry Heasley,
HR Manager, Shell
The team at Shiftboard met and exceeded our expectations in terms of delivery time, degree of customization, and quality of customer care. They provided us with a comprehensive scheduling solution, not just a service.

Plant Engineer Manager,
A Big 3 Auto Maker
SchedulePro's ability to deliver the right solution, training, and support is highly due to a true understanding of our business processes and organizational goals. It is rare to experience this level of service from software vendors.

Stewart Williamson,
Business Transformation Analyst,
Alberta Justice and Solicitor General
Tailor-Fit Scheduling
Leverage highly flexible configurations to create and plan staffing schedules based on the way you operate.
Build staffing requirements and schedule structures to meet the specific needs of each plant and unit.
Automate scheduling processes with your unique workflows.
Support industry-specific scenarios like production line changes, emergency response team assignment, and turnarounds.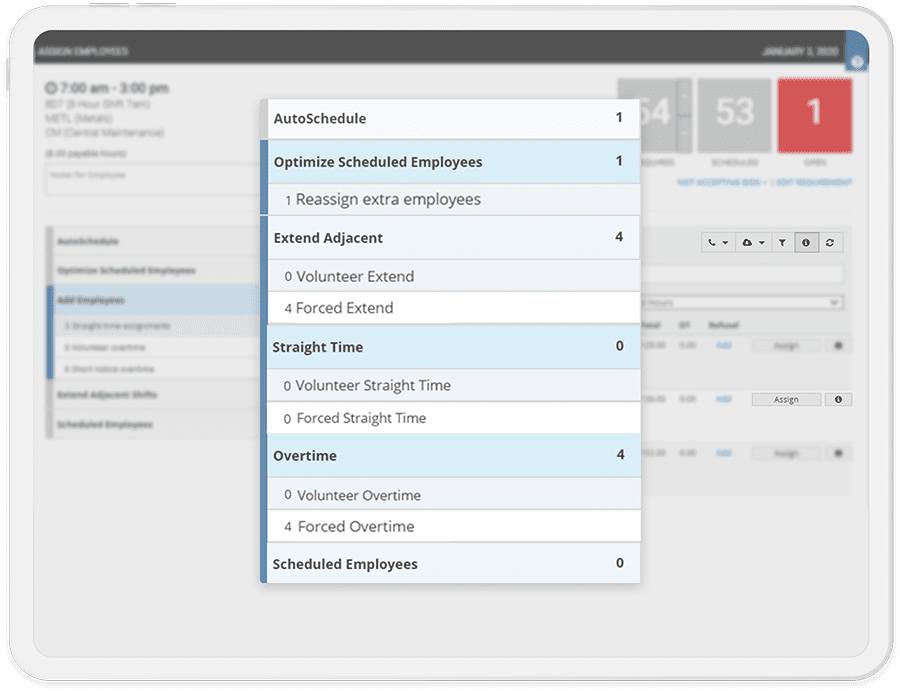 Continuous Optimization
Create the best possible schedule with intelligent algorithms that continuously evaluate all alternatives and recommend assignments that yield the best overall outcomes.
Evaluate schedules based on your business goals with an always-on optimization engine.
Examine cascading effects and dependencies between assignments with robust business logic.
Receive real-time improvement suggestions for the best overall coverage, cost, and compliance outcomes.
Takes smart actions such as employee shuffling and job rotation with a single click.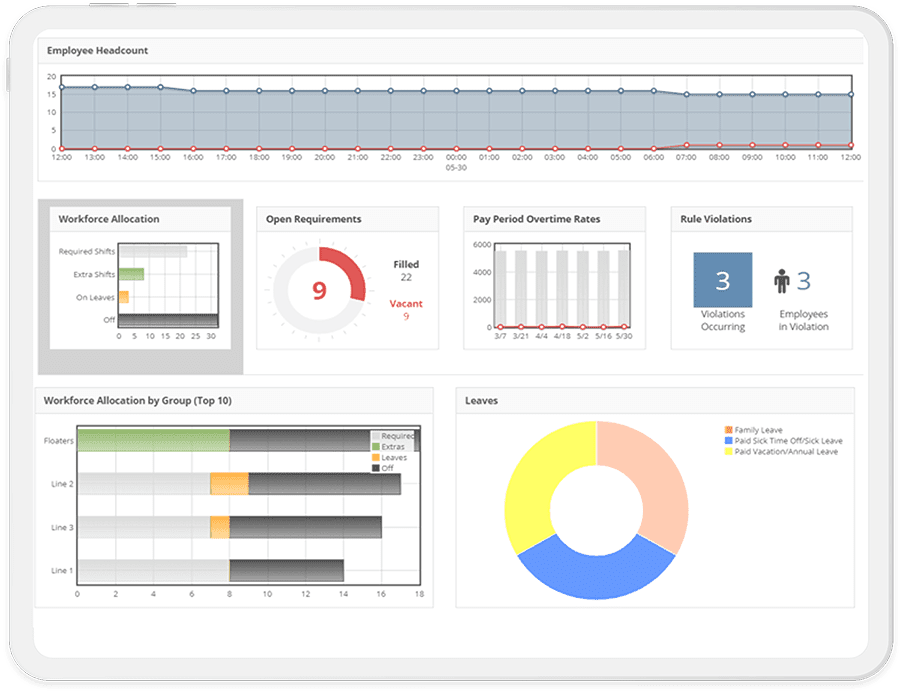 Worker-Friendly and Fair Scheduling
Create a win-win workplace for both the business and your workforce through flexible and fair schedules.
Offer employees shift pickup, volunteer signup, shift trades, and other schedule preference options.
Keep employees engaged and productive with online self-service and mobile apps.
Distribute hours fairly among employees with sophisticated OT equalization mechanisms.
Standardize and log scheduling decisions to ensure fairness and transparency in the employee assignment process.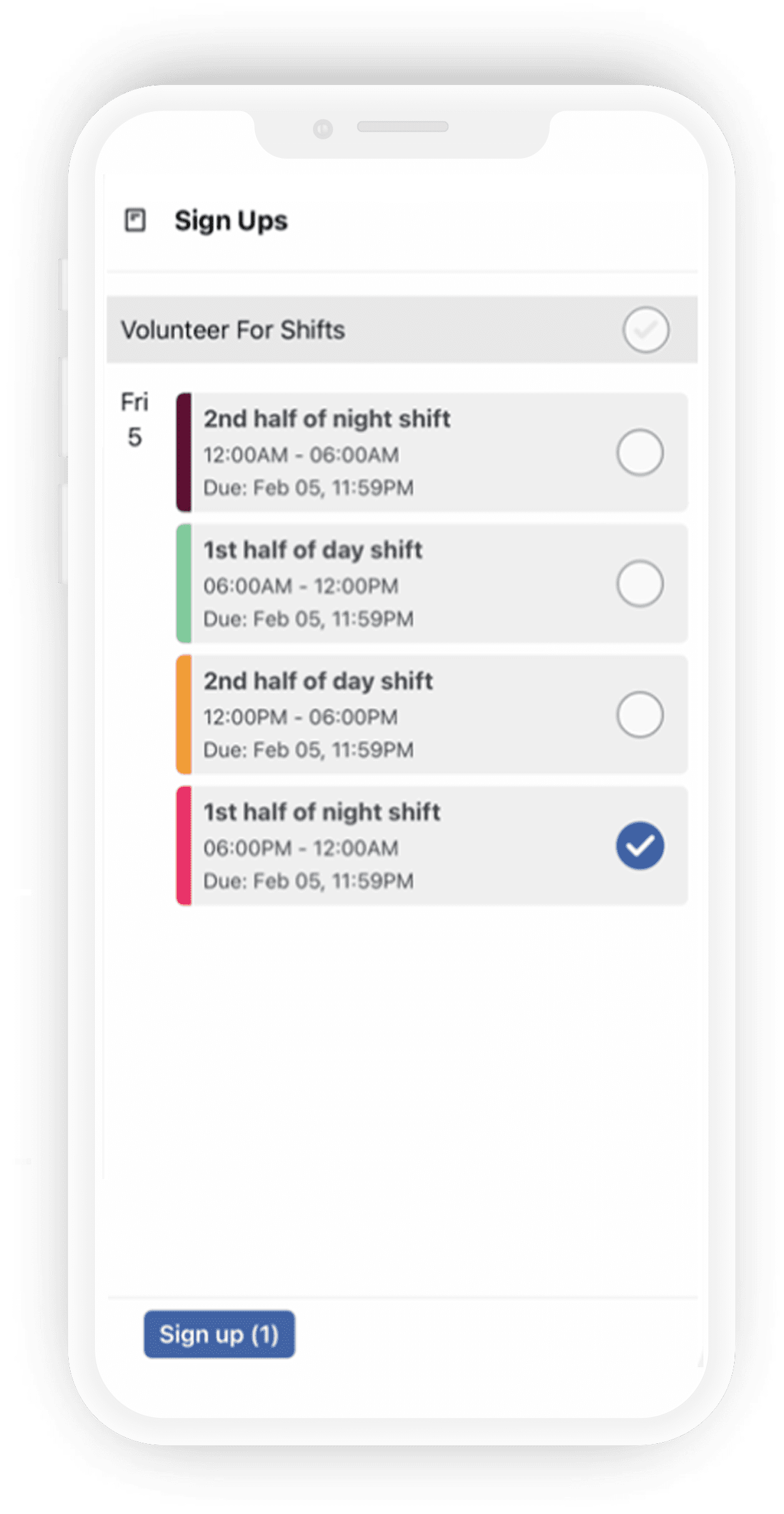 Full-Cycle Compliance
Compliance goes beyond rule adherence and includes exception management and schedule auditability. Proactively detect, address, and track compliance risks associated with internal policies, labor laws, industry fatigue standards, and union agreements.
Ensure full-coverage enforcement with rich rules library.
Receive instant alerts and explanations of any rule violations.
Manage exceptions and rule overrides with robust mechanisms.
Diagnose rule deviations and reasons with purpose-built audit trails and reports.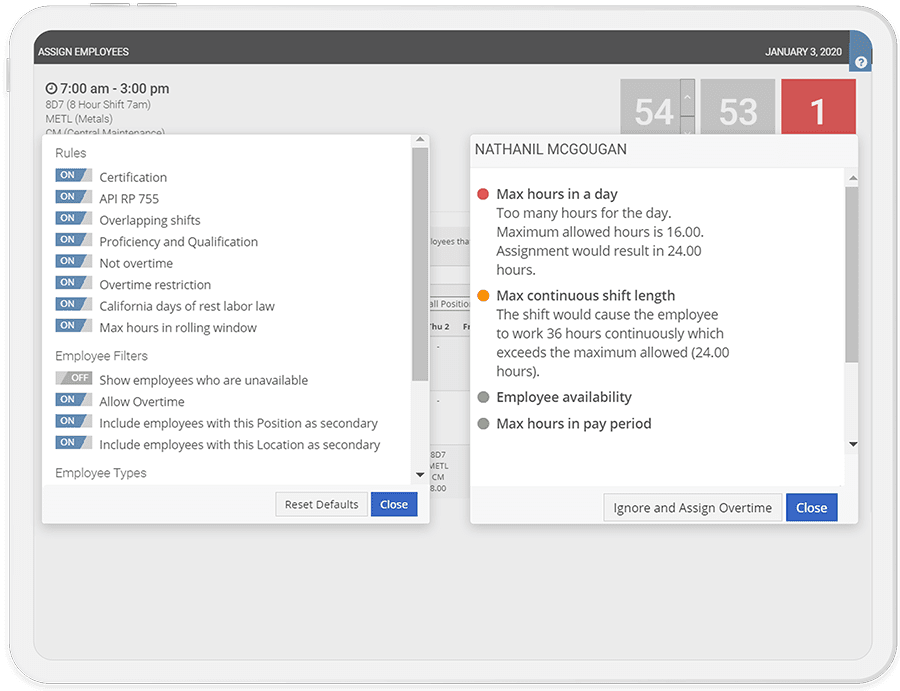 Scheduling and Communication Automation
Turbo-charge your scheduling and communication processes by eliminating manual scheduling inefficiencies.
Create schedules in seconds with built-in shift patterns, labor planning, and day-of management tools.
Backfill openings quickly with automatically curated lists of available and qualified employees.
Instantly update employee work hours balance, OT status, job proficiency, and other work stats upon assignment.
Notify employees of real-time schedule changes and openings via emails, SMS, mobile apps, and web notifications.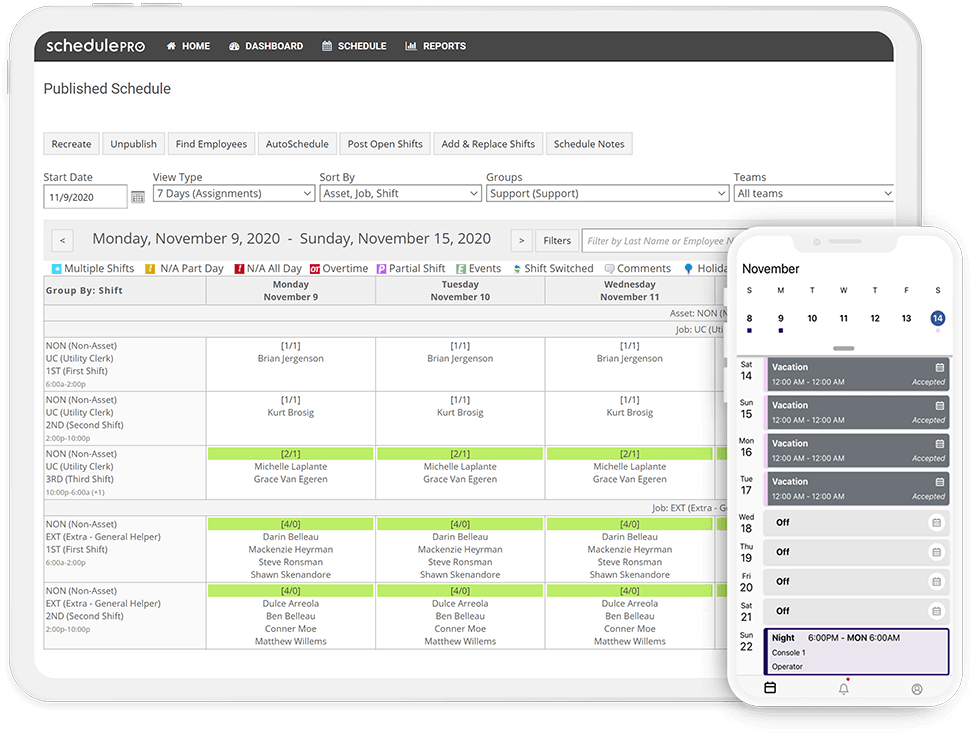 Additional Features
Leave Management
Streamline your leave planning, approval, and vacancy backfill processes with ease.
Timesheets
Ensure work hours and applicable pay codes are captured accurately to reduce errors and confusion during payroll entry.
Labor Demand Planning
Plan staffing accurately based on production and service level demands, workers availability, and contingency scenarios.
Trusted by the World's Most Recognized Brands
Talk with Us
Fill out the form and we'll be in touch for an initial conversation about your workforce scheduling needs.
Decrease Worker

Turnover by 16%
Make Scheduling

30% More Efficient
Increase Shift Coverage

Rates by 88%