Applicant Tracking System and
Onboarding Tools
Get New Hires Ready to Work Faster
With Shiftboard, you can streamline hiring, ensure compliance, and get qualified workers scheduled sooner. Our online applicant tracking system can help you eliminate manual processes and spreadsheets. You can get candidates into the system and onboard them immediately into Shiftboard once hired.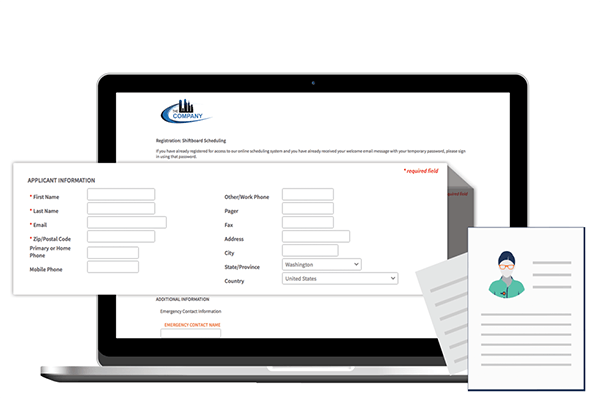 Accelerate Candidate Applications
Make it easy for candidates to self-apply for jobs from anywhere. Get rid of paper applications and manually searching for qualified people.
Job applications – easy-to-use, custom online applications replace paper forms
Applicant filtering – search for qualified applicants using flexible filtering
Job application tracker – track application status and upload documents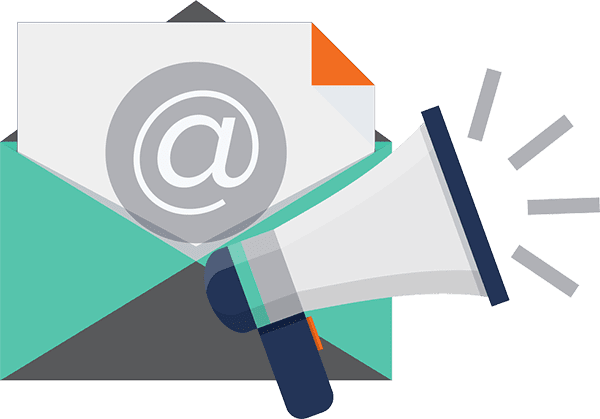 Communicate Proactively
Keep your job applicants and managers informed of hiring and onboarding status. Quickly reach out to just the right people.
Auto-respond – communicate automatically when hiring status changes
Manager messaging – send messages to managers on hiring next steps
Candidate tracker – report candidate status to keep everyone informed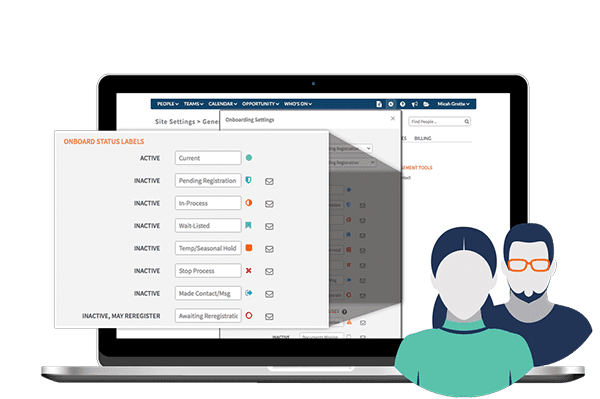 Improve Employee Onboarding
Get new hires ready to work sooner with the proper training, and ensure people can't be scheduled to work until all onboarding steps are completed.
Training tracker – track required trainings needed to prepare for work
Onboarding notes – document onboarding checklists and status
Work-ready controls – schedule workers only after onboarding is complete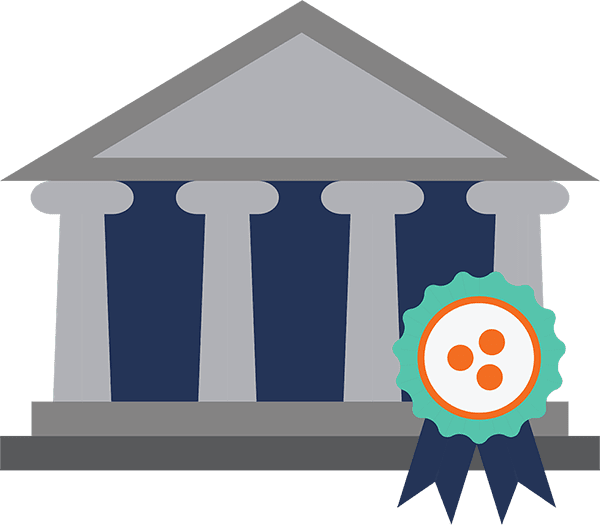 Ensure Labor Law Compliance
Track job applicants' licenses and credentials to ensure they are up-to-date. Eliminate hiring mistakes or delays due to expired credentials.
Credential tracking – store credentials, expiration dates, and documentation
Auto-notify expirations – notify job applicants with expired credentials
Acknowledgement agreement – document agreements to policies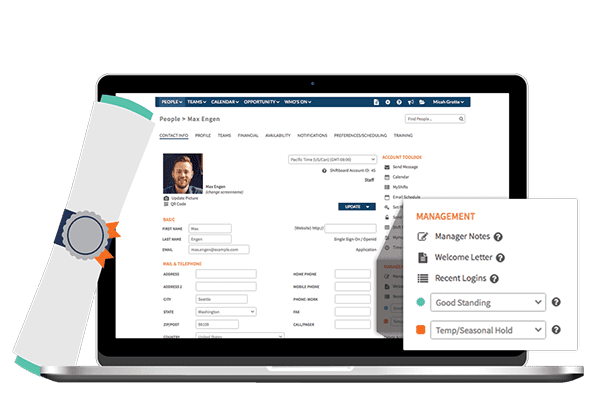 Integrate with Staff Scheduling
Onboarding integrated with employee scheduling makes it easy to ensure only properly trained new hires get scheduled.
Custom Profiles – auto-populate worker profiles from job application
Manager notes – include manager notes in profiles
Easily move to scheduling – start scheduling as soon as onboarding is complete
Get new hires working sooner! Shiftboard Applicant Tracking and Onboarding
fast-tracks hiring and training.
Shiftboard Key Features
Application Forms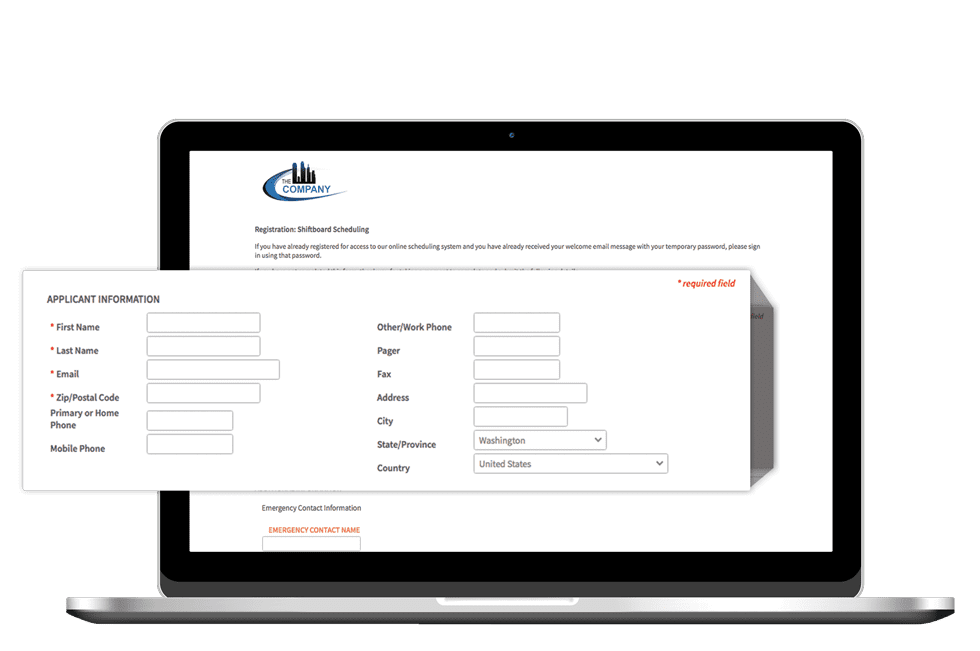 Keeping up with paper job application forms is difficult. Paper forms are tedious to search and can be easily misplaced causing you to miss qualified applicants. Replace paper forms with online job applications and let workers apply for jobs from anywhere on any device. When using Shiftboard application forms you centralize job application management and make it easy to search for qualified people. Managers can view job applications, find the applicants that are the best fit, and track the status of each applicant through the interview, hiring, and employee onboarding process.
Customize the new hire application forms to meet your needs and have different application forms to match each job type. Applicants can attach resumes, copies of licenses, review and acknowledge receipt of policies, and more.
Customize fields—adapt application forms to match job types and collect the contact information, job history, license information, neighborhood, language skills, and other information that you need to fill job openings
Attach documents—include policies and acknowledgements in the application form, upload resumes, copies of licenses, and other relevant background information
Mobile—apply for jobs and track status on any device making it more efficient than dropping by and filling out paper job applications
Scheduling Integration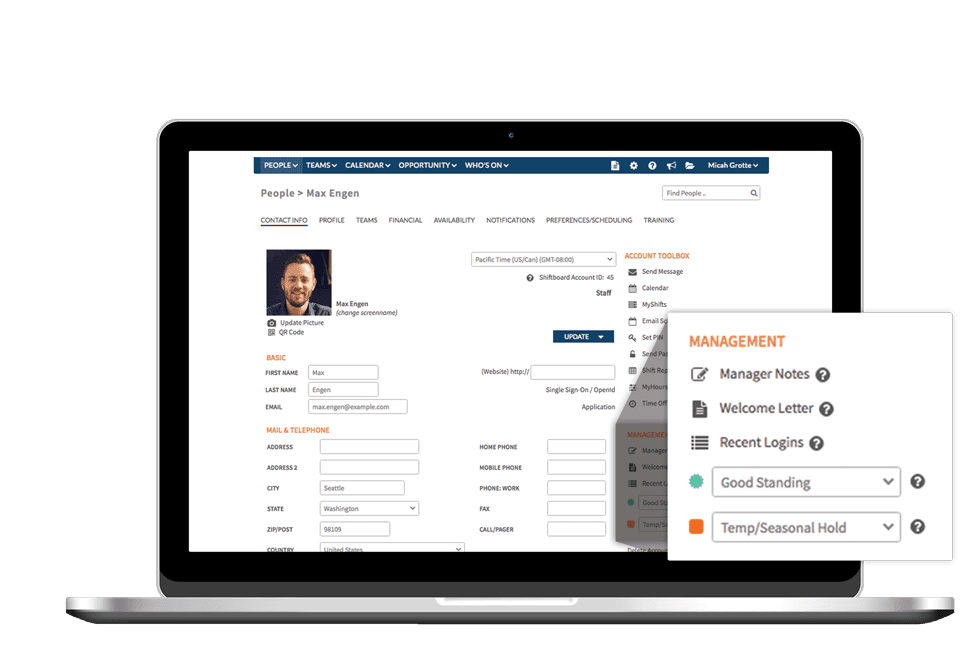 Keeping track of training and ensuring that only trained staff are scheduled to work can be complex. By integrating scheduling with application tracking and employee onboarding you ensure your new hires are properly trained and ready to work before they are scheduled. You can replace paper checklists, manual training trackers, and informal compliance reviews with a fully integrated system that validates onboarding is completed. This ensures that workers don't show up to shifts untrained or without valid credentials, which can create compliance, safety, or security issues.
Different worker profiles have specific job requirements. You can create application forms that align to defined Shiftboard Scheduling worker profiles and teams.
Auto-populate profile—move applicant information to employee profiles and be ready to schedule your new hires for shifts
Welcome letter—customize welcome letters when sending Shiftboard user login information so new hires know when and where to show up to work
Broadcast messaging—send messages to current teams to broadcast new job openings. Your current staff can be your best resource for referring applicants.
Credential Tracking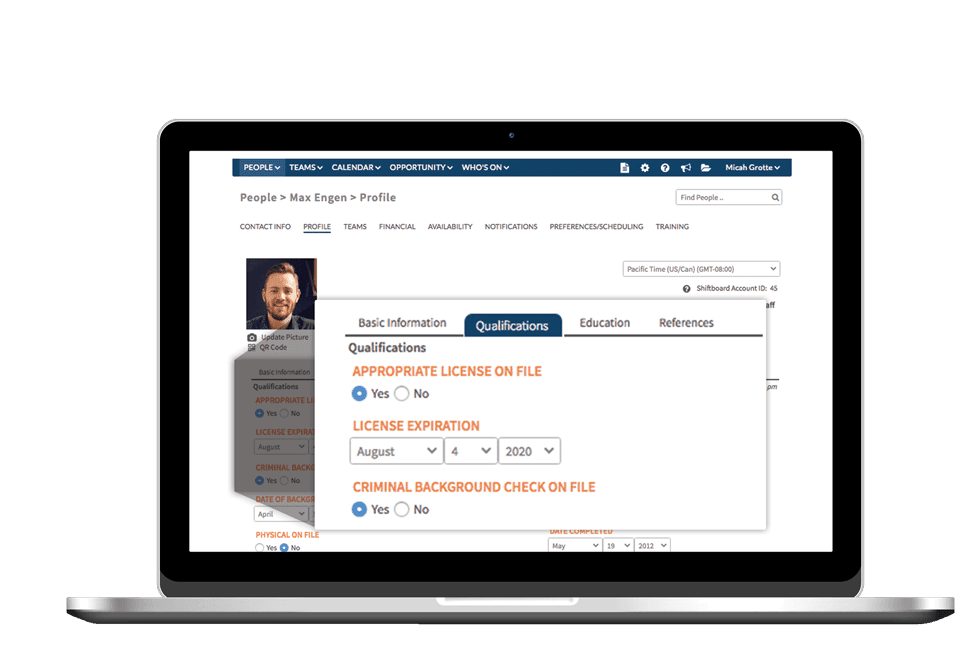 Tracking and managing licenses, certifications, and other credentials can be challenging for many organizations. Scheduling employees with expired credentials can present significant risk. When you are hiring new workers, application forms can include the type of credentials required, the expiration date, and a copy of the document if necessary. You know right from the start of the hiring process who has the right credentials to meet your staffing needs. Confirm new hires are in good standing before assigning them to their first shift.
Integrated scheduling with applicant tracking and onboarding means your credentials continue to be tracked even after the hiring process. Managers and workers are automatically notified of upcoming expirations dates.
Credential management—include required credentials in application forms and have job seekers include licenses, trainings, certifications, and other credentials to show they are the best-qualified applicant
Electronic credential document storage—store electronic copies of licenses and other important credentials as part of the job application
Expiration notification—communicate with applicants during the hiring process and after onboarding should credentials expire. Automatically notify both workers and managers of upcoming credential expiration dates.
Onboarding Status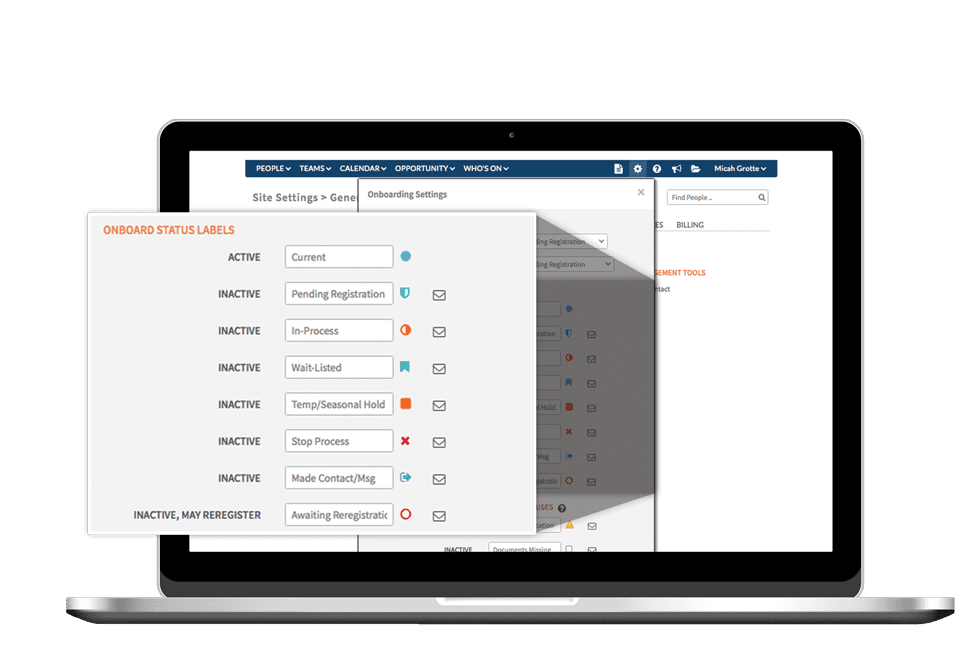 When you are hiring hundreds of people, keeping track of their hiring and onboarding status manually can lead to work delays. Efficiently hiring and training new people improves operational efficiency. With Shiftboard's applicant tracking system, your managers can track hiring status and get new people ready to work faster. When applicants are moved into the hiring and onboarding process, their onboarding status can be set automatically. Run reports to see the status of candidates and new hires, and communicate proactively to ensure the process is moving along quickly.
With integrated scheduling, once onboarding is complete the onboarding status is moved to active and workers can be scheduled for shifts.
Customize status—define hiring and onboarding status to match your processes
Auto-assign—set the default status automatically when candidate applications are moved into the interview or onboarding process
Ready to work—after onboarding, move new hires to active status indicating they are available to be scheduled and work shifts
Training Tracker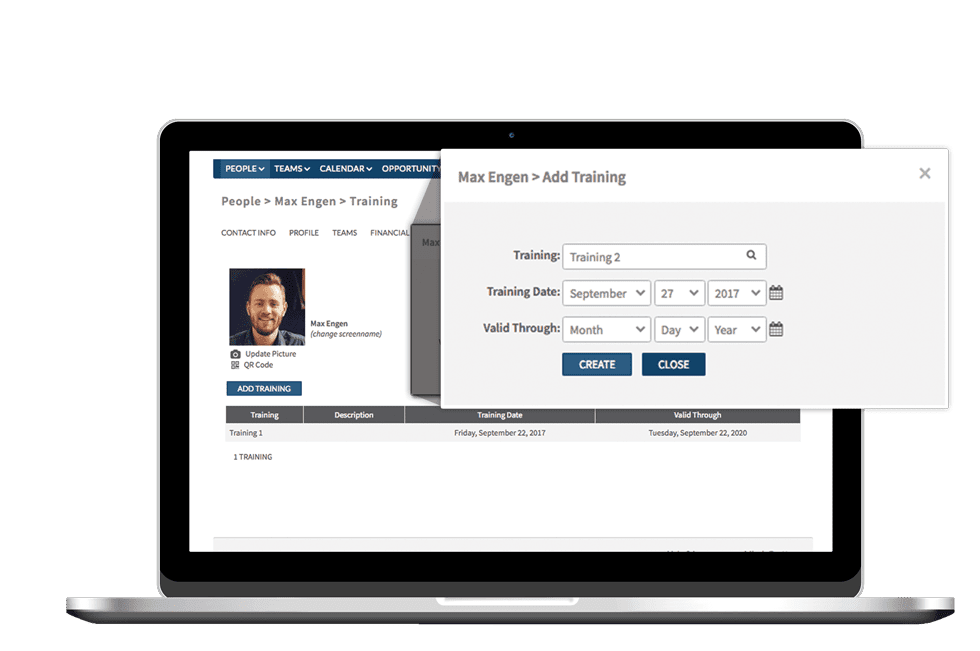 Keeping track and ensuring your teams have completed the training required to work can be difficult. Getting new hires ready to work often includes company training, safety training, and job-specific training. By identifying and tracking key trainings, you ensure that your new hire is able be successful as they start working their first shifts.
Integrated scheduling with applicant tracking and onboarding means your trainings continue to be tracked even after the onboarding process. Managers and workers are automatically notified of upcoming training expiration dates.
Training management—identify required and optional trainings and track completion in the new hire's profile
Training certificates—store electronic copies of training certificates as onboarding training is completed
Expiration notification—track training expiration dates and auto-notify managers and workers of upcoming expiration
Communication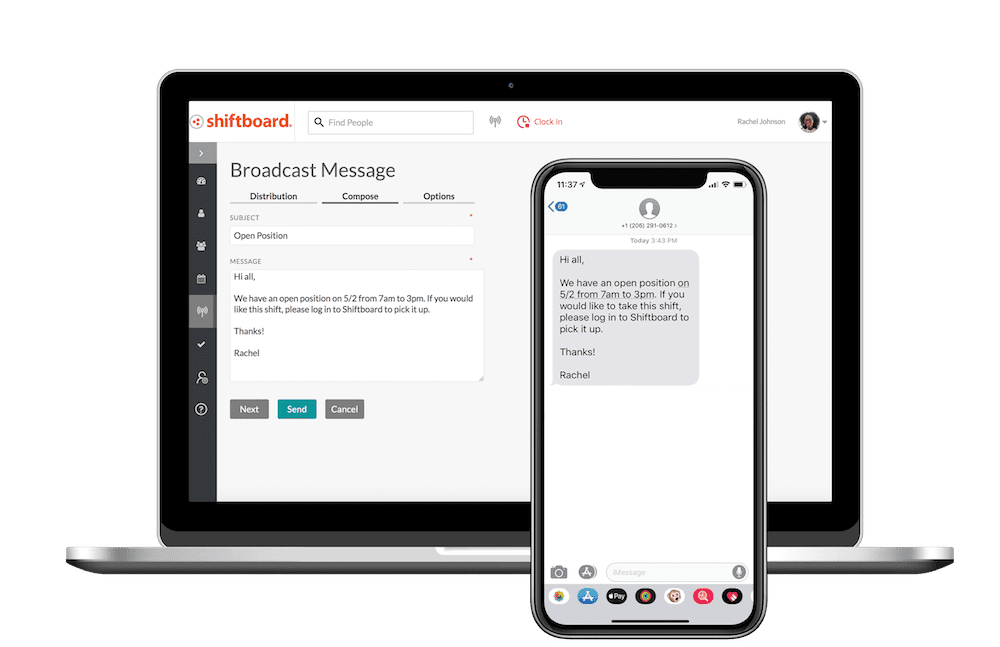 Communication is key to hiring the best candidates. However, it's easy to neglect keeping candidates engaged and managers informed. Your job application form can include candidate preferences on how to contact them. You can email or message them based on their preference. You can broadcast hiring updates to all managers or a specific subset of managers to keep them informed of hiring and onboarding status. Reach everyone or anyone at a moment's notice and allow them to reach you for more agile, responsive staffing.
With Shiftboard's applicant tracking system and onboarding features, communication is easy. Throughout hiring, onboarding, and scheduling, all the information you need is there.
Mobile—apply for jobs and track status on any device using their preferred email or text messaging
Broadcast messages—notify applicants and managers of current hiring and onboarding status
Work availability—include "available to work weekends or nights" in your job application
Shiftboard Easily Integrates with your
Payroll and HR systems.
Brands With The Most Demanding Schedule & Workforce Management Needs Trust Us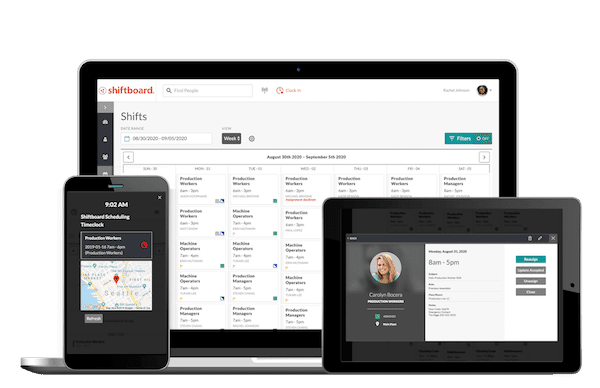 Request Your Shiftboard Demo Today