You Asked, We Answered
Shiftboard | March 1, 2018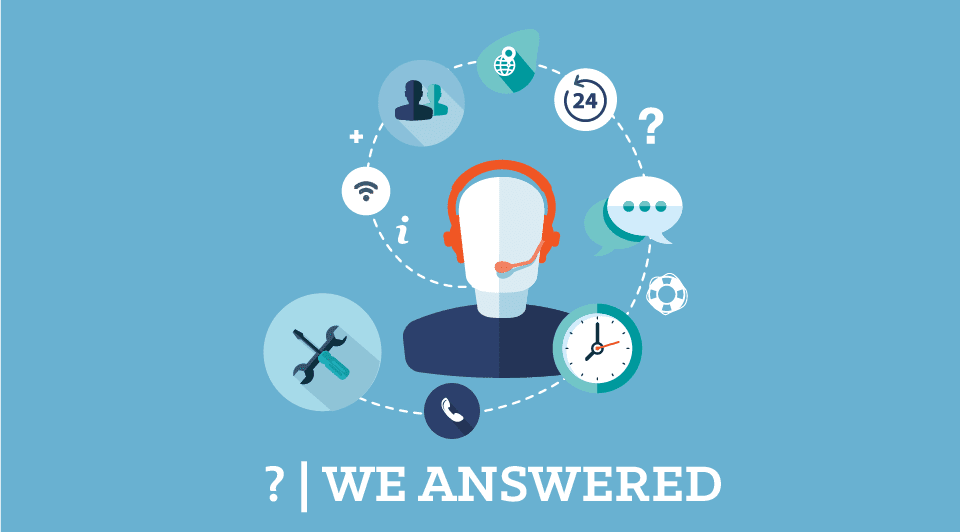 We're sharing our most frequently asked questions to help admins and managers master Shiftboard even further. We're always looking to provide further assistance, so if you have any questions, contact us at support@shiftboard.com.
Common Site Admin Questions About Their Members
How do I make someone else a site admin?
Go to Settings > About this site > click Site Administrators > find the name of individual you are wanting to add > checkbox left of their name > fill site admin radio bubble (bottom of page) > click set member levels.
For more information, visit our site admin support article.
How do I reset a password for my members?
Only site admins and managers can send password resets to their members. To do so, go to that member's profile > account tools box > send password.
How do I train new managers and end users after I have completed my onboarding?
While we encourage managers and site admins to train users for their site, Shiftboard does offer an additional manager training that incurs a fee. If you interested in scheduling an additional training session, you can reach out to your Account Manager. We also encourage using our knowledge base as a source of information. Additionally, if managers or members have specific questions they can contact our support team by email and phone:
Email: support@shiftboard.com
Phone: 1 (800) 583-1041
What should I do after an employee leaves my company and I need to remove their shifts from the calendar?
If an employee leaves your company and you need to remove any future shifts associated with that member, you can change the status of their account from Good Standing to Admin Hold. Go to People> All Members> go to member's account> under the management dropdown, change status from good standing to admin hold.
When you do this, a dialogue box will appear that will ask if you want to unconfirm all shifts from today forward for the member. If you select yes, future shifts that were previously assigned to the departing employee will become available. Placing a member on admin hold will make it so they cannot access their account anymore, but their information will remain in Shiftboard should you need to access it in the future.
How do I retrieve QR codes for members?
In order to download member QR codes, start by going to People> All Members. If you only want to retrieve QR codes for members of a particular team or workgroup, use the filters dropdown and select the appropriate team(s), then click download. When downloading the report, choose to "Include raw QR code data" and click download.
On the report that is generated, there will be a column that includes the raw QR code data. To print QR codes, you will need to go to a specialized print shop with a QR code printer. Supply the print shop with the raw QR code data, and they will be able to print the codes for you.
There are a number of organizations using software to print badges, but Shiftboard doesn't officially recommend any specific vendor. We have personally heard a program called LabelJoy referenced, but there may be better/other cheap or free options available to you on the internet.
How do I clock in members using their QR code?
Using QRPassport, a free application available on the Google Play Store and Apple App Store, staff members and hourly workers can simply clock-in by scanning their personal Shiftboard QR code. Scanning works with on-screen codes, ID badges, wristbands, and any other printed item.
With QRPassport, members can check themselves into the app or Managers can control the check-in process for all other staff, attendees, or volunteers as they arrive on location. The app allows members to choose between kiosk mode with the front camera and hand-held mode with the rear camera.
Common Site Admin Questions About Their Calendar
What shift information can I change in bulk?
The following items can be changed in bulk for shifts: team, shift time, subject, role, client, location, critical, pickups, trades, room/floor, details, link caption, link address, pay rate, timezone plus assigning members and deleting shifts.
How do I make shift updates in bulk? (Changes, delete, publish, etc.)
Go to calendar in your navigation bar > schedules. Click the beginning shift you would like to make changes to. In the gray box to the right, click one of the editing options (change, delete, or assign) > click bulk change, delete, or assign (top left).
Filter shift information you are wanting to update
Review the list of shifts and make sure they match your criteria
Finalize changes
For more information, visit our bulk edits support article.
How do I facilitate shift trades?
When your members are attempting to trade shifts, Shiftboard takes into consideration your company's overtime and member conflicts. If a member already has a shift for the day and they are wanting to pick up a trade that conflicts, a manager will have to go in to manually remove and reassign the shift to them.
How do I send a broadcast message?
Go to teams on your navigation bar > broadcast > pick who you would like the message sent to > apply additional distribution filters if necessary (i.e. with assignments or without) > compose your message > click next > preview message > click send now. For more information, visit our broadcast message support article.
Where can I find the broadcast messages I have sent?
Sent broadcast messages can be found in your Shiftboard inbox under the teams folder.
How come I can't see anything on the calendar?
Shiftboard allows its users to filter their calendar, and there are times when these filters stick. For instance, when a user leaves the calendar, it will be the same place when they come back so they don't have to reset the filters. Users will know a filter is in place if they see the Remove Filter button in the top right corner above the calendar. For more information, visit our calendar views article.
Common Member Questions Asked of Site Admins
How do I reset my password?
After a user has registered with Shiftboard, a temporary password will be sent in a welcome letter with instructions for logging into the account for the first time. Once logged in to the Shiftboard site, members can change their password in two different ways:
Hover over the member name on the navigation bar> select change password.
Inside your member profile, look at your profile> click Password/pin under the Account Toolbox. If you cannot access your account, click "Forgot Password" on the login page to send a password reset to the email address associated with your account.
How do I trade a shift?
If your site is set up to allow for shift trades, you can trade a shift by going to Calendar> Select Shift to trade> Click Trade. Note that until the shift has been taken by another member, it will remain on your calendar as a confirmed shift. If you wish to view the available trades from other team members, go to Opportunity> Tradeboard.
How do I contact my manager or site admin?
There are a few different ways that you can contact your manager or site admin. To contact a manager about a particular shift, start by going to Calendar> select shift> click the contact button in the dialogue box that appears to send a message to your manager. You can also contact your site admin by clicking the Support globe icon to the left of your name. If you fill out your question, this will be sent to the main site contact.
Who do I contact when I am having login and schedule troubles?
Your site administrator or manager has the ability to reset your password for you if you are experiencing difficulties. You can also reach out to our team directly by emailing support@shiftboard.com or calling 1(800) 583-1041 and we'll send you a password reset link.
How do I download the mobile app?
To download the mobile app for an iPhone or iPad, go to the App store and search for Shiftboard People Scheduling. Then, click download. Link to Shiftboard app in Apple App Store: iOS Shiftboard App
For an Android, go to the Play Store and search for Shiftboard People Scheduling and click download. Link to Shiftboard app in Android Play Store: Android Shiftboard App
How do I sync to my Shiftboard calendar with another calendar such as iCal or outlook?
To sync your external calendar with another calendar, start by going to Calendar> Schedules. Above the calendar, click the calendar icon, then click the corresponding icon of the calendar you would like to connect with. If the icon of the calendar you'd like to connect with does not appear, you can use the private calendar address link to add to your calendaring system.
Common Miscellaneous Site Admin Questions
How do I update our registration page, logo, and site color?
Depending on your package, you can add a custom logo and colors to your site and registration page. A member of the Shiftboard support team can make the changes for you. Just let us know the specifics of your request by emailing support@shiftboard.com.
Do you have any help pages?
Yes, we do have support articles available at https://support.shiftboard.com/. We are always looking to improve our articles and add to our database. If you have suggestions of articles to add, please send your suggestions to support@shiftboard.com.
How do I upload items into Shiftboard?
There are a handful of items that site administrators have the ability to upload to their site such as schedules, revenue/forecast data, manager notes, timecards, and team memberships. To access the templates to upload to your site, click the Settings gear> click Data Upload under Management Tools. There are also a number of templates that members of the Shiftboard support team can upload in bulk for you such as profile data, member accounts/registrations, locations, and more.
How do I contact your support team?
Our Support team can be reached by emailing support@shiftboard.com or by calling 1 (800) 583-1041. Our support hours are M-F from 6am-6PM PST. However, we do also have a member of the team checking emails on the weekend for any urgent issues.