Shiftboard Secures $11.5 Million Series A Financing Round Led by NewRoad Capital Partners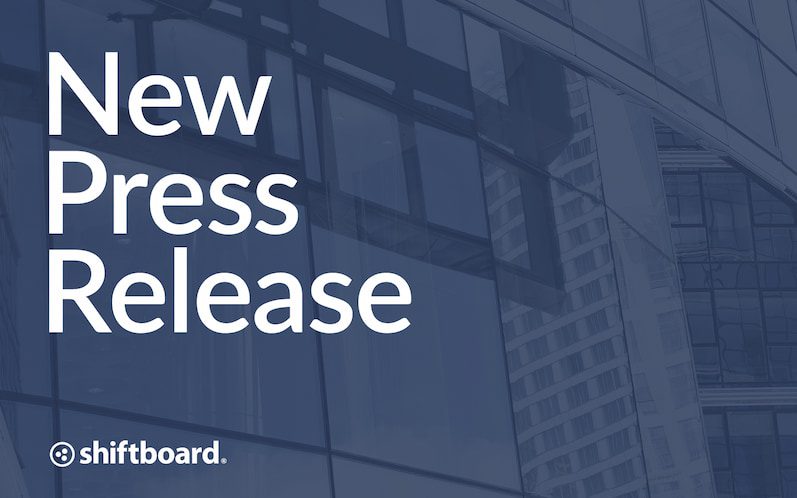 Scheduling and hourly workforce management software company to accelerate marketing and sales, product development, and expand customer success
SEATTLE, WA – January 24, 2018 – Shiftboard, a global leader in scheduling and hourly workforce management solutions, today announced it has completed an $11.5 million Series A funding round led by NewRoad Capital Partners. NewRoad Capital Partners made this investment through Kayne NewRoad Ventures Fund II, a growth equity fund managed in partnership with Kayne Anderson Capital Advisors,L.P., and with participation from new and existing investors, including Voyager Capital. Clete Brewer, Managing Partner at NewRoad Capital, will join the company's board of directors."
"We are very excited to invest in Shiftboard," said Clete Brewer. "Hourly workforce management is ripe for technology adoption and Shiftboard is very well positioned to drive this market by solving the complex scheduling needs of larger organizations. The team has a great combination of vision and execution skills, and the company has demonstrated strong growth and customer traction."
Within the $4.5B workforce management software market, companies with large hourly workforces have been underserved by traditional workforce management solutions. Hourly work environments are uniquely complex with shift scheduling across multiple roles and locations, filling last minute staffing needs, and complying with numerous hourly worker labor laws, collective bargaining agreements, and industry standards.
Built specifically for hourly workforces, Shiftboard is uniquely positioned to enable enterprises to realize value from scheduling and workforce management automation. With Shiftboard, customers report 8.4x payback on their investment through lower labor costs, increased worker productivity, improved employee engagement, and retention.
"We've watched Shiftboard grow rapidly over the past two years, more than doubling revenues while earning the trust of many of the world's most demanding brands. The company has tremendous market knowledge and traction with thousands of customers. The combination of Shiftboard's technology and exceptional employees has us more confident than ever to invest in their vision," said Erik Benson, General Partner at Voyager Capital.
"We are thrilled with the opportunity and expertise that Clete and NewRoad bring to Shiftboard," said Sterling Wilson, President and CEO of Shiftboard. "With this new capital, we plan to leverage our market momentum to accelerate innovation and scale operations to meet increasing demand."
About Shiftboard, Inc. 
Shiftboard is a leading provider of employee scheduling software for shift-based operations in mission-critical industries. Backed by Shiftboard's tailor-fit solutions, organizations can build adaptive workforce operations that increase operational agility, optimize labor resources, and accommodate workers' preferences, leading to improved efficiency and higher worker satisfaction and retention rates. To date, Shiftboard has supported over 630 million scheduled shifts for thousands of customers, including many Fortune 500 companies, providing the employment pipeline for $66 billion in wages earned. For more information, please visit Shiftboard.
About Kayne NewRoad Ventures Fund II, L.P.
Kayne NewRoad Ventures Fund II, L.P. ("KNRV") is a joint venture between Kayne Anderson Capital Advisors, L.P. and NewRoad Capital Partners, LLC. KNRV was formed to create and target demand-driven technology-enabled businesses with strong management teams in targeted market niches with operational expertise and capital to achieve outsized growth. The fund focuses on markets including retail, consumer packaged goods, supply chain & logistics, consumer healthcare, environmental, and U.S. manufacturing. The fund is co-managed by Kayne Anderson Capital Advisors, L.P. and NewRoad Capital Partners, LLC.
Kayne Anderson Capital Advisors, L.P., founded in 1984, is a leading alternative investment management firm focused on niche investing in upstream oil and gas companies, energy and infrastructure, specialized real estate, growth equity and both private credit and diversified liquid credit. Kayne Anderson's investment philosophy is to pursue niches, with an emphasis on cash flow, where our knowledge and sourcing advantages enable us to deliver above average, risk-adjusted investment returns. Kayne manages $26 billion in assets (as of 12/31/2017) for institutional investors, family offices, high net worth and retail clients and employs over 300 professionals in eight offices across the U.S.
NewRoad Capital Partners is an operator-focused, demand-driven venture capital firm located in Rogers, AR. NewRoad invests in emerging companies with a focus on technology-enabled businesses including retail, consumer packaged goods, supply chain and logistics, data, consumer healthcare and wellness, environmental, and U.S. manufacturing. NewRoad's approach to investing is simple: invest in companies with people worth investing in.For more information, please visit NewRoad Capital Partners.
About Voyager Capital
Voyager Capital is a leading Seattle- and Portland-based, early-stage venture firm providing entrepreneurs with the resources, experience and connections to build successful technology companies. Voyager leads first venture round investments in software, AI and cloud infrastructure startups, deploying the firm's domain expertise, go-to-market and team building resources help build market leaders. For more information, please visit Voyager Capital.