Shiftboard Appoints Ian Herbert-Jones as Vice President of International Operations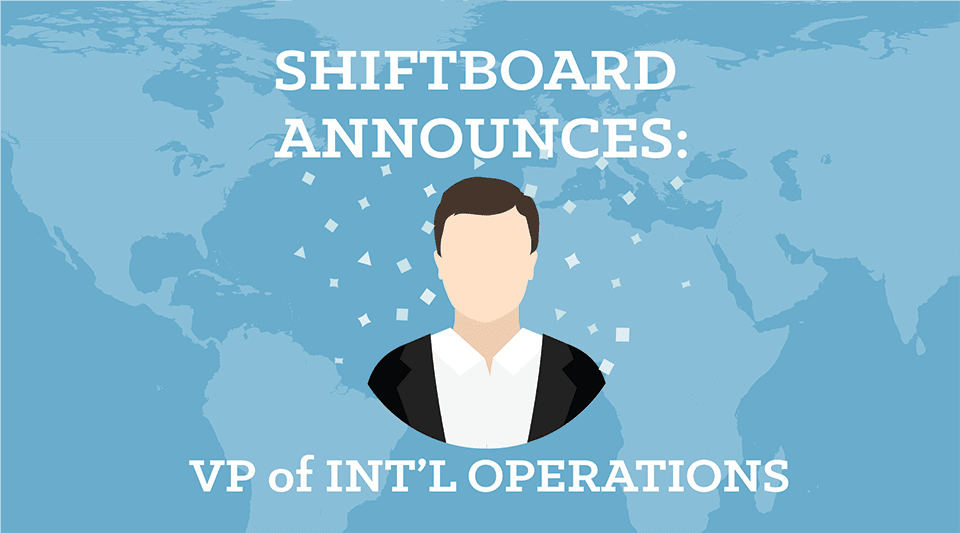 Former CEO of big data analytics firm Velocent Systems brings international experience in sales and operations to leader in scheduling and workforce management software
SEATTLE – June 20, 2018 – ​Shiftboard, a global leader in scheduling and workforce management solutions, today announced the appointment of Ian Herbert-Jones as Vice President of International Operations. Based on more than two decades of building and leading international sales and solutions teams, Ian will oversee business operations outside North America including sales, partnerships and business development. The addition of this new role is a critical move in Shiftboard's commitment to provide enterprise customers around the world with a cloud-based scheduling and hourly workforce management solution designed to help lower labor costs, while increasing employee productivity and engagement.
"Ian's experience in bringing new technologies to market and international connections set us on a path to provide companies with modern scheduling and workforce management capabilities to improve their business operations, leading to significant workplace benefits for both the company and their employee," said Shiftboard President and CEO Sterling Wilson. "Our research shows that large hourly workforces across the world have been underserved by traditional workforce management solutions, so we see Ian's addition as a jumpstart in our vision to help introduce Shiftboard's modern, efficient system to those companies seeking to enhance interactions with employees and improve their businesses."
Ian brings a strong background in operating and growing early-stage companies. Previously, he was Senior Vice President of Worldwide Sales and Business Development at Zettics, a leader in big data analytics. Prior to this, Ian was CEO of Velocent Systems where he guided the company to become the leader in Customer Experience Assurance, culminating in the company's acquisition by Zettics.
Hourly work environments are uniquely complex with shift scheduling across multiple roles and locations, filling last minute staffing needs, and complying with numerous hourly worker labor laws, collective bargaining agreements, and industry standards. Built specifically for hourly workforces, Shiftboard is uniquely positioned to enable enterprises to realize value from scheduling and workforce management automation. With Shiftboard, customers report 8.4x payback on their investment through lower overall labor costs, increased worker productivity, improved employee engagement, and retention.
"With best-in-class technology coupled with a tangible return on investment and overwhelming positive customer feedback, Shiftboard has a clear opportunity to build on an impressive base of enterprise customers by expanding into more geographies and industries," said Ian Herbert-Jones. "I'm thrilled to be a part of a company that has a proven technology, but also pushes forward seeking new solutions and ways to disrupt the workforce management space."
About Shiftboard
Shiftboard is a leading provider of employee scheduling software for shift-based operations in mission-critical industries. Backed by Shiftboard's tailor-fit solutions, organizations can build adaptive workforce operations that increase operational agility, optimize labor resources, and accommodate workers' preferences, leading to improved efficiency and higher worker satisfaction and retention rates. To date, Shiftboard has supported over 630 million scheduled shifts for thousands of customers, including many Fortune 500 companies, providing the employment pipeline for $66 billion in wages earned. For more information, please visit Shiftboard.