Shiftboard and PlanetTogether Partner to Optimize Manufacturing Production and Labor Scheduling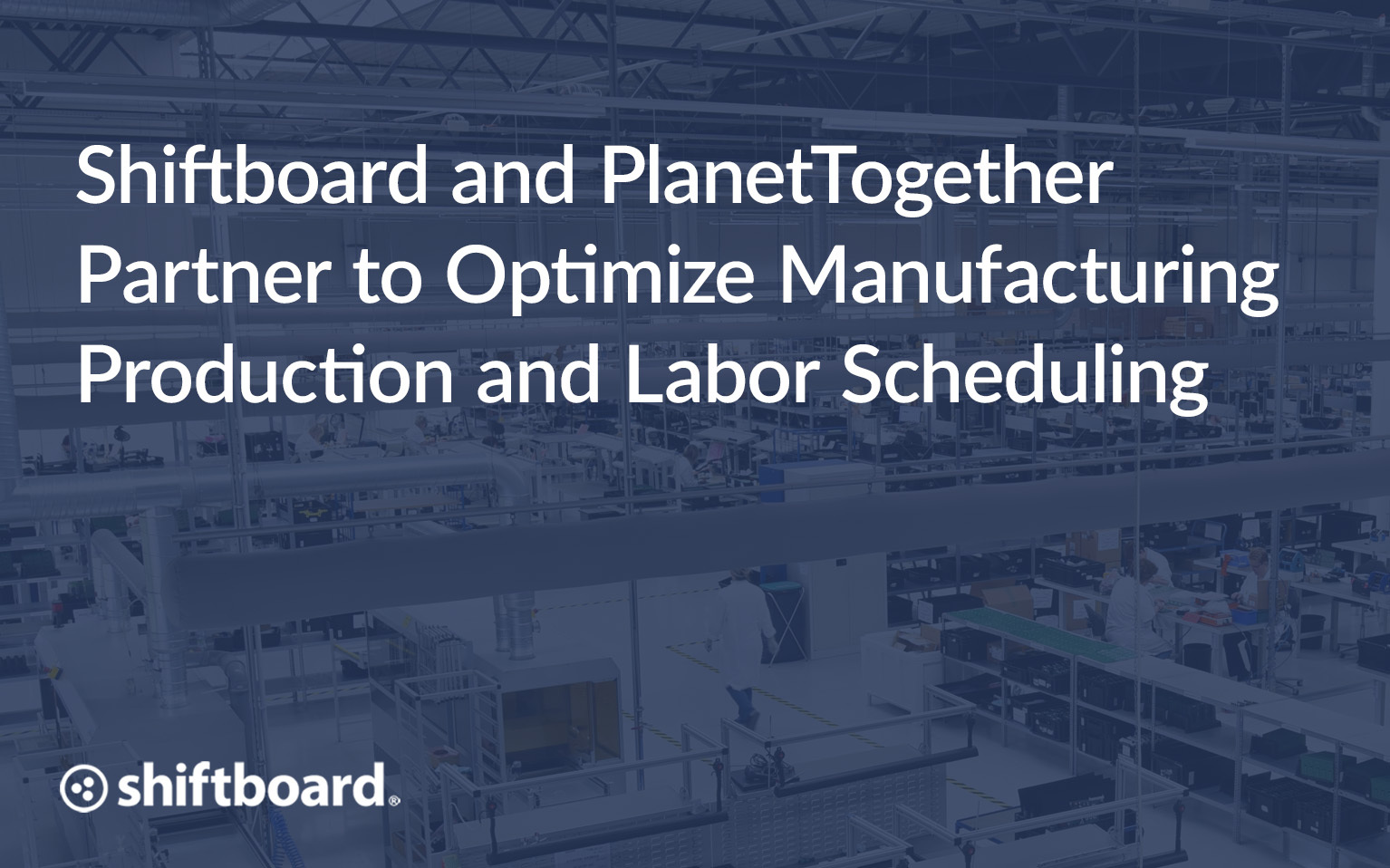 SEATTLE – May 25, 2023 – Shiftboard, a leading provider of enterprise workforce scheduling software for organizations with 24/7 operations, and PlanetTogether, a production planning and scheduling platform that optimizes resource and material constraints, have partnered on a joint initiative to help manufacturers integrate production plans with their labor scheduling.
Production planning through systems such as ERP, MES and MPS are limited in how they account for various constraints such as materials, machine capacity, and sequence dependencies, creating risk of late deliveries and production inefficiencies. These systems also disconnect the production plan from the boots on the ground, which can cause significant production variability and disruption.
The partnership provides a holistic approach to scheduling, allowing for seamless connectivity for your operation, enabling continuous feedback between production planning and labor scheduling.
"Our partnership with PlanetTogether is a game-changer for manufacturers who have been struggling to find an ideal solution for production planning," said Shiftboard CEO and president, Sterling Wilson. "By leveraging our advanced labor scheduling technology and PlanetTogether's innovative production planning platform, manufacturers can streamline and connect labor scheduling and production workflows, allowing for more holistic, agile planning – regardless of where changes may occur."
Shiftboard and PlanetTogether created the partnership to help companies address the disconnect between production and labor. Armed with a synced, real-time view into both plans, managers can quickly assess, reassign, and shuffle workers to rebalance lines as production and labor changes occur. The companies offer an integration between PlanetTogether and Shiftboard, syncing the two systems to improve agility, and communication while optimizing for situations such as material delays and employee callouts.
The joint initiative helps address a company's ability to meet production deadlines by leveraging PlanetTogether's real-world material and capacity constraints and Shiftboard's intelligent labor scheduling solutions. The offering is designed specifically for line-based production such as manufacturing plants.
"We believe the Shiftboard-PlanetTogether joint solution will finally provide manufacturers the visibility and agility they need to optimize their resources to deliver on constantly changing demand within often disrupted supply chains." said PlanetTogether Founder & CEO, Jim Cerra.
Interested organizations should contact Shiftboard to get the full details of this exciting offering.
About Shiftboard
Shiftboard is a leading provider of employee scheduling software for shift-based operations in mission-critical industries. Backed by Shiftboard's tailor-fit solutions, organizations can build adaptive workforce operations that increase operational agility, optimize labor resources, and accommodate workers' preferences, leading to improved efficiency and higher worker satisfaction and retention rates. To date, Shiftboard has supported over 630 million scheduled shifts for thousands of customers, including many Fortune 500 companies, providing the employment pipeline for $66 billion in wages earned. For more information, please visit Shiftboard.
About PlanetTogether
Headquartered in San Diego, California, PlanetTogether is the only advanced planning and scheduling (APS) software company based in the United States. PlanetTogether has mid-sized through Fortune 500 clients optimizing billions of dollars in production output annually, a global support network that is over 100 people strong, and a software platform encapsulating three generations of research and development with origins at Cornell University. Since its founding in 2004, PlanetTogether has had a laser-focused mission: "Make the planet more productive, one factory at a time." We believe manufacturing is central to better living, creating great products and jobs that enable billions of people to live better every day. This motivates our passion to help our clients run smart factories at peak productivity with less stress using our software platform for easier planning and scheduling.