Ian's Preparations for the Golden Globe Race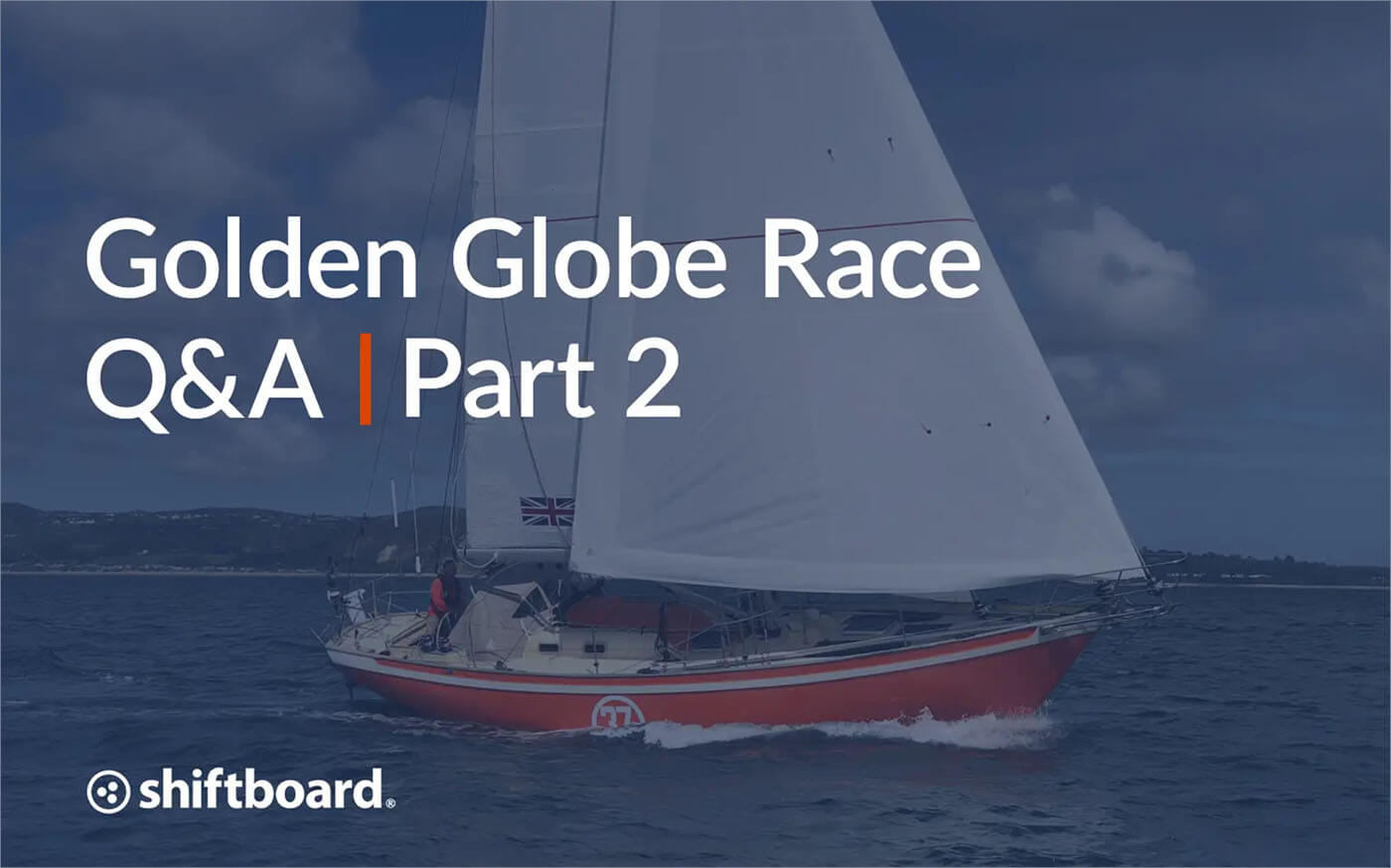 Golden Globe Race Q&A – Part 2
---
Ian Herbert-Jones is the former chief revenue officer here at Shiftboard, and we've sponsored his entry into the 2022 Golden Globe Race (GGR) around the world. GGR is a retro, solo, nonstop sailing event that kicks off on September 4. In Part 1 of our series, Shiftboard's director of marketing, Gina Brodie, interviewed Ian about some of the Golden Globe Race rules and his previous experiences sailing. For Part 2, we've asked Ian more about his training and preparations for the Golden Globe Race.
Gina: Celestial navigation is the only way you're going to get around the globe. What did you have to do to prepare and learn how to do that?
Ian: It is somewhat of a dark art, but there are still practitioners out there, and I've taken a number of courses. In fact, if you want to be qualified to be what they call an "Ocean Level" in the UK system for leisure skippers, you're actually required to understand celestial navigation. Even in commercial shipping, they are required to be able to do this as a backup when all things fail. My point is that there is knowledge out there, and there are people you can go and learn from. So, I've done a couple of courses, and I've got a friendly guru who has already taken me through my paces. And before I go, I'll spend more time brushing up those skills, but yeah, it's been quite a steep learning curve.
Gina: In your training events, is there any training that you do on how to prepare for problems — if something breaks? For example, in the last GGR in 2018, this massive storm broke a ship's mast… how do you prepare for that?
Ian: Great, that's just a really good question. It's such a good question. In any of these things, you can never spend enough time preparing for emergencies. I'm preparing a whole list of contingency plans. Before I even get to the race start, I'll actually have these documented. When it goes badly wrong, if I need to, I can literally turn to my folder, and it says what to do and where to find the prepared kit. For example, you've got a flood fire (which is what we call it when the mast comes down), and I'll have a flooding bag. In that bag, I'll have bulk cutters and materials which I don't use day-to-day. They're only there for emergencies. So, there is some planning for that type of scenario. It's a bit like having a fire extinguisher, right? But I need several types of fire extinguishers for different expected problems. Problem solving, well, it's not something I'm going to have a chance to train for. Problem solving will be important. It is one of the top reasons for dropping out of a race like this — a breakage that you can't resolve. And it happens all the time. You spend four years preparing for something, and in four weeks, within four days, you could have a breakage. If it's something you can't fix on board, you have to sort of accept that, you know? That can happen. So, I'll carry a huge amount of spares. I've got a whole garage of tools on the boat, and I have the ability to repair most systems. Hopefully.
Gina: You're trained as an electrical engineer, is that correct?
Ian: Yeah, originally, yeah.
Gina: Do you feel like that's kind of a superpower you have in your back pocket?
Ian: I hope so. Yeah. I don't know how sharp my superpowers are. I used to be part of a British army unit called the REME, the Royal Electrical and Mechanical Engineers, and their motto was "rough engineering made easy." So, there's a fair bit of gaffer tape that's going to be taken along with me. The ability to lash something together is going to be really important. It really makes a difference. So, yeah. I don't know if it's a superpower, but by the time I get back, I'm guessing I will be pretty good at it, one way or another.
---