Shiftboard and SchedulePro Join Forces Through Merger: Q&A with Sterling Wilson and Sachin Agrawal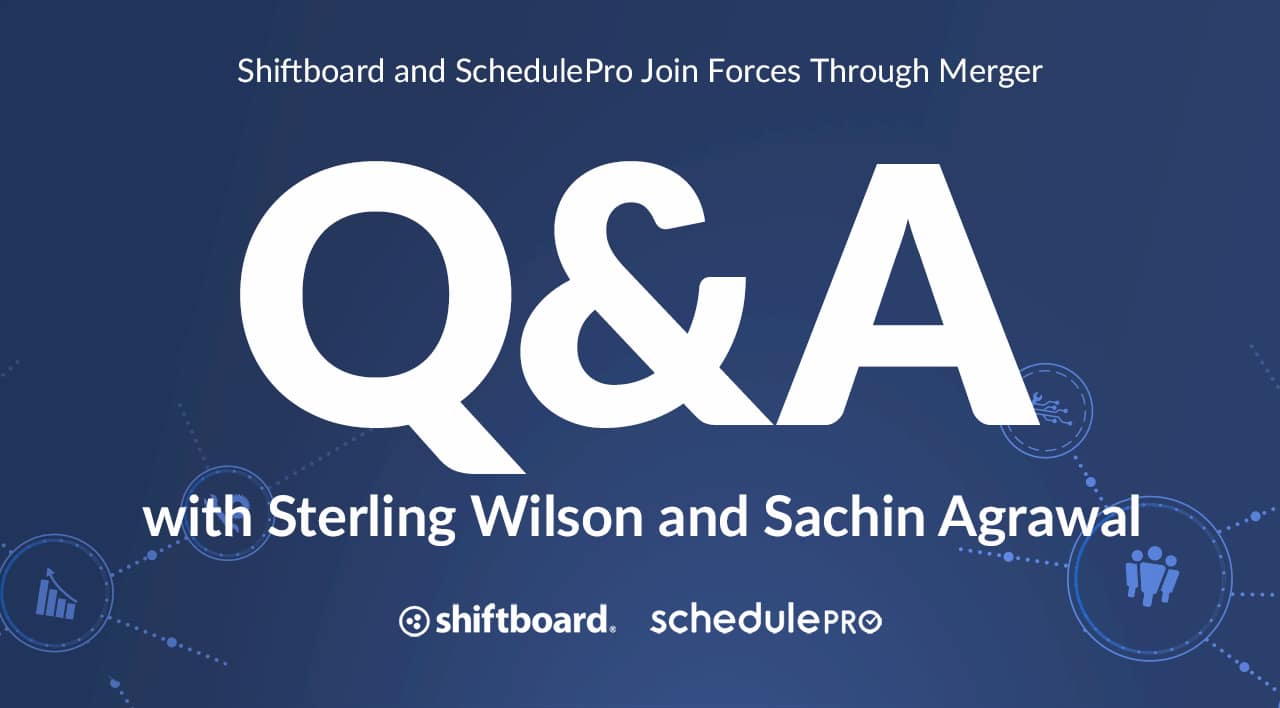 SEATTLE – March 31, 2020 – Following the exciting news of the Shiftboard and SchedulePro merger, Sterling Wilson, CEO of Shiftboard and Sachin Agrawal, former CEO of SchedulePro and now CTO of Shiftboard, sat down to address questions about the deal and its significance.
1. Why did Shiftboard and SchedulePro decide to merge?
Sterling Wilson (SW): Workforce scheduling is only getting more complex. When you consider regulations around hours and safety as well as organizations trying to respond to worker preferences, there are a lot of factors to consider. Shiftboard and SchedulePro each specialize in different areas of the process, SchedulePro being a leader with high-compliance industries and Shiftboard specializing in highly dynamic worksites across multiple industries. We believe our two solutions will complement each other and present our customers with an incredible offering.
Sachin Agrawal (SA): We see a market need for comprehensive solutions that offer a variety of features that meet the unique needs of enterprises across different industries. There is an opportunity for our two solutions to better address this demand and the varying needs of every organization.
2. What does the merger mean for Shiftboard and SchedulePro customers?
SW: We're really excited about what this means for Shiftboard and SchedulePro customers. Because each platform specializes in different aspects of workforce scheduling, customers have greater access to a solution to fit their unique requirements. So, if a customer's needs include on-demand or dynamic scheduling within a large workforce, they can turn to Shiftboard. Whereas, if the priorities are staying in compliance with a significant number of regulations, the organization can turn to SchedulePro. Between the two solutions, we're confident we can address any enterprise workforce scheduling scenario.
SA: To expand on Sterling's comments, the two platforms are complementary and enable our organizations to address more varying customer needs. We're also excited to see what we can do as a team. Of course, both organizations have been doing something right, given the past successes and now working together, I'm confident we can be even more innovative. Which is something our customers will benefit from in the long run.
3. What does Shiftboard look like post-merger?
SW: As you would expect with a deal this large, we're still working out some of the details. But what we do know is the merged company will continue as Shiftboard and customers will be able to access both Shiftboard and SchedulePro separately. As we continue to evaluate and assess the new relationship and all the assets at our disposal, we will make decisions in the best interest of our customers.
The company will continue operations with offices in Seattle, Vancouver, BC, and London.
4. Can you describe the current state of the workforce technology sector and how you think the new company will fare in it?
SA: The workforce management sector is an incredibly large market. Many people fail to recognize the scale of the hourly workforce. There are nearly 80 million hourly workers in the U.S., which is more than half the workforce. Working together uniquely positions us to address the varying needs of organizations and their workforces. Individually, we're both market leaders; together, we believe we can make an even greater impact by combining our strengths.
SW: We see so much market potential given the many challenges organizations are facing today, including:
The need for companies to comply with an increasing number of complex labor and employment laws targeting shift and hourly workers, particularly in highly regulated industries.
The desire to respond to demand more effectively, adjust to market needs, and optimize labor resources through effective workforce scheduling.
Greater awareness of the impact work schedules can have on employee satisfaction and retention.
Business pressures to reduce costs and increase productivity in the competitive marketplace.
5. What comes next for Shiftboard?
SW: I am convinced that the combined SchedulePro and Shiftboard businesses are better together and we will deliver solutions to our customers that significantly improve both their operations and their relationships with their workforces. I also believe our employees will enjoy working in this new, combined business.
SA: We're incredibly optimistic about what we can accomplish together and will continue to keep everyone updated as we innovate solutions to address the needs of our valued customers, both current and new.
---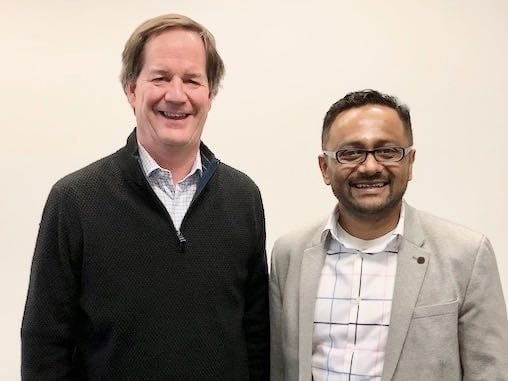 Shiftboard CEO Sterling Wilson (left) and EDP Software CEO Sachin Agrawal (right) at a meeting earlier this year in Vancouver, B.C.