An Open Letter from the CEO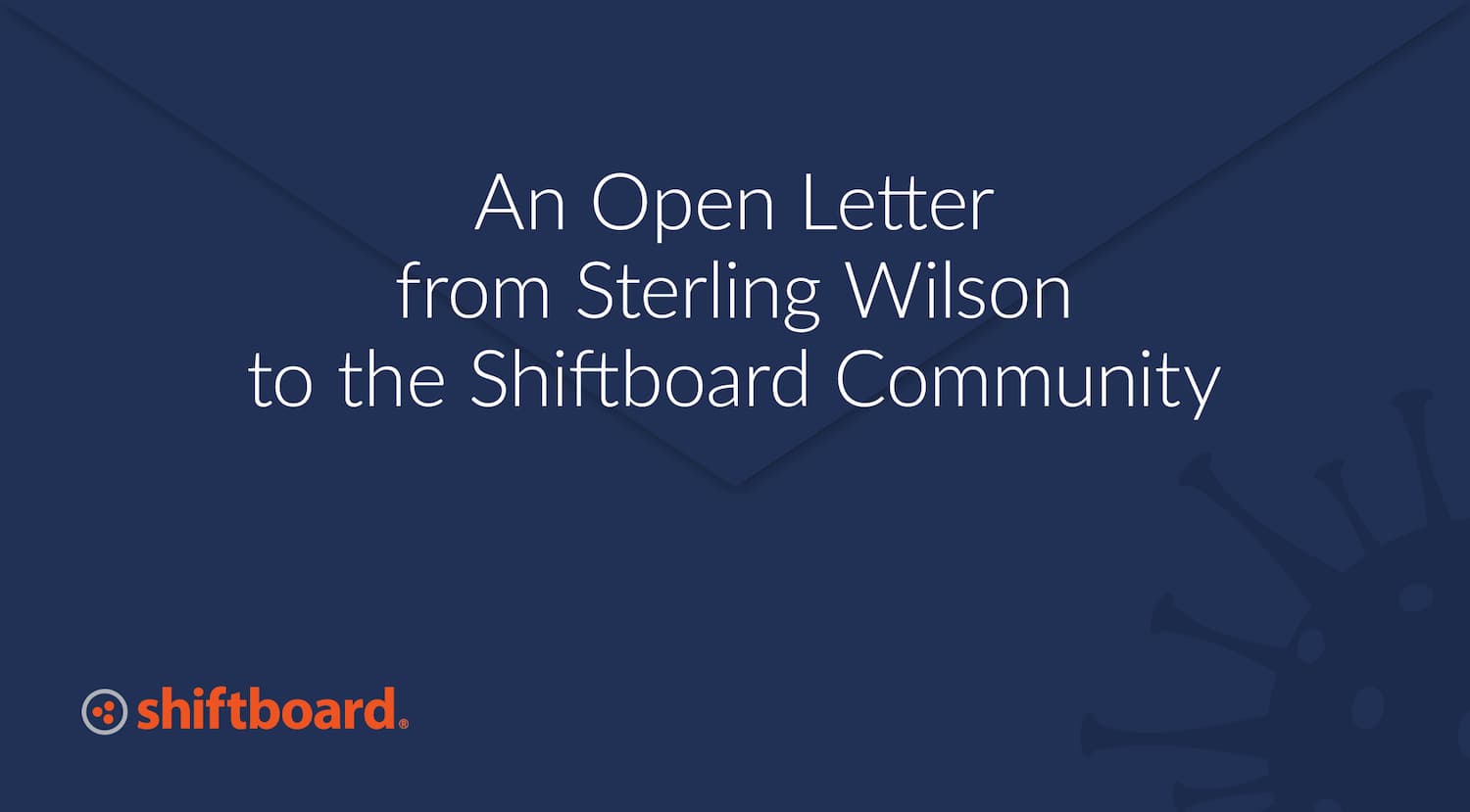 SEATTLE, WA – March 27, 2020
To the Shiftboard community,
We are enduring an unprecedented time in our history. As we navigate the unknown, we find ourselves concerned for the safety and wellbeing of our families, friends and colleagues. Our thoughts and hearts are with everyone as we work through the challenging time COVID-19 has presented in all our lives.
At Shiftboard, we find ourselves in a unique position to serve as a resource to you and your staff as you adjust processes and staffing to adapt to these frequently changing developments. We are committed to helping you manage the workforce challenges COVID-19 presents. We are partners and we are dedicated to providing you with tools that will help you maintain business continuity, distribute immediate staffing communications, adjust for surges or lulls in labor demand, support worker safety, manage employee call-offs, and fill shifts with individuals with the right skillsets.
In response to the current situation, we are actively identifying and gathering resources that will assist you in navigating the rapidly evolving pandemic. Below are several programs we have developed to support you. If any of the programs listed below could help, please contact either your Shiftboard account manager or Shiftboard customer support at support@shiftboard.com.
Fast Feature Program
You, your workforce, and your business are being challenged to react quickly to changing dynamics. We created the Fast Feature Program to help existing customers quickly review and change their current capabilities to align with new and varying needs.
Shiftboard will activate additional functionality in the existing instance, even if it is beyond your current license package, without additional charges for 90 days. We will assist in getting you set up with the best package to address your needs.
Fast Start Onboarding Program
We recognize many businesses are adapting to an influx of new workers or volunteers. The Fast Start Onboarding Program was designed to provide businesses with scheduling and communication support as quickly as possible.
This program is for new and existing customers who want to expedite a flexible scheduling and communication solution for new workforce groups. We have developed an onboarding package that can deliver a focused, operational solution within 28 days from signing.
COVID-19 Resource Center
In the coming weeks, we are launching a dedicated resource center on our website. It will provide guidance for leveraging Shiftboard's product functionality and will offer insight into the strategies and tools other organizations are using to address scheduling and communication challenges during this unprecedented time.
We Are Here for You
We are committed to supporting you through this situation and in the future. With that in mind, please don't hesitate to reach out to your Shiftboard contact if you have questions or need assistance. As we see new opportunities to offer tools and programs that will assist you, we will move quickly to implement them and share these updates with you.
Please stay safe and healthy. From the Shiftboard team, we are wishing you all the best during this trying time.
With heartfelt support,
Sterling Wilson
CEO of Shiftboard