The University of Illinois Chicago (UIC) School of Public Health is an internationally acclaimed research institution. The Epidemiology and Biostatistics Division has a large staff including 32 associate, assistant and full professors, and many more staff and graduate students. Like many research organizations in the healthcare field, the department coordinates many types of research projects on a continuous basis.
Even for a division the size of Epidemiology and Biostatistics, the CHEERS project (Chicago Health, Environmental Exposure, and Recreation Study) was a large undertaking. The CHEERS contract was awarded by the Metropolitan Water Reclamation District of Greater Chicago to study water quality in the greater Chicago metropolitan area.
The project required 60 interviewers, 15 water samplers, and 5 managers collecting data around Chicago over 6 months.
"Both in terms of the condensed timeframe and people-intensive nature of gathering the data, it was a very large undertaking for us" said CHEERS coordinator Sara Wuellner, a UIC graduate student. "We were trying to use a shared Google calendar for people to indicate preferred dates, and then I would email them one at a time for assigned shifts. It was not a fair system and it was incredibly time-intensive for me. No one was happy."
Wuellner searched for an online scheduling system that could provide:
An always up-to-date view of the schedule that all participants could access and confirm shifts themselves at desired days and times
An easy-to-use system, because her interviewers—hourly workers from throughout the community—had a broad range of computer literacy

"It was not a fair system and it was incredibly time-intensive for me. No one was happy."
Sara Wuellner, CHEERS Coordinator & UIC Graduate Student
UIC School of Public Health
Shiftboard University Scheduling Application
Wuellner ultimately chose Shiftboard, a hosted software system that provides round-the-clock scheduling and communications for the UIC CHEERS project. Branded with the CHEERS look and feel, the system includes:
Access to scheduling 24x7, from any web browser
Color-coded schedule views for upcoming shifts
Worker's contact information and the location of the shift included with each assignment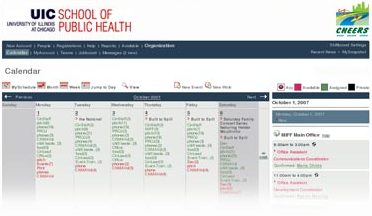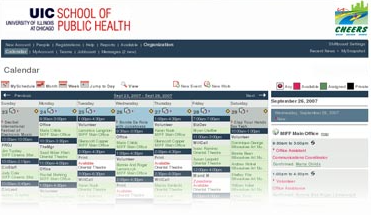 "Considering number of workers and range of computer experience, it was very easy to get them up and going," Wuellner said. She indicated that 99% of posted shifts are now proactively chosen by her paid interviewers and water samplers. She typically posts shifts for the next month about three weeks ahead of time.
"I post Friday shifts and they are 50% filled before I can get Saturday posted. Some of my workers must be in front of their computers 20 hours per day. They love that the schedules are posted in advance," she said. "Shiftboard definitely does help with morale. The workers feel they have some control over when they are working instead of us telling them where and when to work."
The UIC School of Public Health has realized the following benefits using Shiftboard:
Workers select 99% of their own shifts online instead of a coordinator needing to assign them.
Sign-in sheet reports are used continuously to coordinate days of field research.
Shiftboard schedule reports indicate whether each graduate student is fulfilling his or her Research Assistant percentage time requirements each week for the project.
Discover Smarter Scheduling

"I can plan the schedule for the month, then do everything else I am supposed to be doing instead of coordinating schedules. It is a huge time savings for me."
Sara Wuellner, CHEERS Coordinator & UIC Graduate Student
UIC School of Public Health