The George Mason University Patriot Center in Northern Virginia is a 10,000 seat arena that hosts George Mason basketball games, concerts, family shows, and commencement ceremonies.
Every month over 150 hourly Patriot Center employees would each turn in a calendar with their listed availability for the upcoming month. Scheduling managers would then look at the scheduling needs for the month based on events and expected attendance, find people with matching availability, then schedule accordingly. "Getting our part-time staff to turn in their calendars on time proved to be a challenge," says Scott Turyn, Director of Arena Administration at the Patriot Center.
Once the schedule was set, facilitating schedule changes was a tactical nightmare. "There were a lot of human errors. Lots of double entry, double checking, and double booking. There were many different points of entry and many steps involved in the whole process."
The box office at the Patriot Center was facing a similar problem, with fewer employees. It became clear that both the Event and Box Office managers needed a system that would:
Keep track of and schedule around employee availability
Manage shift trades and schedule
Allow for easy communication between managers and employees

"There were a lot of human errors. Lots of double entry, double checking, and double booking."
– Scott Turyn, Director of Arena Administration
The Patriot Center
Online Event Staffing & Workforce Scheduling Solution
Scott came across Shiftboard after evaluating several other solutions, "Shiftboard was the only software I came across that understood the needs of arena event scheduling. Other software options were very industry specific. Shiftboard is easy to understand and manage, and it is easy to teach to our employees. It is flexible and enables us to make changes on the fly"
All shifts were assigned based on seniority without double-booking an employee or scheduling anyone into an overtime scenario. "Keeping in mind all the seniority requirements in our previous spreadsheet paradigm were very time consuming to put it mildly," said McDonald.
Having a system also standardized the communication process between the schedulers and line managers. "We used to receive staffing requests via email, or spreadsheet, or handwritten on a napkin for that matter. We trained all the line managers to use Shiftboard excel template for loading shifts, and then the schedulers could just check the template. It made everyone happier."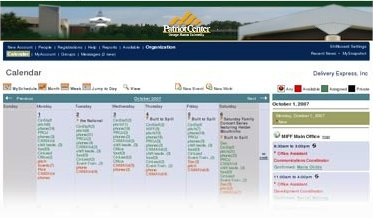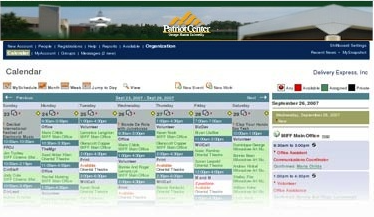 The Patriot center uses Shiftboard Availability feature to keep track of each employee's availability in one place, eliminating the need for each employee to manually submit the times they can work every month. When assigning shifts, Shiftboard automatically checks for people's availability, eliminating the risk of scheduling someone who is not able to work that shift. Patriot Center employees can also login and update their availability as necessary, reducing the amount of data entry that managers are responsible for while also decreasing the risk of human error as a result of double entry.
Tradeboard has taken the burden of trying to coordinate schedule changes off the shoulders of the scheduling managers. Patriot Center employees now post shifts that they can no longer work to the Tradeboard. Employees who are eager and able to work can login and pick up that shift while their manager is automatically notified of the trade.
Shiftboard has not only saved the Patriot Center valuable time, but because so much of their scheduling process is now streamlined within Shiftboard, they have been able to save money as well. Scott explains, "We no longer have to pay a manager to spend hours working on the schedule every month."
The Patriot immediately realized the following benefits using Shiftboard
Labor Costs & Time savings: Easy-to-use online system replaces manual processes.
Fewer mistakes: Less manual entry and automatic availability checking
Better communication: Managers can send message to all or groups of employees when changes to the schedule happen
Discover Smarter Scheduling

"Scheduling employees has always been time consuming and a little aggravating. Shiftboard has made it much easier to work on other projects, and not worry about getting the schedule out. It does a lot of the work for you."
– Scott Turyn,
Director of Arena Administration
The Patriot Center at George Mason University