PPL Park, a state-of-the art, multi-purpose outdoor sports and entertainment stadium, serves as the home for the Philadelphia Union of Major League Soccer. Opening its doors in June of 2010, PPL Park hosts 40-50 large scale events annually including concerts, professional and collegiate rugby and lacrosse, collegiate football and soccer, and hosted the 2012 NCAA collegiate lacrosse quarterfinals. Global Spectrum, the public assembly facility management subsidiary of Comcast-Spectacor was hired by the Philadelphia Union to provide innovative management, marketing, and operations at the new 18,500 seat stadium. Global Spectrum is the fastest growing firm in the public assembly facility management field with more than 85 facilities throughout the United States, Canada, Asia, Middle East and Europe.
Steve Shultz, Event Manager for Global Spectrum at PPL Park, was hiring staff and developing operations guidelines for opening day.
Among other preparations, Steve was searching for a web-based scheduling and communication system to manage his workforce. His three main criteria were:
Easy to use for both management and the staff, many of whom work two jobs
A web-based scheduling system for easy access and no IT requirements. As Steve put it, "These days 90% of people have an email address."
A system that could do its job of tactical scheduling, communicating, and reporting; and free up time so Steve could focus on management, hiring, training for the new season

"Getting started was easy with all the resources Shiftboard provided. Their user guides, training materials, and customer support helped us get up and running in no time."
– Steve Shultz, Event Manager
Global Spectrum: PPL Park
Facilities Staff Scheduling Software
Once Shiftboard had been selected, Shultz described the introduction of Shiftboard to his staff. "Sure there was a learning curve for the staff to trust the system. But they could check FAQs, a get started guide and short training videos right in the system, which was very helpful. Once we educated the users, they did learn to trust it, and it was very reliable."
The 200 staff members at PPL Park are non-union and trained as ushers, ticket takers, and guest services personnel. He targets having about 200 folks ready to work. Depending on the event, Steve usually schedules 130-150 staff.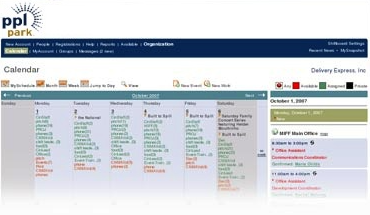 Efficiency through web-based scheduling was definitely accomplished according to Steve. "I was posting shifts, and my workers were picking them up." Workers only see the open shifts they are qualified to fill. They do not see anyone else's schedules, only their own.
Another Shiftboard benefit that saved a lot of management time was a human dynamic. By placing the responsibility for selecting shifts on the staff, his workforce quickly self-selected towards the high performers and those hungry to work. "In the first year, we filtered out very quickly who wanted to work and who didn't. Those that didn't want to work did not sign up."
Integrated communications also saved a lot of time compared to the phone tree so common in the hospitality and entertainment industries. "I can reach anyone working today with one message, or anyone working the 5:30pm shift at the main gate today, with the touch of a button." The system sends targeted messages via both email and SMS/text, depending on user preferences. Shultz also mentioned the ease of having all of his staff contact and training information in one database, rather than floating around in various spreadsheets. "I can reach it from anywhere when I need it."
PPL Park realized the following benefits using Shiftboard
Fully-Automated Overtime and Qualification-driven scheduling saves time while optimizing financial performance.
Access to the real-time schedules 24×7 from web browsers and mobile phones
Send text messages and targeted emails directly to communicate changes fast.
Cloud-based scheduling allows employees to connect with their shifts, bid, or view schedules that are assigned to them.
Discover Smarter Scheduling

"I can reach anyone working today with one message, or anyone working the 5:30pm shift at the main gate today, with the touch of a button."
Steve Schultz, Event Manager
Global Spectrum: PPL Park