Expert Planet LLC is a product support call center servicing a wide range of clients. Companies such as eBay look to Expert Planet to provide knowledgeable agents a step above the typical order entry-type call center personnel.
Before Shiftboard was implemented, Vice President of Agent Operations Paul Hedgecock explains, "We used Excel. People would send in the times they wanted to work and we would block out those times to confirm it." As the business grew it became apparent that Excel was far too problematic and cumbersome with over 400 agents working remotely from their own home, "going from a straight manual system to Shiftboard was absolutely necessary," explains Hedgecock.
After reviewing many possible scheduling solutions, Expert Planet came to the conclusion that they would need a system that:
Possessed a high degree of transparency and flexibility for their agents
Made it easy to communicate to individuals, groups, and the organization as a whole
Allowed for greater flexibility in the 24/7-call center space

"We used Excel. People would send in the times they wanted to work and we would block out those times to confirm it."
Paul Hedgecock, Vice President of Agent Operations
Expert Planet
Shiftboard Online Call Center Scheduling Software
Expert Planet chose Shiftboard call center scheduling software and implemented it quickly and pain-free.
"The rollout of Shiftboard was very straightforward, we didn't have to do a whole lot of training."
When Expert Planet first approached Shiftboard, they were managing their process with 2 full time employees. However their business has grown since then, and today, without Shiftboard, they would require 6-8 additional employees to focus on scheduling alone costing upwards of $200,000 annually. Instead, their $15,000 in annual Shiftboard costs has allowed them to manage without adding headcount, providing a 15:1 return on investment.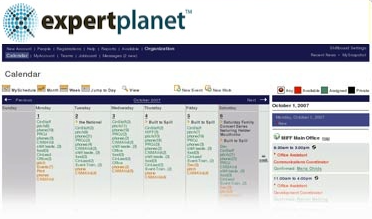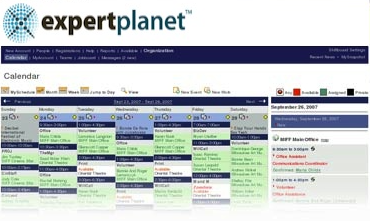 By using Shiftboard Expert Planet was able to save time and money scheduling and focus on what was most important- successfully growing their business.
Given Expert Planet's virtual call center business model, they were making a decision on whether to create their own scheduling system or purchase one.
A system meeting just basic requirements would have required a minimum of $250k and 12 months to create. Instead, they were able to put that time and effort into growing their business while having Shiftboard up and running immediately with a total cost of $15,000 in the first year, or a nearly 20:1 payback.
Expert Planet has realized the following benefits using Shiftboard Call Center Scheduling Tools:
Supervisors for day, evening, and mid-shifts can print reports by client or date and export to Excel, all centralized.
Program leaders can send emails to specific client "teams." Teams are a very easy and flexible way to segment messaging and schedule information in Shiftboard.
Program training completion dates are among the many fields kept in each operator's custom profile in Shiftboard online worker database. All information can be reported on or downloaded to Excel.
Discover Smarter Scheduling

"Today, our agents can confirm, release, change or add work seats with just a few simple clicks. Shiftboard is exactly what we need to provide the high levels of service that our clients expect in a virtual environment."
Paul Hedgecock, Vice President of Agent Operations
Expert Planet