The Durham Convention & Visitors Bureau (Durham CVB) is the tourism development authority for the city of Durham, North Carolina. The organization supports and helps staff local events and visiting conventions throughout the calendar year.
With the opening of the Durham Performing Arts Center, Durham CVB began a larger strategy to provide volunteers to local organizations and events who were always in need of help. Durham Wayfinders, a volunteer project sponsored and operated by Durham CVB, was born in order to support events management around the city.
Carolyn Carney, Director of Visitor Services at Durham CVB, looked for a system that had the following key attributes:
Web-based in order to be accessible anywhere, and extremely easy to use
A seamless blend of volunteer recruiting and scheduling
Ability to delegate scheduling and communication to the operations managers working at the specific local events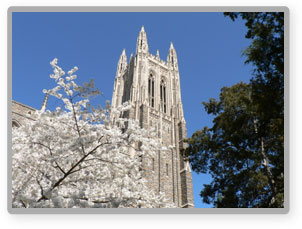 Shiftboard Scheduling Software for Events Management
Carney chose Shiftboard and had the system launched in a few days. There were no IT requirements, as the system is hosted. Training occurred via a shared web browser while she sat at her desk.
Today, managers at 27 local events schedule their volunteers through Durham CVB's Shiftboard system. Some need only 30-50 volunteers for events management, while others may need hundreds.
"One example is Full Frame Documentary Film Festival — they struggled to find 400 volunteers for their April event each year," Carney said. "So, I put out a call for volunteers via Shiftboard in February. Their coordinator called me a week later saying they had all the people they needed. That had never happened before."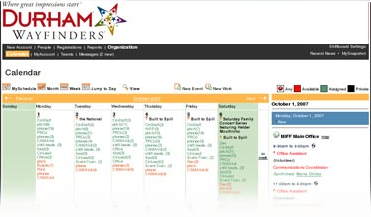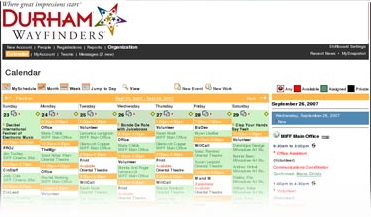 Recruiting for Wayfinders' city-wide volunteer program has also been a success. "It really spread by word of mouth," Carney said. "We went from 100 volunteers to more than 700. It really helps that people can log on and see a lot of events listed."
Carney also uses volunteers to staff the Visitor Information Center and provide support to groups and events coming to Durham. "Everyone from Parks & Recreation to City Hall uses Wayfinders and the Shiftboard online scheduling system to staff volunteers for special events," she said.
Carney also noted Shiftboard targeting messaging capability (the ability to broadcast messages to just a team or to all volunteers), and reporting (to see how many volunteers were actively participating and how many hours they volunteered per month) as additional benefits of the system.
Durham CVB realized the following benefits using Shiftboard:
A big boost in recruiting — Easy-to-use online system makes it possible to quickly sign up large numbers of volunteers.
Improved communication — Managers can send targeted messages to specific teams or the whole organization.
A web-based calendar so volunteers can see their schedules anytime, anywhere.
Discover Smarter Scheduling

"One of the toughest things about managing large volunteer groups is the time required to schedule everyone. This tool makes all of that very simple. It saves so much in man-hours and the usual shuffling of schedules. That's what is so incredible about it."
Carolyn Carney, Director of Visitor Services
Durham Convention & Visitors Bureau