Delivery Express, Inc. (DLX), headquartered in Renton, WA, is a courier and logistics company serving the western Washington area.
DLX manages 80-100 drivers depending on the season, and covers three types of business: Dedicated pickup & delivery—supported by full time drivers; Distribution & logistics—flex drivers covering flex routes; and Courier services—on-call drivers who respond to real-time courier requests that vary hour by hour each day.
DLX suffered from a communication problem as the business grew. Scheduling information was spread over three locations. Excel was the main scheduling tool, but as VP of Operations Mike Moraski explained, "Excel just sits on someone's desktop. As soon as the schedule was printed, it was already out of date."
The dispatchers, who make constant adjustments throughout the day, referenced the Excel schedule, called the drivers, and tried to keep a web calendar updated. Drivers changed their availability by either faxing a form to the dispatchers, calling in, or stopping by the office. "It was cumbersome, took a lot of time, and a lot of information was being lost," Moraski said.
Moraski led the evaluation of a new system, which required:
A single repository for all schedule information, updated in real-time
Online scheduling accessible with any web browser
Ease of use and significant time savings over the current process

"It was cumbersome, took a lot of time, and a lot of information was being lost."
Mike Moraski, VP of Operations
Delivery Express, Inc.
Shiftboard Driver Scheduling Software
DLX chose Shiftboard and implemented online scheduling in two stages.
"We started with schedulers and dispatchers first, so everyone could see everything," Moraski said. "Before, there was no visual of routes and drivers. Now, we just look up the driver and round. Shiftboard has become a hub of what's going on day-to-day."
The second step involved getting the drivers to view their schedules and update their status directly online. Dispatchers and schedulers could then see everything in real-time. "At this point, there is no confusion," Moraski said. "Did you put it into Shiftboard? If not, you didn't tell anyone."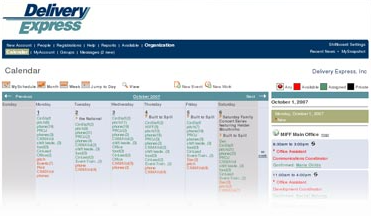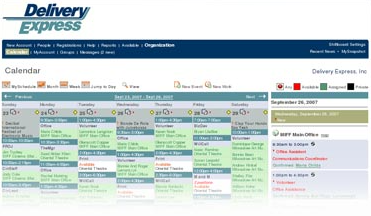 Shiftboard also includes powerful management reporting, such as an hourly view designed with direct input from Moraski and a few other Shiftboard customers. "Hourly reporting is a big tool for us," Moraski said. "We can see how many drivers we have each hour of the day. Then we can match drivers to demand. It's a type of report Excel just can't do."
Moraski says online scheduling with Shiftboard has been very well received by the entire DLX team. "Like any change, there was some resistance at first… but now people use it as an overall communication tool," he said. "Drivers really like it because now they can tell us their status with a couple of clicks instead of faxing. Shiftboard has allowed us to work easier and smarter."
DLX realized the following benefits using Shiftboard:
Improved communication, with all scheduling information accessible online and updated in real-time.
Access to extended tools such as web-based recruiting—candidates apply online and new hires are entered in the system with no data entry required.
More efficient operations, with visibility into drivers' schedules on an hourly basis.
Discover Smarter Scheduling

"There is so much less confusion with Shiftboard. We now know who is scheduled and who isn't. Shiftboard allowed us to put it all online. That was a huge benefit."
Mike Moraski, VP of Operations
Delivery Express, Inc.