Employee Scheduling Software
for Mission-Critical Industries
Workforce Flexibility. Operational Agility.
Happier Employees.
Harness the Power of Intelligent Employee Scheduling Automation
Be the Employer
of Choice
Attract and retain employees with transparent, fair, and flexible schedules that your workers can embrace.
Build a Flexible
Workforce
Flex workforce capacity to meet demand with always-on optimization that unlocks hidden coverage possibilities.
Increase
Scheduling Efficiency
Automate unique scheduling procedures with a solution tailored to your specific operating processes.
Want to learn more about employee scheduling software?
Trusted by the World's Most Recognized Brands
The Workplace Has Changed.
Work Scheduling Should Too.
The world of work continues to evolve, making employee scheduling more challenging than ever. Shiftboard eases its complexity using robust data intelligence and tailor-fit automation to create adaptive, worker-friendly schedules that maximize shift coverage – no matter how operating plans change.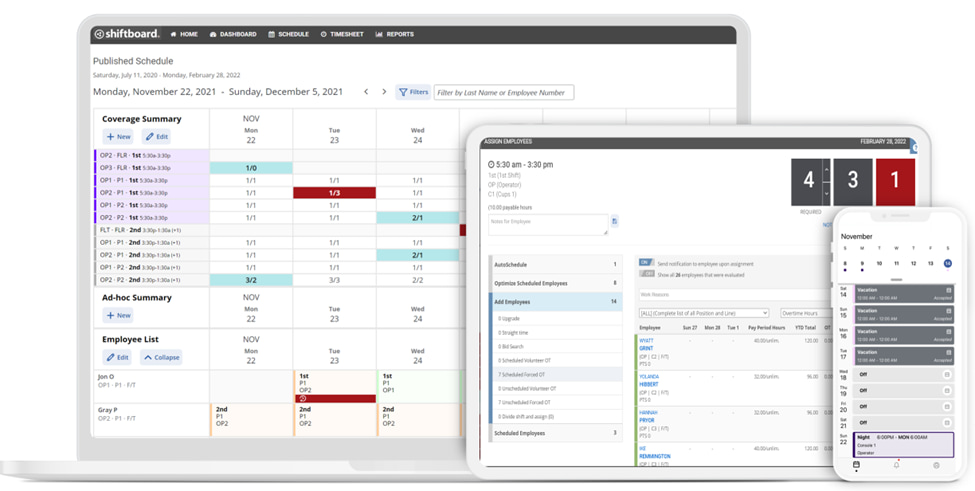 Tailor-Fit Scheduling Automation
Maximize scheduling efficiency with highly configurable automation that matches each plant and unit's operating process.
Continuous Coverage Optimization
Unlock more coverage possibilities with smart suggestions powered by a robust, always-on optimization engine.
Agile Change Management
Tap handy day-of management tools to quickly identify last-minute coverage gaps and fill open shifts with qualified, available, and willing workers.
Proactive Worker Engagement
Improve worker satisfaction and retention with versatile tools to proactively engage workers to understand and accommodate their scheduling needs.
Proven Customer Impact of Shiftboard
86%
Higher Worker
Satisfaction
16%
Decrease in
Turnover
88%
Higher Shift
Coverage
30%
Faster Schedule
Creation
21%
Lower Labor
Costs