Adaptable, User-Friendly Staff Scheduling Software
Online Event Management Software—Schedule Faster & Communicate Better 24/7
Every event has unique communication and staffing requirements. Shiftboard knows. We improve scheduling agility and execution for premier events like SXSW, COPA, Sundance, and Tribeca—just to name a few. From 50 volunteers to 25,000 staffers, Shiftboard's scheduling, communications, and reporting tools can help you manage your event better.

Fill shifts effectively online—tailor to let staff sign up, auto-assign, or set schedules yourself
Instantly alert employees of changes in start time, location, uniform, role, etc.
Easily manage applications and onboarding with candidate details saved to online profiles
Focus on value-add activities, ease the burden of scheduling, calling subs, trading shifts, etc.
Customize Scheduling & Visibility
Whether you're a concert series, convention, music festival, sporting event, or something in between, Shiftboard adapts to you.
No matter what kind of event you're organizing, we help you easily streamline onboarding, manage volunteer sign-in, and find last-minute workers fast! Maintain constant staff communication during your event via text or email to immediately troubleshoot any issues that may arise.
Staff Better with Accurate Online Records
Easily manage your staffing requirements to make sure each event shift has the right mix of skill sets and qualifications.
Store important staff information in online profiles and set schedule parameters to simplify compliance and automatically account for union requirements, and more. It's easy to upload documents and update info to keep records current, and auto-assign schedules.
Communicate Clearly, Improve Accountability
Event coordination is simple with online schedule access, real-time updates, and instant communication. Multiple locations? No problem.
Always know exactly who's working, who cancelled, and when. Automated shift alerts get the right people to the right place, on time, every time. Text alerts immediately update staff when schedules change or new shifts are available. Staff or volunteer—Shiftboard shows you who's available, so filling in for no-shows is a snap.
More Effective Event Staff Scheduling
Easily share info like location maps, shift details, and last-minute updates ASAP for agile, proactive staff coordination
User-friendly means no software to install, easy onboarding, and lifetime support—in staff emergencies, we've got you covered
Track attendance anywhere, on any device—Shiftboard is mobile, so anyone from full-time to tonight-only is at your fingertips 24/7
Shiftboard can handle employee and volunteer scheduling for events of all kinds, including:
Sporting Events  •  Business Conventions  •  Concerts & Festivals  •  Venues  •  Trade Shows  •  Non-Profits  •  Event Planner  •  Volunteer Management
Discover Smarter Scheduling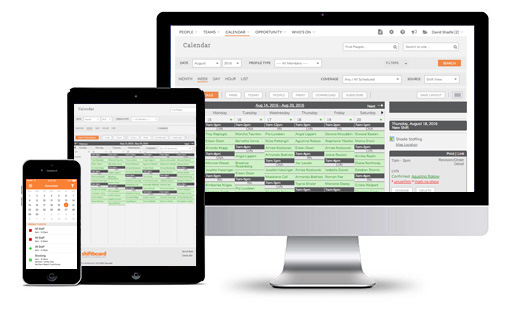 Shiftboard can help you manage game day, any day.

Shiftboard can help your festival go off without a hitch.