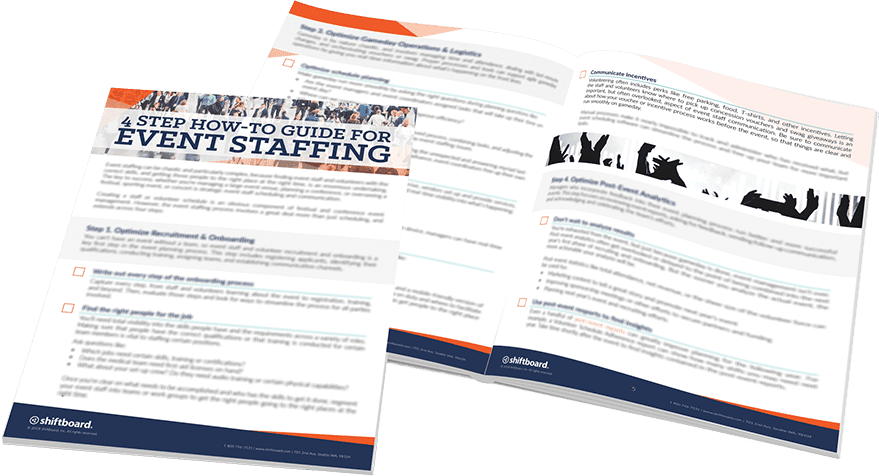 Our event staffing checklist guides you through the 4 steps of the event scheduling process, with tips and tricks on how to better manage the chaotic and complex process.
How to optimize the recruitment and onboarding process
Proper communication tips and tools to empower your staff
Things to make gameday run more smoothly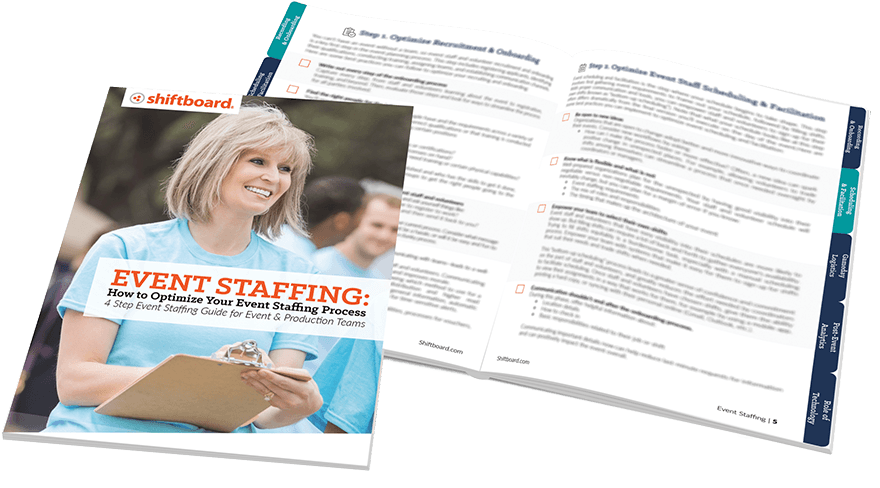 Our event staffing guide will teach you everything you will need to know to optimize your event staffing process, including best practice tips, examples, and more:
Outline the four-step event staffing and coordination lifecycle
Share tips and tricks for each step in the event planning process
Show how event scheduling software can streamline your workflow and improve your event management
Every event has unique communication and staffing requirements. From vendors, staging, security, food service and staffing, coordinating people and schedules is deceivingly complex. Large events are a logistical challenge that requires the participation of hundreds and sometimes thousands of individuals. Learn best practices for event staff scheduling focused around onboarding, scheduling, and event day logistics.
Matching people with the right skills to the right tasks and tracking the completion of important onboarding details like orientation, training and credential verification can be critical to the success of your team. Learn how applicant tracking functionality can be leveraged across the event management process to ensure your team is "ready to work" on event day.
Do you want to reduce the chaos of last-minute logistical updates, speed communications and improve tracking of staff credits and vouchers? Learn how staff scheduling efficiency can improve event-day operations with QR pass technology and applicant tracking.