Managing employee scheduling using manual tools like Excel is a complicated and time-consuming task.
Find out how automating this process can help your organization:
Spend 80% less time on scheduling
Reduce employee grievances related to scheduling by 93%
Cut overtime payouts by 45%
Improve employee safety by managing fatigue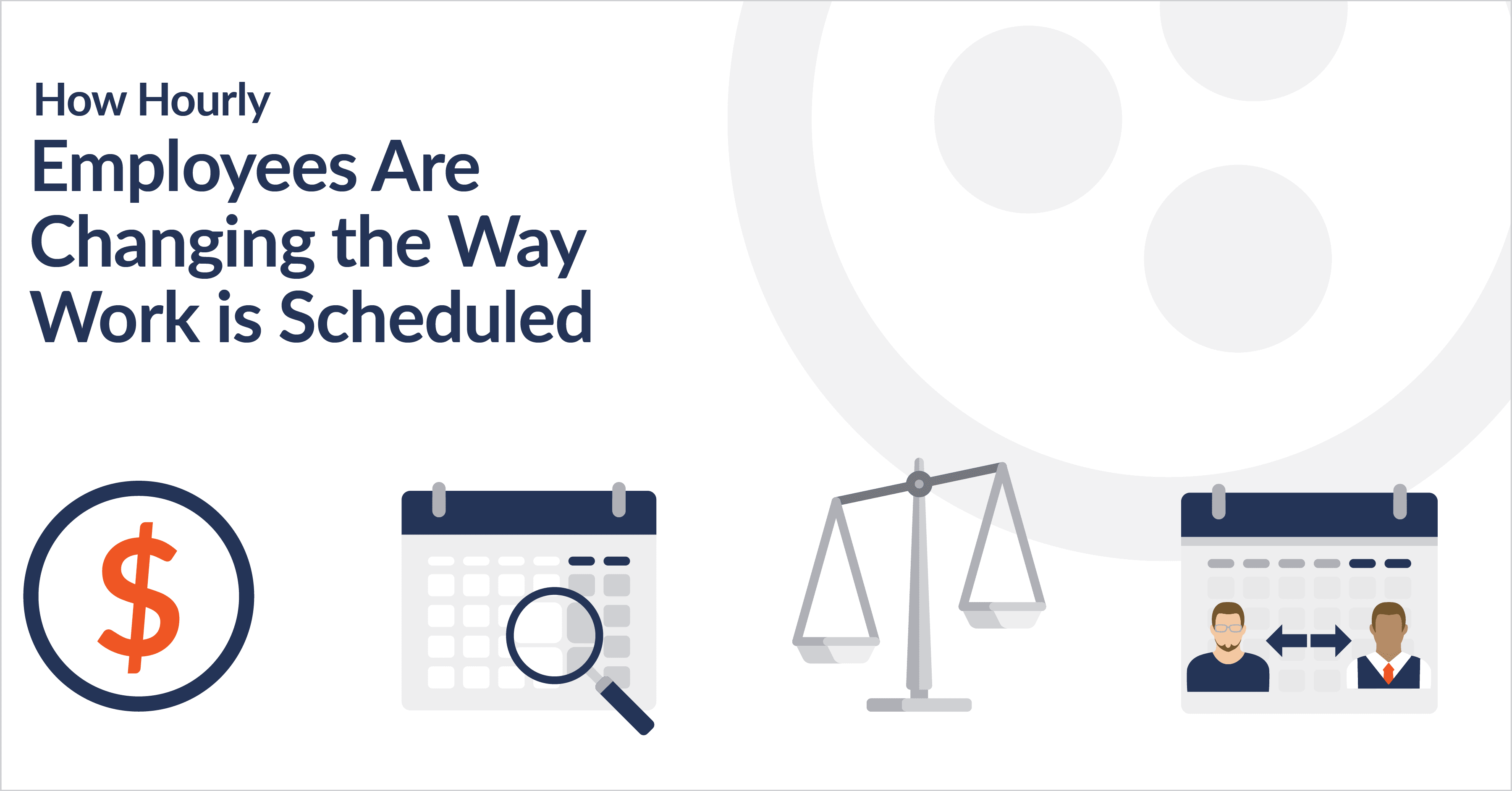 For many innovative organizations, worker-centric scheduling is key to improving hourly employee retention and solving other business challenges. Shiftboard's "State of the Hourly Worker" report provides insight into why addressing employee preferences will be key in 2020 and beyond.
This infographic breaks down key findings from the report in the context of worker-centric scheduling. It covers the real meaning of flexibility and shows what hourly employees really want in a work schedule by showing valuable data on worker preferences.
It also answers your most pressing questions, including:
What does hourly worker turnover have to do with psychology?
What's your relationship with your employees costing you?
How does scheduling affect relationships within the company?
Growing demand for long-term care and a shortage of qualified workers are forcing administrators for community services, supportive housing programs, and assisted living facilities to improve operations efficiencies or risk having to turn people away. Download our guide to learn five important reasons long-term care facilities need employee scheduling software, including:
Creating and communicating staff schedules in less time
Managing employee requests & last-minute schedule changes
Improving employee retention & quality of care
In the healthcare industry, workforce scheduling can be extremely time consuming and complex. Whether scheduling in short or long-term healthcare facilities, optimizing staffing costs must be carefully balanced with quality of service and labor compliance across several worker roles and multiple locations. Find out how scheduling automation can help you:
Manage overtime costs
Ensure optimal coverage
Decrease staff burnout and turnover
Seamlessly schedule full-time, part-time, and contingent workers
Predictive scheduling laws affect employers across the country, and the number of jurisdictions passing these laws is rising. Managing compliance to these employment laws is a complex process, and penalties for violating the new rules are significant. As a result, companies are turning to technology and data to help them more efficiently create and maintain compliant worker schedules.
Join the webinar to learn the top things you need to know about predictive scheduling. In this 30-minute webinar, we'll share key information about the new laws, including:
Predictive scheduling at a glance
Impact of predictive scheduling laws
What's coming for 2019
How technology can help
Want to learn how to create an employee schedule that also helps lower costs and improve worker satisfaction?
In this webinar, you'll learn:
How to apply a strategic framework to employee scheduling
The four phases of the employee scheduling lifecycle, and the key factors influencing each phase
Tips for success in assigning employee shifts, managing and communicating change, and reporting on processes and efficiencies
Whether you're an operations leader looking to improve retention, or a scheduling manager needing to move beyond spreadsheets — our employee scheduling tool kit has the resources you need to start transforming your workforce scheduling process.
Download the Employee Scheduling Tool Kit and gain permanent access to insights and best-practices for reducing labor costs, increasing productivity and decreasing turnover through strategic employee scheduling.
Kit includes:
Video: How to Create the Best Employee Schedule
Customer Story: Employee Scheduling Impact
Guide: Strategic Employee Scheduling
Webinar: ROI of Scheduling Automation
With new scheduling tools popping up daily, it's no wonder why so many businesses are confused with how to start their research for a solution. Want to understand how workforce scheduling technology can transform business operations? We answer seven important questions to help you get the insight you need to make an informed decision:
What should workforce scheduling technology do?
How does workforce scheduling impact revenue?
How can a strategic approach to workforce scheduling improve manager productivity?
What workforce scheduling information is needed to make data-driven decisions?
How does workforce scheduling technology lead to productive and engaged workers?
Beyond employee scheduling technology, what other tools can help manage the workforce?
Is product support needed for successful implementation?
Think workforce scheduling technology is simply about replacing post-it notes and excel spreadsheets with a software tool? Think again. Workforce scheduling technology is about helping operations leaders lower labor costs, reduce employee turnover, and improve customer satisfaction. With over a decade of experience under our belt, we know first-hand the strategic value of workforce scheduling technology. It can truly transform your business.
In this guide, you will learn how workforce scheduling technology can help you:
Reduce labor costs
Streamline operations
Improve worker retention
Make customers happier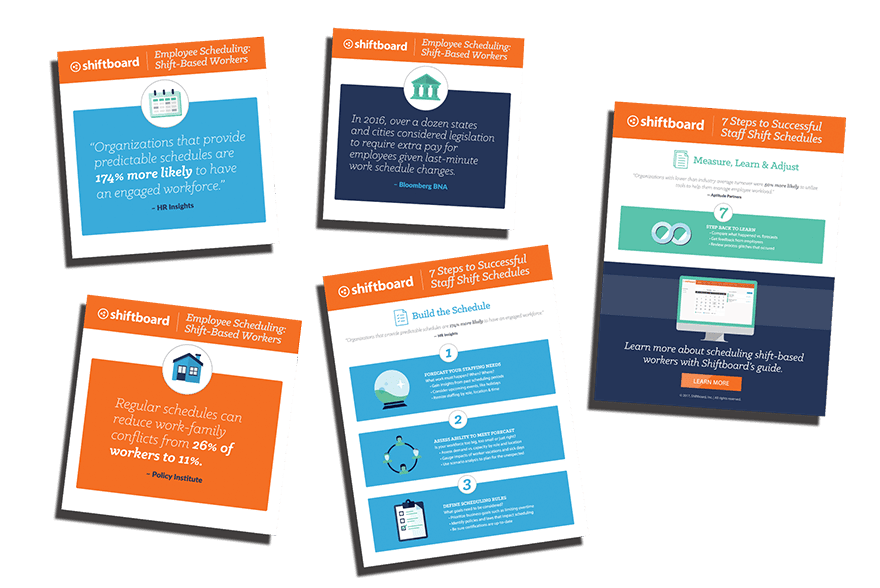 Our employee scheduling infographic shares the 7 steps to successful staff shift schedules, including facts about the shift-based workforce!
Learn how to build the best possible schedule
Shift assignment tips that will benefit both you and your employees
How to forecast and plan for change