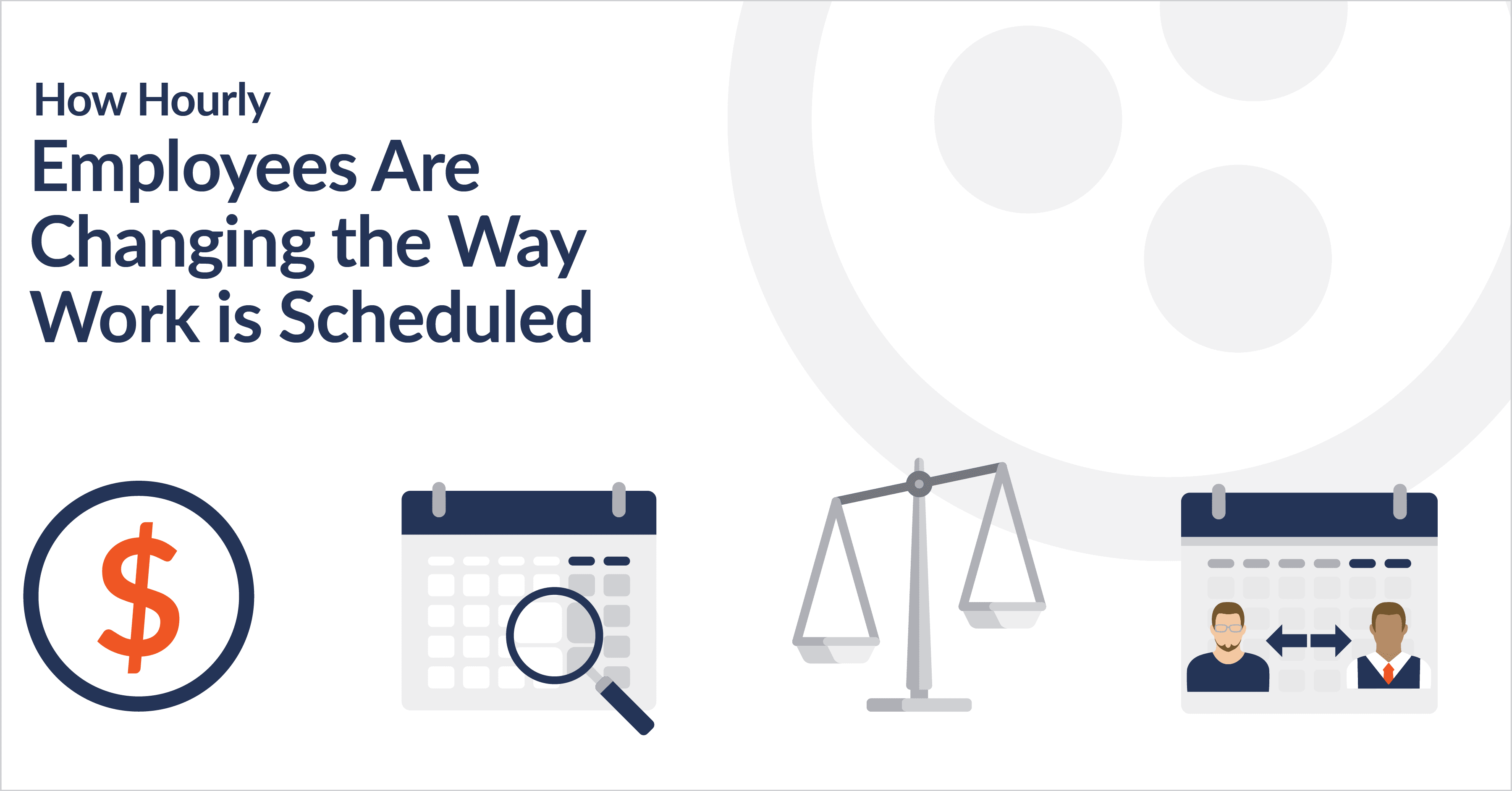 For many innovative organizations, worker-centric scheduling is key to improving hourly employee retention and solving other business challenges. Shiftboard's "State of the Hourly Worker" report provides insight into why addressing employee preferences will be key in 2020 and beyond.
This infographic breaks down key findings from the report in the context of worker-centric scheduling. It covers the real meaning of flexibility and shows what hourly employees really want in a work schedule by showing valuable data on worker preferences.
It also answers your most pressing questions, including:
What does hourly worker turnover have to do with psychology?
What's your relationship with your employees costing you?
How does scheduling affect relationships within the company?
In today's tight labor market, organizations with hourly workers are experiencing unprecedented challenges sourcing enough labor to operate their businesses. To ensure a healthy talent pool, they are focusing on strategies to improve worker retention.
Join Steve O'Brian, VP of marketing at Shiftboard, and Frank Pereira, managing partner of Coleman Consulting Group, as they discuss research-based insights and best practices derived from their extensive experience working with industry-leading organizations on one commonly overlooked factor that most impacts employee turnover: the work schedule.
In this webinar you will learn:
Drivers of hourly worker turnover
The impact of work schedules on job satisfaction
Factors of the work schedules that matter most to hourly workers
What employers can do to improve retention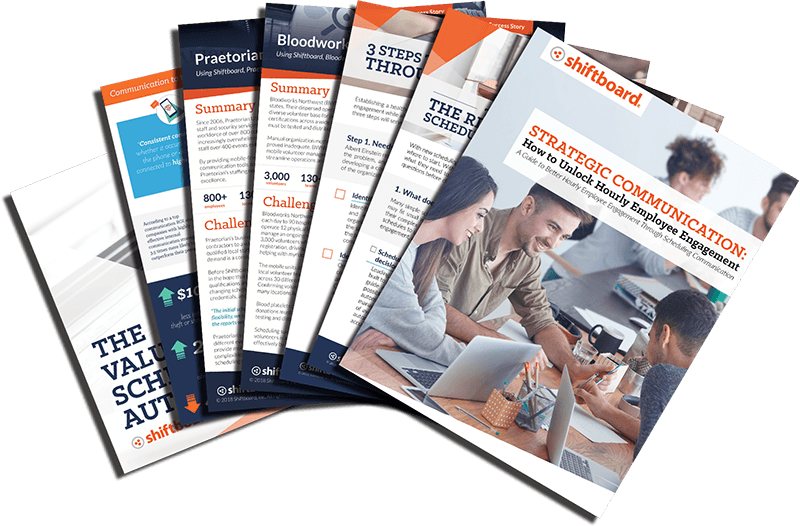 In this toolkit, you will find a variety of checklists, videos, articles, and infographics designed to help you achieve higher employee engagement with your hourly workers.
This toolkit includes:
Employee Engagement Guide
3 Step Checklist to Build Employee Engagement
Strategic Communication Infographic
Customer Story: Employee Communication Impact
Article: Importance of Employee Communication
Hidden Challenges of Employee Communication Webinar
Download the toolkit to start boosting your employee engagement today!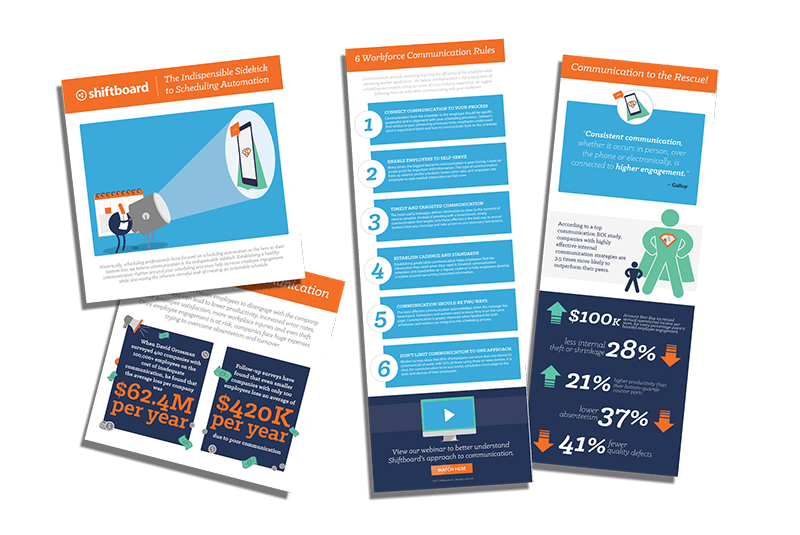 Find out why communication is the indispensible sidekick to scheduling automation in a fun and graphical way.
The ROI of effective commmunication
6 Rules for communicating with your workforce
How to establish a healthy communication rhythm
Our strategic communication checklist will serve as a walk-through to better contruct a cohesive scheduling communication strategy.
How to establish a healthy communication rhythm
Methods to ease the stressful task of creating an actionable schedule
Setting and completing employee engagement goals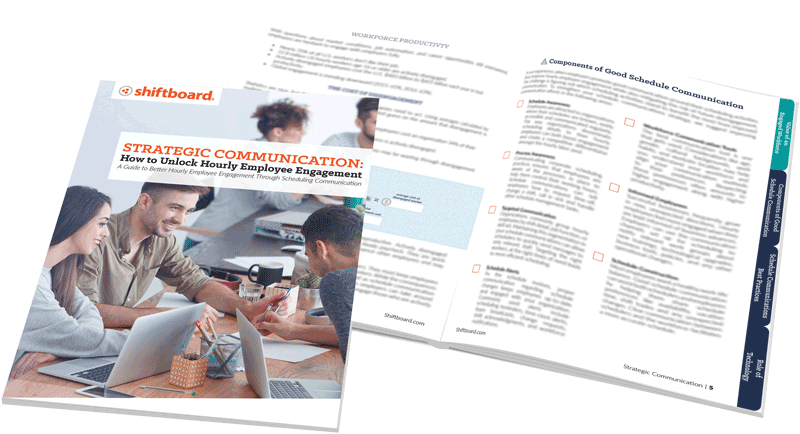 Driven by global competition, now more than ever, organizations are dependent on nurturing healthy relationships across all levels of their business to align their workforce with a common goal. While most employee engagement and strategic communication initiatives are focused on salaried employees, we believe these same initiatives can be applied to hourly workers.
Download our guide to learn best practices, including:
How to calculate and understand the cost of disengagement
The components of good schedule communication
Hourly employee engagement techniques
Communication with an hourly and shift-based workforce requires more than just keeping workers informed of their schedule and available shifts. Workers want more control over their schedule, and organizations struggle to attract, engage and retain the best workers. High worker engagement is critical to productivity, quality of service, and employee retention.
Organizations can greatly improve employee engagement when they focus on how they create, communicate and change their employee schedules. In this webinar, you will learn about how scheduling automation improves the scheduling process, workforce trends, the business impact of disengagement, and real customer success stories.