By many measures, the Seattle International Film Festival (SIFF) is the largest and one of the best attended film festivals in North America.
Taking place over three weeks in late May and early June, SIFF shows more than 400 feature films and documentaries at a wide variety of venues throughout the city. SIFF also operates a year-round venue, and coordinates and hosts numerous events throughout the year.
Rivaled only by the Olympics in terms of breadth, scale, and duration, the World Equestrian Games took place over a rigorous 11-day period in which volunteers coordinated much of the organization of the event. The staffing, scheduling, and event management requirements presented a challenge even for the most experienced planner. With over 10,000 volunteers and staff, it became obvious that a system for generating schedules, qualifying candidates, and tracking hours would be needed.
"At the core, we needed a tool we could use for scheduling, however the most important feature was the ability to put volunteers through what we call a 'delivery process'—recruitment, registration, selection, training, uniform and credential distribution," stated Erin Faherty, Director of Volunteer Services for WEG. "When the entire process was scaled to 10,000 volunteer applicants, it became clear that finding an integrated system that could handle all scheduling and communication was a necessity."
Shiftboard provides its software platform as a software-as-a-service (SaaS) solution, meaning that the system was available to WEG almost immediately. Accessible at any point, day or night from any mobile or web browser, the platform was easily installed without any hardware or IT support requirements.

"Typically, managers had to ask the volunteer coordinator to schedule shifts for them."
– Monica Hinckley, Volunteer Coordinator
Seattle International Film Festival
Shiftboard Event Scheduling Software
Shiftboard hosted software system provides SIFF round-the-clock scheduling and communications for the festival. SIFF is one of Shiftboard earliest not-for-profit customers, having used the system for event scheduling since 2005.
Designed and updated for the unique, ever changing SIFF look and feel, the system includes:
Web registrations, group communications, and complete access to online scheduling 24 hours a day, seven days a week—from any web browser
Color-coded schedule views, sign in sheets, email reminders and confirmation for upcoming shifts
Ability to view, print and report entire schedules from a single source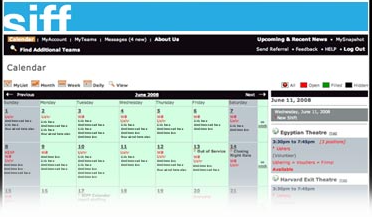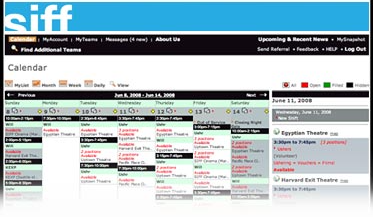 "Monica Hinckley, SIFF's volunteer coordinator for two consecutive years, says that scheduling continues to get easier. "Getting people on the system went exceptionally well this year. Everyone within the SIFF organization uses Shiftboard, our paid workers and volunteers. Being user friendly and flexible, everyone, including our most loyal retirees and senior citizens say to me, 'Shiftboard is great!'"
Hinckley also says that Shiftboard has made a huge difference compared to what the volunteer coordinator's job has traditionally been. "Typically, managers had to ask the volunteer coordinator to schedule shifts for them," she explained, "but now we have at least 10 team managers on our Shiftboard site, each of whom can schedule and communicate directly with their volunteers any time of day."
Hinckley uses Shiftboard reporting and signin sheets every day. "I use the visual charts to see where and when I need people and also to compare my current coverage expectations to any previous years results."
SIFF has realized the following benefits using Shiftboard
Easy, 24-hour online scheduling of volunteers and paid workers.
Powerful reporting features to track hours worked, percentage of coverage, and other key metrics.
Ability to handle large volumes of shifts by allowing team managers to schedule their own team members.
Event scheduling software with no training required.
Discover Smarter Scheduling

"Shiftboard has revolutionized my job at SIFF and makes organizing at our size possible. Using Shiftboard makes event scheduling both fun and rewarding as opposed to stressful."
– Monica Hinckley
HR Manager & Volunteer Coordinator
Seattle International Film Festival (SIFF)
SEE IT IN ACTION TODAY!
<!–[if lte IE 8]><![endif]–>